Col de St Ignace via Sarre s(u)

The mountain "La Rhune" is a very recognizable landmark from the Basque Corniche in France. A nice bike ride loop goes around this mountain, leading over three very small passes. Of those, this is the only pass on the French side. It is also the lowest, and the take off point for hundreds of tourists to take the cog railway to the top of their mountain, looking down on Spain.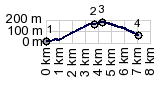 1.(00.0km,0010m)START-END NORTH:Ascain
2.(03.7km,0169m)Col de St Ingnace
3.(04.3km,0190m)TOP: Col de St Ignace s(u)
4.(07.1km,0070m)START-END SOUTH: just below Sarre, jct with D4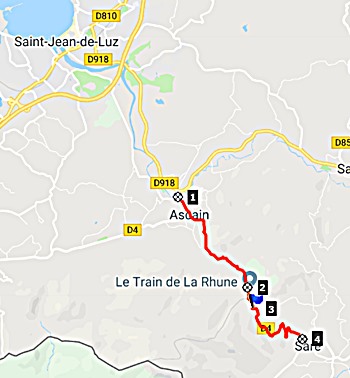 Approaches

From North. A short forested sweep goes up to the top of the pass. On the top - surprise - a busy little railway station, surrounded by shops selling souvenirs, as well as a couple of bars and restaurants, catering to tourists waiting for the next train.

The actual summit comes after the pass, just after the commerce. A third road meeting near the railroad station also crosses a higher point.

From South. The descend to Sarre is only 120 meters, but there are ways to get lower in the landscape back towards the coast from there.

A Dayride with this point as intermediate summit is on page:
Col d'Ibardin