Rossfeldstrasse s(u)

Only the very northern edge of the alps sometimes reach into Germany. Sometimes it seems whenever the alps get interesting heading south, you cross into Austria. Berchtesgaden is the most famous exception. It contains the only German national park in the alps, and this is the highest paved summit in it.

Maybe because this is the only real chance for a steep alpine road in Germany, Rossfeldstrasse was made to be particularly memorable when it comes to steepness. Actually it is a ring road that stays at high elevation. But in order to get maximum elevation gain to the summit I included approaches from two lower point. The ring road connects between points 2 and 4.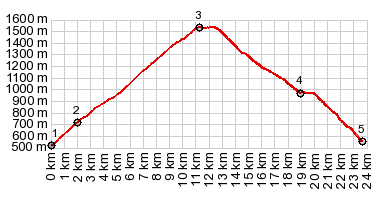 1.START-END NORTH:jct B305 - B319
2.jct with road to Obersalzberg before reaching Oberau
3.TOP: 1540m
4.jct with Obersalzbergstr, connecting to point 2
5.START-END SOUTH:jct Salzbergstr with B306 in Berchtesgaden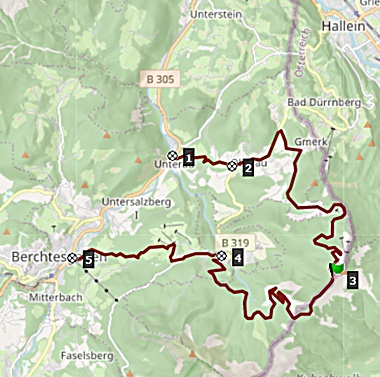 Approaches

From North. For some reason the lower approach from Unterau to Oberau seems to have a lot more traffic than the rest of the loop, and climbing the tight steep curves can be less than ideal. Amongst the several small pull-outs, there is one direction Berchtesgaden with "Hoher Goell" behind it, that is perfect in morning light.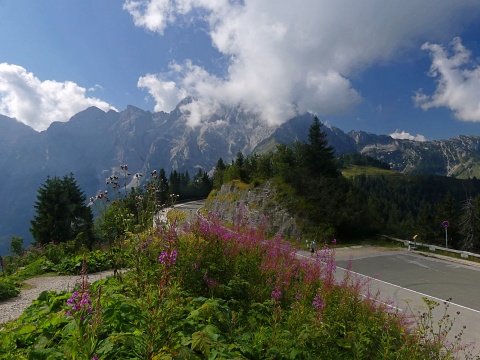 Not until just before reaching the summit, does the road go above treeline. From the summit ridge a short walk gives a panoramic view down into the valley of the Salzach in Austria. The view onto the lower karst ridges with the steep strike slope facing the viewer from Berchtesgaden is actually much more dramatic.

From South. (described downwards) As from the summit, the most impressive views are the steep partially cloud obscured cliffs of various mountains named after varieties of Freieck. After a steep decent in the forest the road passes an interpretive center for the Kehlheim Haus area. The English designation for this is "Eagles Nest" and has nothing to do with the original name. It refers to Hitler's alpine retreat. At the interpretive center tourists wait to be taken in busloads from the expecially built terminal up the steep mountain road. the acces to that road is hidden behind the bus terminal. Bicycles and pedistrians are not allowed on this steep narrow and scenic road. But during Corona times, there were no buses, and nobody there to stop cyclists. Unfortunately I missed it. I'll have to settle for a photograph of somebody waiting for the bus (picture is in the slideshow).

Past that tourist compex, more steep decending is to be done to reach Berchtesgaden. Technically this is not part of the Rossfeldstr.

cLiCk on image , arrows , or thumbnails to advance slideshow
Dayride with this point as highest summit:
COMPLETELY PAVED
( < |
Schwarzbachtalwachtsattel
> )
Rossfeldstr s(u)
: additional out and back : campground on a small rd several hundred ft above Oberau > Rossfeldstr s(u) > sightseeing detour around Berchtesgaden <> out and back to Koenigsee with detours around the area > Unterau > back to starting point: 29.6miels with 4400ft of climbing in 4:06hrs (gamin etrex 30 r4:21.8.6)
Notes: day also included an introductory walk in the Koenigsee area