Cuesta de Ragudo(sh)

This small, paved road, virtually without traffic, is a steeper, paved alternative to a section of the Via Verde Ojos Negros, just below Barracas. But it can also be a summit point using only paved roads from Jerica.


1.(00.0km,0500m)START-END SOUTH-1: Jerica
2.(04.0km,0590m)Benafer
3.(11.6km,0800m)road crosses Via Verde next to this ronedell
4.(19.6km,1050m)TOP: Collado Ragudo
5.(25.1km,0970m)Barracas
6.(46.3km,0590m)Viver
7.(48.9km,0500m)START-END SOUTH-2: Jerica, same as point1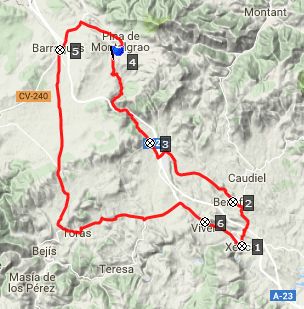 Approaches

From East -1: The profile follows a small paved road from Jerica north. The course is a little shorter than the Via Verde and bypasses Caudiel.

At point 3 there is a chance to change from one to the other. The Via Verde meets the paved road at a small signed intersection just after crossing under the four lane highway.

While the Via Verde takes long sweeping curves to climb to the breadloaf shaped ridge and its windmills, the road stays in a narrow depression between the hill and the four lane highway. There are no views, but it is a nice quiet climb.

From East-2. (described downwards) After rolling over the highest point the village Pina del Montalgrao is just a group of houses on a hill. But Barracas has all services. There is more on the Via Verde Ojos Negros page.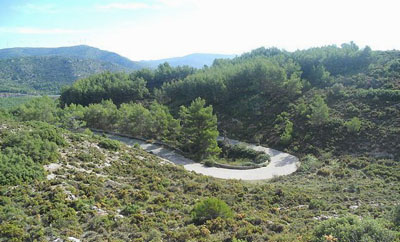 Heading north, east or west from Barracas leads to higher elevations in the foothills of the Sierra Javalambre. But you can make this the highest point by heading back downhill to the south.


A Dayride with this point as shoulder summit is on page: Via Verde Ojos Negros s(u)