Alto de Iznate

This pass crosses a low ridge parallel to the Mediterranean sea, north of Malaga. This crossing is lower than the other passes across the same ridge. But what makes this summit arguably more interesting than the others, are there two pueblo blancos, one on each side.


1.(00.0km,020m) START-END WEST:MA3203 heads into the hills, west of Benajarafe
2.(08.4km,380m)TOP
3.(09.8km,350m)upper turnoff to Iznate
4.(14.2km,130m)Benamocara
5.(20.8km,040m)START-END EAST: Velez Malaga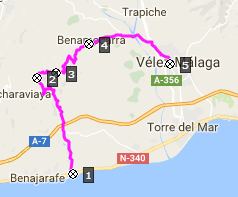 Approaches

From West. The profile starts from the coastal road and its never-ending parade of beach umbrellas and condos, competing for limited beach access. Here a sign points to Iznate and the profile begins. After the road crosses the major traffic artery along the coast, a limited access four lane highway, the views improve considerably.

The first village comes into view further up the profile : the white ant hive appearance is Macharaviaya. But you can't actually get there from here, at least not on pavement without going back down to where the road crosses the four lane highway. The top of this pass is clearly visible before getting there.

From East. But the view on the other side comes as surprise to me, and i think to most any first time visitor. Iznate makes the perfect foreground for the Sierra de Tejeda. The scene has a himalayan foothill character, because of all the small settlements sprinkled over the hills. Behind these speckles of white, alluvial fan approach ramps lead to a huge rounded mountain. From this vantage point the speckles of white appear like the noisy pixels on a tv screen with bad reception. I'll leave the rest for the slide show. The road skirts Iznate, so it's easy to take a closer look. The descent does not take long - not much work for such a spectacular view.

A Ride with this point as intermediate summit is on page: Venta la Nada s(u)