Hirschbichlpass

Bikepaths over mountain passes are a very rare animal. It is even rarer to run into one by accident, which I did in this case.

The road crosses a mountain-meadow divide between a national park in Germany and a nature reserve in Austria. Especially the German side is a popular bike route, where cars are not allowed on this perfectly smooth paved road, with the width of a bike path.

A German web site points out that this route is of course less than ideal for skinny tire bikes in the winter [Note1 at end of page]. The person goes on to say that the same is true for fall, because of a thick cover of wet, slippery leaves. This is not so "of course" but it makes sense.

None of the people I talked to, actually referred to this road as a pass. They called it just Hirschbichl. Most maps label it as Hirschbichlstrasse. But informational tablets at the top of the road, explain its role as a historic trading pass especially during the times of salt-trading, also notorious as a smuggling route. There was a border control here till 1963. My openstreetmap also labels it as Hirschbichlpass.
external slide show with pictures from this page +addititonal


1.START-END EAST:jct B319-B305 (from Oberau and Salzburg)
2.Berchtesgaden
3.Ramsau bei Berchtesgaden
4.entrance into National Park above Hintersee
5.border crossing to Austria, and Bergheim (Inn) Hirschbichl
6.TOP: Hirschbichl Pass, 1183m
7.end of narrow road at jct with Weissbach
8.START-END WEST:jct with B311 at Weissbach bei Lofer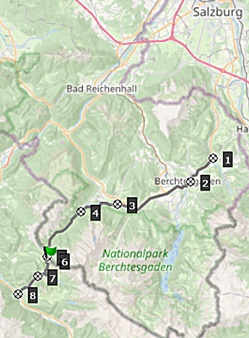 Approaches

From East. From Berchtesgaden busy B306 climbs to Ramsau. This town is the best base camp town for hikes and bike rides into the surrounding mountains (in my opinion). The road passes a popularly painted and photographed scene of the St Sebastian church. There is also a very short kind-of "stations of the cross" path past that. Unfortunately the view of the mountains from the path is blocked by modern construction. I included a picture from the architecture along the way in the slide show. ... Leaving behind a major part of the traffic, the route continues to climb to the lake Hintersee.

Traffic from here on continues to be heavy in my experience, but now it consists exclusively of mountain e-bikes and the occasional racing bike. In my case there were two exceptions: a couple on touring bikes and my own bike of the same kind. And then "of course", there is the occasional alm-experience-bus. It takes throngs of tourists to the trailhead of their choice. But cars are no longer part of the scene, now that the road has crossed into national park land, and is just barely wide enough for the bus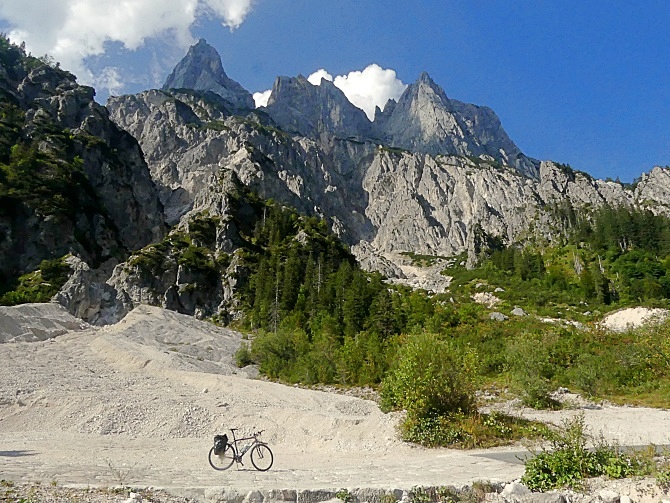 The road stays at the bottom of the valley. But the views to the skyscraper peaks become more common as the road climbs. Especially interesting is a trail - detour starting at Bichlalm. It rejoins the road after a few kms. It is open to bicycles and smooth enough for any and all of them. The top of the road has a few extremely steep pitches, followed by small let-ups where one can catch ones breath (or in my case get back on the bike). At the German-Austrian border there is a sign with name and elevation, followed by a cafe and informational displays about the pass. However the highest point of the road comes a little later in Austria.

cLiCk on image , arrows , or thumbnails to advance slideshow
From West.
(described downwards). The roadbed on this side is not as spotlessly perfect as on the German side, but it still is more than enough for any skinny tire bike. The steepness is advertised to reach 30 percent. It is extremely variable, and a few short pitches probably are that steep. The landscape on this side tends to be greener, and late light flattens the mountains into cutouts. This side is an Austrian Natural Park, but cars are allowed, even if they can't move any faster than a bicycle on the twisty upper section.
Dayride with this point as highest summit:
COMPLETELY PAVED
( <
Schwarzbachtalwaldsattel
|
Vrsic Pass
> )
Hochbichlstr s(u) x2:
Womostellplatz above Oberau <> Berchtesgaden with several km of slow sightseeing detours <> Hintersee <> Hirschbichlstr s(u) << turnaround point ~750ft below summit: 45.3m with 4400ft of climbing in 5:01hrs (garmin etrex30 r5:21.9.9).
Notes: I discovered this route by accident, so this was a real sight seeing tour.
History


In the 13th century international trade headlines were made not by computer chips or oil, but salt. Salt producers in Hallein and Schellenberg exported it over this pass south into Tyrol.
In the long history of European confrontations, this pass played a minor role in wars that resulted indirectly from the French revolution. Rifle men were stationed on top, but the war happened else where. When troops were recalled on the two neighboring, much lower valley passes: Pass Strueb and Pass Lueg, the positions on Hirschbichl were also withdrawn.
The Inn at the top is not only a picturesque place to relax. Hospitality at this spot has a long history, which starts with beer. A beer tap in the guard house dates back to 1738. Complaints by competing hosts in the valley of surrounding communities took till 1742 to be settled - in favor of the beer tap on the summit. In 1805, strengthened by further legal affirmations, the beer tap became a full fledged inn
The pass was also part of a pilgrimage route. The destination was Sankt Martin bei Lofer in Austria with several chapels along the way, including the one near the top of this pass.
---------------------------------------------:

[Note1]:The word "of course" is frequently overused by Germans speaking in English (just watch a DW news program in English sometime, if you live in Denver it's channel 12.3), but I think it would fit here.