D66 Piomin s(u)

This was the much lower summit on a loop going over a much higher summit Poklon s(u). And still, you could argue that this one was actually scenically more enjoyable, and that comes from somebody who really likes take pictures from the top down onto other things.
The reason is, that this summit is directly adjacent to the sea, adding a whole dimension of other views and feelings. Also, a few interestingly perched man made structures complement the landscape here.


1.START-END WEST:intermediate kow point on D500
2.profile turns left onto D66 in Voclici
3."the cape"
4.TOP: 860ft~260m
5.START-END NORTH:roundabout before entering Moscenicka Draga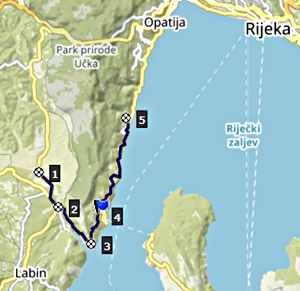 Approaches

From West. After coming down the the straight and fast bowling alley road from Poklon, Rijeka bound traffic is directed by signs to climb up this way. Yet the traffic is much less, climbing up this way, and also slower. After a short climb: it seems like the top, castle walls wait in Piomin. But it is not the top and the road climbs gently on to a small cape above the sea. Here stands a small hotel, displaying its three stars proudly, as well as a wall limiting all views to from the other side. But the road on both sides has enough great spots that this is not a detraction, just a silly human quirk. The actual top of this gentle climb comes a short distance after the abrupt direction change to the north on the cape


From North. (described downwards). This is the gentlest of grades homeing in on Rijeka with a great variatons of views, a new foreground every couple of miles. The miles along the top must have the bus stops with the best views, at least in all of Croatia -but that's just an ignorant guess.

Getting somewhat lower, two castles (or their remnants) are the attention getters, in the settlements Brsec and Moscenice. The profile ends on the sea, just about the exact same point where traffic picks up to the point of being honestly too much.

cLiCk on image , arrows , or thumbnails to advance slideshow
A Dayride with this point as intermediate summit is on page:
Poklon s(u)