6167 Logva Rogoznica s(u)

This is a short coastal traverse above the main magistrale road. To state the obvious - there is less traffic and the views are better. In addition the summit point has a few nice surprises.


1.START-END WEST:D8 starts climbing, a short distance west of Omis.
2.profile turns left onto 6167
3.TOP: 250m, Logva Rogonica s(u)
4.profile rejoins D8, profile turns back east
5.START-END EAST:low point on D8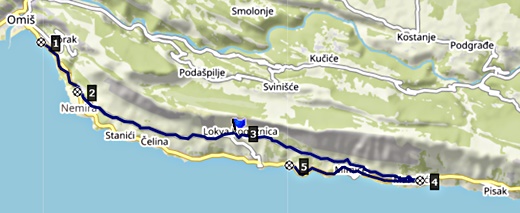 Approaches

From West. A few kms after leaving Omis, this less used road climbs further up the coastal mountains and gives a more panoramic view of the sea.

At the top is the small village Logva Rogznica and its church. An interesting set of white statues adorns the church yard. Together with the view they make for an excellent religious experience.

There is a narrow out and back paved road to the cemetery plainly visible from the church. A posted map also shows a trail leaving from there, and climbing to a church up on the ridge. Unfortunately I couldn't find it in a limited amount of time.

From East. There is a paved approach on this side that descends directly and steeply to the coastal main road. But the profile shows an unpaved option that is more scenic and takes more time, waiting for the coastal road to climb up, instead of descending to it. Along the way on this scenic dirt track are great views of 1700 meter coastal peaks ahead, as well as a linear park of sorts with fascinating statues.

cLiCk on image , arrows , or thumbnails to advance slideshow
An ride with this point as intermediate summit is on page:
Dubce Pass