Sunwapta Pass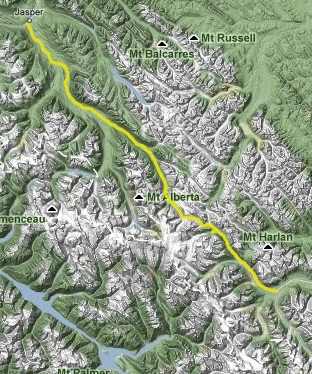 Sunwapta Pass with its approaches makes up the northern half of the Icefields Parkway between Saskatchewan River Crossing and Jasper. It is slightly lower than its neighboring pass to the south,
Bow Pass
. But Sunwapta Pass gives the impression of being higher because of snow and ice, and their derivative - glaciers. The dominant feature of the summit are true glaciers ( not just icefields mistaken for glaciers ), extending their white, licking tongues down towards the road. A ride across Sunwapta Pass is described on
this page
, under the heading "la promenade des glaciers - the Icefields Parkway". The pass separates water flowing into the North Saskatchewan and Hudson Bay (southern approach) from that flowing into the Athabaska River and the Arctic Ocean.
Approaches
From North. The initial approach from Jasper first offers a chance to rest up emotionally for the great landscape that lies ahead. Sure, there is the occasional waterfall hidden behind a parking lot of tourists. But the real road side scenery doesn't start until you get closer to the summit.
From South. The ride from Saskatchewan Crossing to Big Bend Curve does produce a net elevation gain over the rolling hills between the towering mountains. But the real climb starts after the curve. This is the most curvy of the Icefield Parkway pass approaches, and even it is pretty darn straight.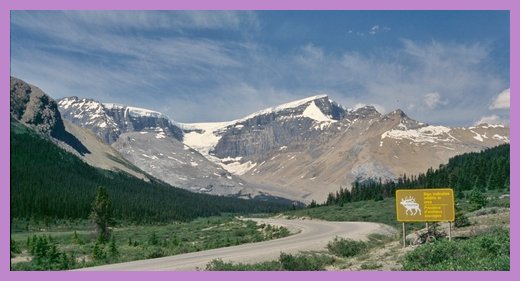 Tours
Dayrides. A dayride from the Pinto Lake trailhead parking area on the south side to a convenient turn around point on the other side measured 75 miles and 4790 feet of elevation gain, using a Cateye 100A cycle computer.
Extended Tours. The Icefields Parkway is where vacationing cycle tourists converge in the summer on the American continent. While even the Okonagan valley may be baking in 90 degree temperatures, the Icefields Parkway remains cool, not to mention scenic, oh how scenic.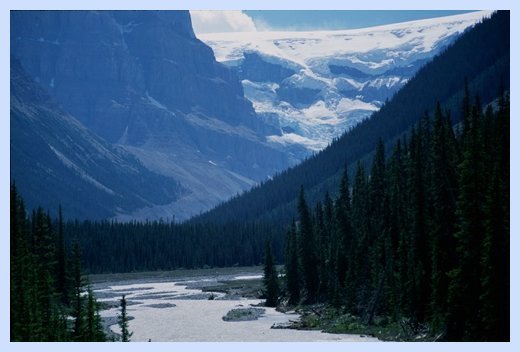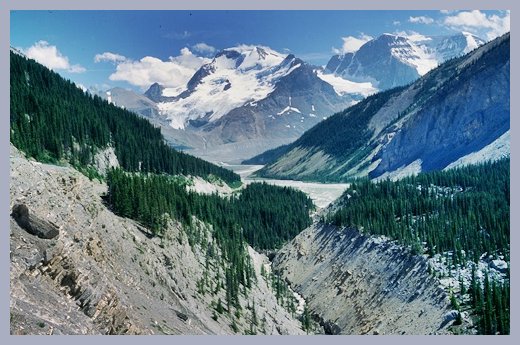 Modern Highways
(|
Bow Pass
>|) The Icefields Parkway was a late result of the road building frenzy following WW1, in both the US and Canada. The list of pass roads built during that period includes Vermillion Pass in 1923, followed by Kicking Horse, Crowsnest, Yellowhead and Sinclair. Finally Canada's first commissioner of Public Parks planned a route north along the main range from Banff. The decision was made in favor of Sunwapta Pass over the also used Wilcox Pass. The latter would have avoided the difficult area, skirting the Athabasca Glacier area. Sunwapta Pass was crossed before Bow Pass. An early version of the highway was completed in 1940 and a new road in 1961.