Highwood Pass

Chances are, after cycling this road, you would never guess that you just conquered the highest paved Rocky Mountain pass in Canada. It barely reaches treeline ! But the superlative of this landscape is not so much in its pure dimensions, but in its steep precipes, much like a canyon that is well on its way to being eroded further, until it becomes a collection of blocks, monuments and walls. The road itself is as monumentally broad as the Icefields Parkway, but only carries a fraction of the summer traffic. A ride over Highwood Pass is described a further in the touring stories section, on
this page
under the headings "Kananaskis Country" and "Peter Lougheed Provincial Park". The pass is near but east of the Continental Divide.

01.(km00.0,1260m) START-END EAST: jct Road22-Road541, north of Longview
02.(km43.3,1530m) START-END EAST ALTERNATE: Forestry Trunk Road (dirt road) joins on left
03.(km80.8,2227m) TOP: Highwood Pass
04.(km97.9,1730m) START-END WEST ALTERNATE: turnoff to upper Kananaskis Lake and Smith-Dorien Spray Trial on left
05.(km125,1460m) START-END WEST: turnoff to Kanasaskis Village on left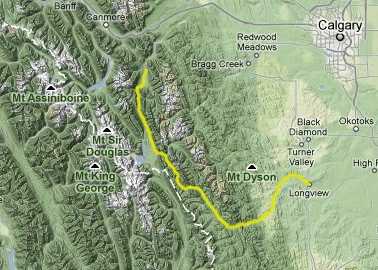 Approaches

From East. The road has a rolling hill character that reaches to a few miles below the summit. But there is nothing rolling about the peaks next to the road. From the top a short hike dramatically improves one's vantage point onto surrounding mountains, as shown by the last two pictures.
From West. The dominant scenic feature on this side of the pass may well be at its bottom and a dozen miles further off the main road. Kananaskis Lakes Provincial Park has moutain lakes of a size that is rarely found on this side of the Continental Divide in Canada. The size of the lakes is superseded only by the precipitessness of the mountains surrounding them. The gradual climb through forest up to the pass gives plenty of opportunity to remember this image.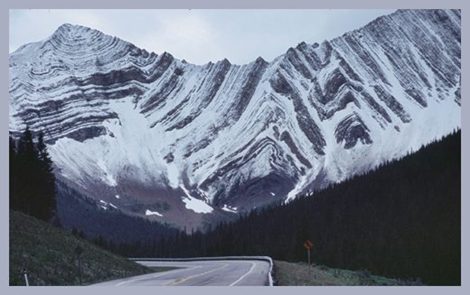 Tours
Dayrides. A dayride, exploring several options on the biketrail along Kananaskis Lake and extending to the top of the pass and back, measured 58 miles and 4800 feet of climbing (which was too high due to a week battery), using an Cateye 100A cycle computer. Another dayride, combining dirt roads with luxuriously paved Highwood Pass started on the Forestry Trunk Road near the Kananaskis Country boundary and climbed the pass from the other side, then returned to the starting point by the same route. It measured 71 miles with 5070 feet of climbing, using the same setup.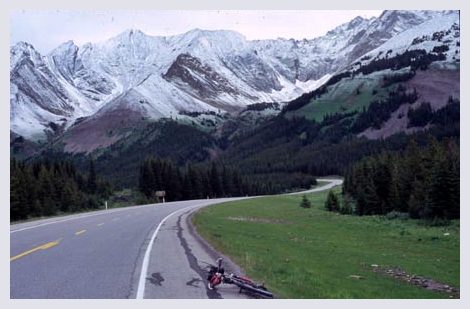 Extended Tour. The road is great, the scenery terrific, the traffic nonexistent. The only problem is expensive and rare food provisions. Peter Loughheed Park has a store selling snacks. Opinions about the nutritous value of these products vary. But maybe it's too much to expect food sold in stores like this to have actual nutritional value (July 04).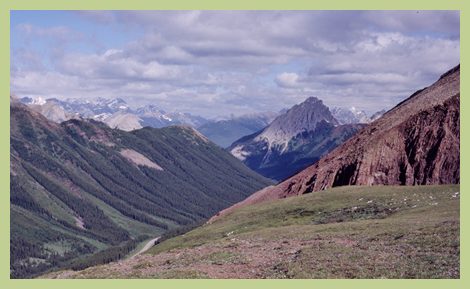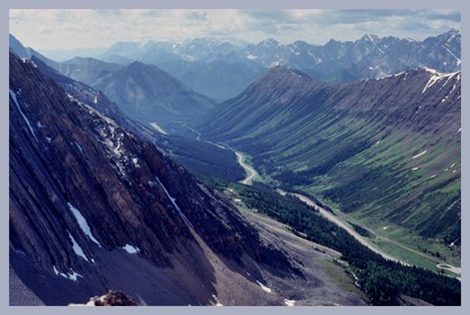 Picture Locations: The last two pictures were taken on foot, a small distance above the pass; the first two on the southern approach