Turner Gulch Rd s(u)

This is a gradually climbing road in South Park between Tarryall Rerservour and busy US24. The road is completely devoid of washboard surface, as unusual as that might sound. It makes part of a scenic loop in conjunction with paved Tarryall Rd.


1.(00.0mile,7980ft) START-END EAST:jct US24 - Tarryall Road
2.(11.4mile,8810ft)intermediate high point on paved Tarryall Road
3.(14.0mile,8580ft)Bayou Salado Reservoir
4.(24.0mile,8850ft)profile turns onto Turner Gulch Rd
5.(34.7mile,9770ft)TOP
6.(41.9mile,8910ft) START-END WEST: jct US24 - San Juan St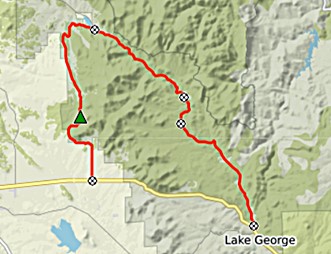 Approaches

From North. The profile includes the paved section from US24 to Tarryall Reservoir. An unpaved road diverts from the paved road to Tarryall Reservoir and leads on a short curvy climb to a summit of grassy hills, dotted with a few gnarled old trees. Everytime I have been here, dark purple clouds to the south have hung over the higher parts of the front range, and brewed into a potent afternoon storm. But until then, enjoy the spectacle. Every small dip in the road ahead looks like it might be the summit. But the real summit happens later, and is in the trees without views.

From South. (described downwards). The upper part of the descend in in forested country. When the infinite green spread, that is South Park opens up again, the road enters a kind of parcel real estate development area, where most owners apparently use their property to park large RVs. The profile takes the most obvious route to US24, and joins it just below the slope to Wilkerson Pass starts.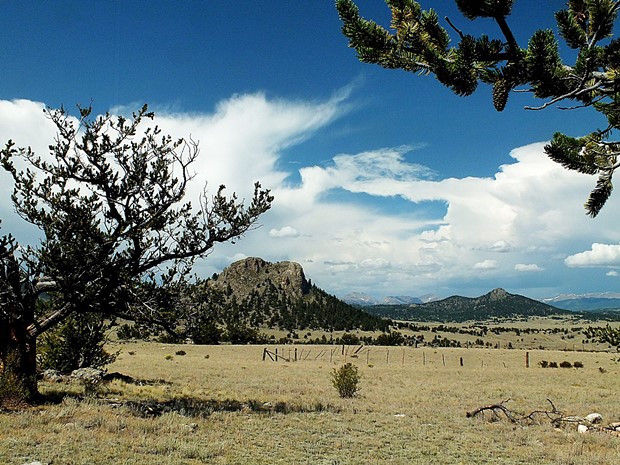 Dayride with this point as highest summit:

PARTIALLY PAVED / UNPAVED

( | FR308 Mushroom Gulch s(u) > )

Turner Gulch Rd s(u) , Wilkerson Pass : CR77 Tarryall Rd, several miles from jct with US24 > CR77 north > Tarryall Reservoir with short detour > Turner Gulch Rd south > Turner Gulch s(u) > shortest, most easterly way to US24 > US24 east > Wilkerson Pass > CR77 Tarryall Rd north back to starting point: 58.0miles with 3800ft of climbing in 5:15hrs (garmin etrex30 m3:19.9.6)
Notes: in order to avoid traffic in favor of unpaved roads as much as possible, it would be better to substitute La Salle Pass for Wilkerson Pass. The nicest part of this ride was arguably CR77 between US24 and Tarryall Reservoir, immaculate pavement, beautiful scenery and no traffic.