Paradise Divide

The Crested Butte area has some of the most popular high single track trails in the US. For people who like pass roads, there is also this incredible smooth surface high dirt road. It seems to me this is one of the great Colorado pass roads, even if it doesn't make it into many books, like the Colorado Pass Book, or "The Great Gates ?. The reason is probably, that from a "just get from one point to the other"view, this is just a more difficult approach to Schofield Pass.


1.(mile00.0,8870ft)START-END EAST: SOUTH-1: Crested Butte, library
2.(mile01.7,9100ft)jct Wastington Gulch Rd - Gothic Rd
3.(mile09.7,11030ft)FR811 Washington Gulch Rd s(u)
4.(mile10.7,10740ft)profile goes right on FR734, Washington Gulch Rd turns hard left
5.(mile12.1,11300ft)TOP: Paradise Divide
6.(mile14.6,10700ft)profile turns right to Schofield Pass
7.(mile14.7,10707ft)Schofield Pass
8.(mile17.8,9780ft)jct with jeep trail to Rustler Gulch
9.(mile26.6,9100ft)START-END EAST-2: same as point 2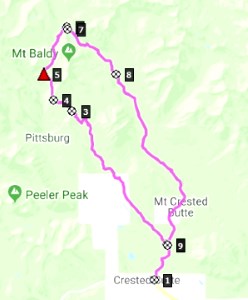 Approaches

From South West. On this side, there are two fairly direct dirt road approaches from Crested Butte, that meet about 500ft below the summit: over Slate River Road or FR811 Washington Gulch Rd. The profile takes the latter.

The approach goes over a shoulder summit point on that route, and then descends less than 300ft down the wetter northern side. At the jct with FR734, three equally smooth roads meet. There have been barely any loose rocks whatsoever on the climb so far, and it continues that way to the summit and beyond. It makes it seem like this is a place other than Colorado. What it so different about this particular loop, that it was possible to get rid of all the rocks ?

FR734 quickly climbs above treeline again. You can see the road ahead, slicing. across two triangular peaks in a steady straight cut. Actually the view includes the continuation of the Paradise Divide road all the way to Yule Pass. Unfortunately that pass is in a wilderness area so that bicycling is illegal. Otherwise it looks very feasible.

The top of the divide has a sign, and several small spurs around a small lake. Exploring around the area, including a 12000 foot peak to the west gives a better perspective on this picturesque divide between the Maroon Bells, Snowmass Peak and Crested Butte

.

From South East. It is only two miles down into a small high valley, named the Paradise Basin, and less than a 300ft climb back out of the basin, to arrive at Schofield Pass, immediately north of its summit.

The Schofield Pass road on this side has been turned into a dirt road, smooth as pavement. Only one big snow field was the reason for Schofield Pass still being closed near the top to motorized traffic on a June 18th.

The area near Gothic contains a few interesting old buildings, refunctionalized to serve in as a research outpost. Getting close to the ski areas of Crested Butte, the wide road climbs as much as it rolls, before arriving at Mount Crested Butte. From there on it's a pavement roll through ski inspired housing.

Dayride with this point as highest summit:

PARTIALLY PAVED / UNPAVED

( < FR770 Highline Dr s(u) | Reno Divide > )

Paradise Divide: Cement Creek Campgound > Cement Creek Rd west > Co135 north > Crested Butte > up Washington Gulch Rd > Fr811 Washington Gulch Rd(shp) > up Fr743 <> short out and back to wilderness boundary towards Yule Pass > Paradise Basin > Schofield Pass(shp) > down CR317 > Mount Crested Butte > Crested Butte > Co135 south > Cement Creek Rd east back to starting point: 50.7miles with 4580ft of climbing in 5:27hrs (garmin etrex30 m5:18.6.18).
Notes: no problems with snow or mud this year, but there were still 3 large drifts, that made traversal of the loop with a non portable vehicle impossible. - the day also included a climb on foot of the shoulder west of Paradise Divide.

cLiCk on image , arrows , or thumbnails to advance slideshow