Old Rabbit Ears Pass

An old section of highway runs parallel to Rabbit Ears Pass at the top. Surprise - that's Old Rabbit Ears Pass. You can drive or ride a road bike to the old summit and the small historic monument there. A number of interesting mountain bike routes start here. With a mountain bike you can also make a loop over the entire few miles of the old pass road. Since access to one side of the old highway is blocked, this is not very practical with a road bike.


1.(mile00.0,6860ft)START-END WEST: jct US40-Co131, south of Steamboat Springs
2.(mile16.0,9520ft)profile turns off US40 towards left
3.(mile17.7,9610ft)TOP: Old Rabbit Ears Pass
4.(mile19.0,9440ft)profile rejoins US40
5.(mile21.3,8710ft)Muddy Pass (shp); profile turns south
6.(mile32.9,7780ft)START-END EAST: jct FR700 Chimney Rock Rd - US40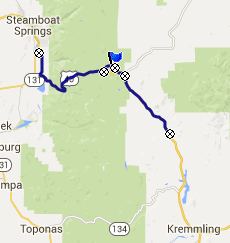 Approaches

From West. After passing the west summit of Rabbit Ears Pass, (which is labeled with a sign but not really a summit) an unmarked paved road takes off on the left. At the top of the old pass road still stands a stone monument from 1929, containing a bronze tablet designating the pass. On a summer day it is usually surrounded by parked cars, whose inhabitants are away exploring the wooded paths in the area.

From East. (described downwards). The pavement continues down the other side, but quickly deteriorates into a dirt road. The final section of the road is closed by a barrier. But with a mountain bike or on foot you are free to continue on the old roadbed, now overgrown with grass. The route merges with the new Rabbit Pass Road, located on the other side of another barrier. Traveling on the highway this spot is very hard to recognize, unless you have seen it from the other side first.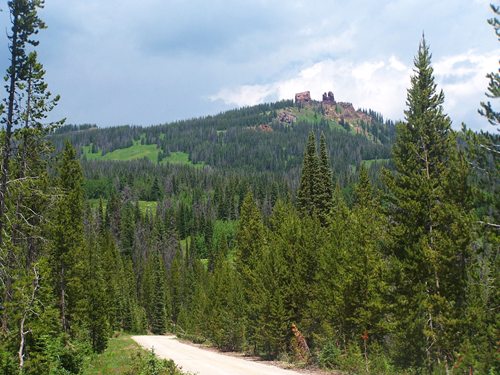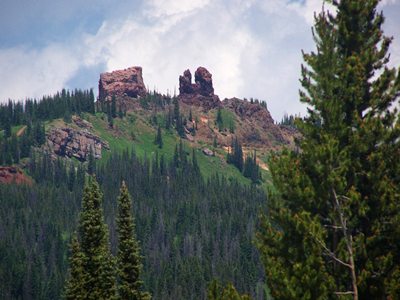 History

The Rabbit Pass area was first mapped by the Hayden Survey in 1876. The first road, following prospector trails followed the same year.

The next version of the road, still surfaced with dirt dates back to 1914. It was suitable for automobiles. The route over the current Rabbit Ears Pass opened in 1959 after two years of construction.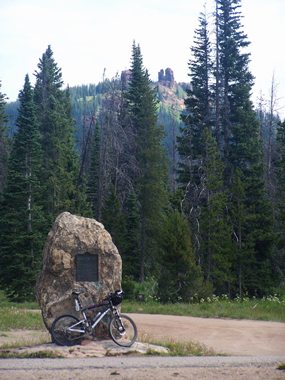 Ride with this point as highest summit:
PARTIALLY PAVED / UNPAVED / SINGLE TRACK
(<
Co134 near Toponas s(u)
|
Wyoming Trail s(u)
>)
Old Rabbit Ears Pass , Rabbit Ears Pass :
A short distance south on FR100, off Rabbit Ears Pass : FR100 north > Muddy Creek Trailhead > Old Rabbit Ears Pass <> two out and backs up towards Rabbit Ears Peak, looking for a trail around the east side of the peak <> separate out and back on FR311 to turnaround point at trailhead for Wyoming Trail >> down US40 to Stramboat Springs > a mile or two around Streamboat Springs > back up US40 and FR110 back to starting point: 63.5miles with 5700ft of climbing in 6:23hrs (Garmin etrex30 15.7.2)
Notes: Anything but the planned route: First I couldn't find a trail around the east side of Rabbit Ears Peak towards Buffalo Pass. Then the brakeshoes failed at the Wyoming trailhead, so I rode to Steamboat on pavement to get new ones.