Genesee Park summit(u)

No other paved road, this close to Denver, reaches as high as the one to Genesee Mountain.
City View Drive (sh)
is ~350ft higher, but it's also further south of Denver. In order to make Genesee Park s(u) into a two way summit, the profile combines the paved approach with a good dirt road approach from the west side.
The profile below is identical to the paved
Kerr Gulch - Co74 shoulder summit
for everything except the section between points 7 and 9. Rather than continuing on the short section on I70, the route over this summit detours onto a short hard dirt road into Genesee Park.


click on profile for more detail
01.(5720ft,mile00) START-END SOUTH: Morrison, jct C470 - Bear Creek Canyon
02.(6470ft,mile05) Idledale and (dirt) turnoff to Grapevine/Sawmill Gulch is on right. Profile continues straught.
03.(6810ft,mile08) profile turns right up Kerr Gulch, just before turnoff to Parmalee Gulch (aka Myers Gulch or Dix Saddle) and town of Kittredge
04.(7780ft,mile14) profile joins Co74 and turns right to El Rancho
05.(7810ft,mile14) Kerr Gulch - Co74 shoulder point
06.(7670ft,mile14) El Rancho
07.(7680ft,mile15) Chief Hosa exit on I70; short dirt stretch starts here
08.(8060ft,mile18) TOP: Genesee Mtn summit(u). Out and back road continues higher to the left
09.(7740ft,mile19) route continues down Mount Vernon Canyon
10.(6400ft,mile24) START-END NORTH ALTERNATE: I70 exit for Morrison.
11.(5540ft,mile34) START-END NORTH: jct Clear Creek bike path - Kipling Ave.
Approaches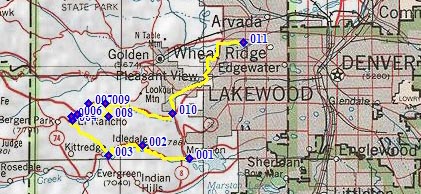 From West. The profile starts in Morrison to show the maximum elevation gain. But the description starts at point 7, a little used exit to I70 that serves a few houses in the woods, the Chief Hosa campground, and cyclists trying to ride over this summit.

Heading in a southerly direction, the road immediately turns to hard dirt. It stays in the forest for the first straight climb, exiting onto a meadow, where you can sometimes see buffalo or other wildlife behind the high fence. The views also stretch into the high foothills west and north. Continuing back into forest, the road crests at a junction: the two-way summit. Taking a hard left at this junction, a short dead end road leads through elaborate picnic structures, that could only stem from an era when public work projects were more accepted than today, to the top of Genesee Mountain. Only the first part is paved. The top is forested but still has good views in three directions. There is also a trail to the top of Genesee Mtn, which reaches 200ft higher.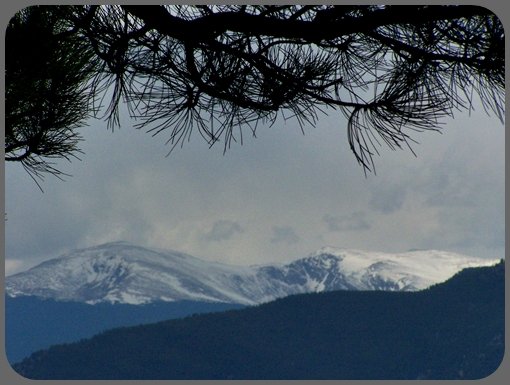 From East. A nice view of Denver near the top of the two way summit is easily missed. It is right behind a picnic table, a short distance east of the summit: Modern large suburban housing units foreground downtown Denver in the distance, which looks rather like a set of stalagtites in haze. In the foothills you can also make out a ubiquitous shell shaped house poking out of the woods. A quick descent in forest ends with two tight switchbacks, and then the route rejoins heavier traffic and the I70 service route at the Mount Vernon Canyon - Genesee Trail Rd shoulder summit. The profile's long descent continues down Mount Vernon Canyon.

But the descend could also go over other points, that are two way summit points by themselves Lookout Mtn Rd(sh), or Grapevine Rd s(u), for example. Lookout Mtn Rd(sh) can be both an additional summit point (ie separated by an additional climb of over 100 meters~300ft) by approaching it over Paradise Rd. It can also a shoulder point (not separated by such a climb) by approaching it directly via Lookout Mtn Rd.