FR700 Red Sandstone Rd s(u)

I used to think that this was the best way over
Muddy Divide
. It still is a route over
Muddy Divide
. But this road goes much higher. And since then I found evidence of another route down Muddy Pass, that does not require an extra 2000ft of climbing. The ridge crossed by the FR700 Red Sandstone Rode marks the transition between the dry rangelands of the western slope and the alpine crest of the Rockies, and offers great views onto the Gore Range.

1.(6950ft,mile00) START-END WEST: Walcott: jct Co133-US6
2.(7120ft,mile03) profile turns right up dirt road following Muddy Creek
3.(8625ft,mile09) Muddy Pass; two other approaches on less traveled double tracks join from left
4.(10675ft,mile16) TOP: point of highest elevation
5.(9650ft,mile27) dirt road to Piney Crossing campground joins from left
6.(8130ft,mile35) junction with US6; profle continues downhill to right on pavement and biketrails
7.(7730ft,mile38) START-END EAST: Dowds Junction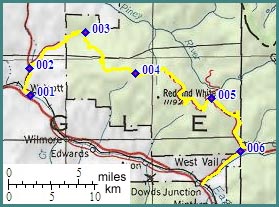 Approaches

From West. Riding north, away from the Crystal River and Walcott on Co111, the turnoff onto FR700 is signed. A dusty road heads up towards rounded sage hills. Muddy Creek looks what it sounds like, and cows help make it more so.

The road climbs in wide meanders up to the treeline. The word "treeline" means the opposite than to the east in the central Rockies. Here It signifies where the forest on top of the plateau starts. But before the road gets into the trees, it crosses an endless meadow speckled with yellow wild flowers in June, and also crosses "Muddy Pass", also called "Muddy Divide" or "Muddy Creek Pass" as Marshall Spraque calls it in the "The Great Gates". From here a rough trail descends north into the Piney River drainage.

But this road has just started its climb. For now the views are over on the west side. A signed intersection on offers an alternate route to get to the east side of this ridge on FR730 Red and White Road. It's surface is rougher than FR700. The slope ahead on FR700 is more variable now and goes over its steepest sections. It created a deep urge in me to walk now and then. In deep forest the road rounds a wooded knoll near another muddy pond called "Horse Pond". This seems to be the top. However the road starts climbing again after a short drop. After that nobody can say exactly where the top is without an altimeter.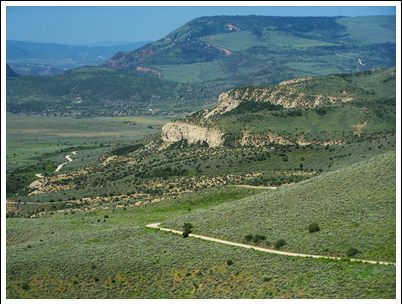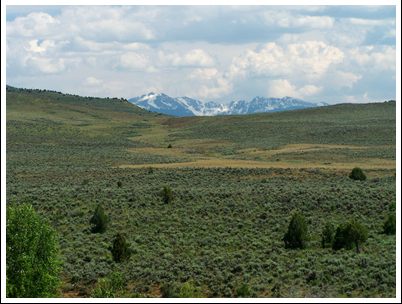 From East. (described downwards). The descend delivers a hundred views of the same subject, though each viewing angle has its own charm. The subject is the sharpest peaks of the Gore Range, including Mount Powell and Eagle's Nest Peak. At first the range is seen truncated by meadows of wildflowers and lines of tall standing pines. The closer the bottom comes, the more the view also opens up into the Piney River Valley.


Where FR700 meets up with the main road curving through the Piney Valley. It is a major intersection, relatively speaking: a parking lot for the Lost Lake Trailhead. FR730 Red and White Road rejoins the main route here also. Rolling onwards, a few seconds later, signs that the end is near are undeniable. The opposite slope contains ski run clear cuts. Vail cannot be far, but the road has a few more switchbacks planned.


Finding the turnoff up to here (heading east) on the Vail side is as follows. Past West Vail, on the North Frontage Road you pass the two Vail supermarkets: City Market and Saveway. A few miles further up there is sign on the Interstate saying "Colorado Ski Museum next exit, Gerald R Ford Park". Excactly at this spot. Red Sandstone Rd turns up into the wealthy Vail Hills, becoming Potato Patch Drive. At a switchback the unpaved Piney Road takes to the hills above.



Dayrides


( < FR102C Cooper Loop s(u) | McCord Pass > )
FR700 Red Sandstone Rd s(u) : partly up FR700 Muddy Pass Rd > up FR700 > Muddy Pass(shp) > FR700 Red Sandstone Rd s(u) > Vail > I70 North Frontage Rd west > I70 South Frontage Rd west > Vail - Eagle > Eagle Valley path west > Avon > US6 west > Walcott > Co111 north > FR700 east back to starting point: 54.6miles with 4960ft of climbing in 5:32hrs (Garmin etrex30 15.6.24).
Notes: basically the same ride as 19 years earlier, below, without the additional approach to the loop

same summit point: near Vail > Avon > Edwards > Walcott > Co111 north > FR700 east > Muddy Pass(shp) > Sandstone Rd s(u) > back to starting point near Vail: 61 miles wit 5300ft of climbing (Avocet50 or Cateye: m2:96.07.4)