-
FR260 Silver Lakes Road s(u)


From the name you might suspect some spectacular Albert Bierstadt painting scenery. But words can be deceiving. The map shows a lake or two next to the road. But they are not silver, neither do they have public access (that I could find). There are three more lakes at some distance from the road. This lonely, winding dirt road connects Alamosa Canyon with the valley of the Conejos River over a pleasant forested divide, and some wonderful rolling mountain scenery at the top. It's an alternative to
Stunner Pass
. It may look like it is shorter on the map, but since it winds around like a snake on acid, this perception is erroneous. It also reaches roughly the same elevation as Stunner Pass. The road surface on this route is perfect for fast aerobic cycling all the way: no washboard, no sand, no rocks.

1.(8650ft,mile00)START-END NORTH: west end of Terrace Reservoir
2.(8780ft,mile04.3)profile truns left onto Silver Lakes Rd
3.(10550ft,mile12.9)TOP: Silver Lakes Rd
4.(9790ft,mile16.0)profile turn left onto FR250, coming down from Stunner Pass
5.(8660ft,mile36.7)START-END SOUTH: jct FR250 with Co17, over Cumbres Pass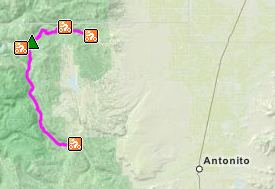 Approaches

From North. The turnoff onto Silver Lakes Road happens between the Alamosa Canyon National Forest campground and Jasper, and it is signed. The road crosses Alamosa Creek on a wooden bridge. After a few miles of gentle curvy climbing the namesake appears. A large symbol of a barricade states "Silver Lake Trout Fishing Club - private property" ( or something to that effect ). It stands in front of a forested lake, that - from its appearance - could just as well be somewhere in the Adirondack Mountains of upstate New York.

The beauty of this road is that it never goes straight, and the slope never stays the same. It is in a constant state of flux. What looks like the fist summit is a small open meadow. What looks like the second summit turns out to be the start of a hilly forest section. Here a picturesque cliff comes into view: Red Mountain (12018ft). The real summit comes at a point where several closed roads branch off. The spot is completely enclosed in forest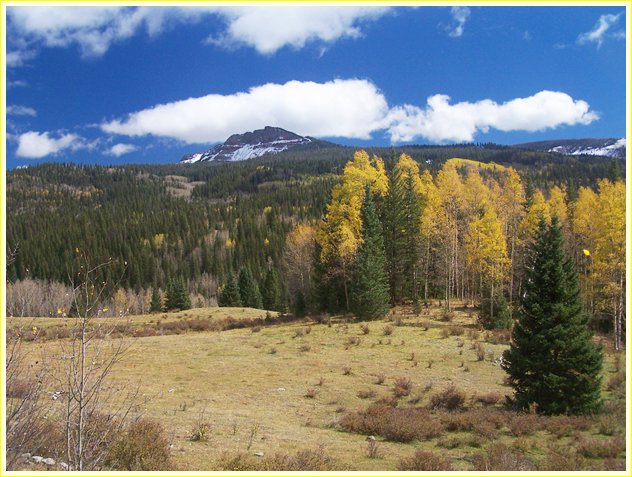 From South (described downwards). On this side however the trees become a little sparser and show off Red Mountain from the other side. A quick descend meets FR250 on the Conejos River at a wide spot.

A Dayride with this point as intermediate summit is on page: Stunner Pass

FR260 Silver Lake Rd s(u)
Highest Point: 10550ft

Northern Approach:

climb
over distance

drop
west end of Terrace Reservoir (8650ft)

1900ft
13miles

Southern Approach:





jct FR250 with Co17, over Cumbres Pass (8660ft)

1890ft
24miles
~200ft
-