FR212 Radium - Toponas(sh)

The Central Rockies seem to take a break in northern Colorado. The Front Range this far north in the state still has snow covered peaks in summer. But west of the Rawah Mountains, the landscape is dominated by forested hills. But there is a scenic marvel of a different type in this area, a canyon - where the Colorado River breaches the Gore Range. The road following the canyon is known as
Trough Road Pass
, and this dirt road climbs from the canyon up far higher to connect with
Gore Pass
near its top. The road is part of the Great Divide bike route, which explains why I saw so many bikers racing down the hill.

01.(mile00.0,6930ft) START-END EAST: Radium: bridge over Colorado River
02.(mile03.8,7630ft)jct with dead end road to railroad tracks in valley
03.(11.2mile,9113ft)TOP
04.(13.4mile,9030ft)profile turns left on Co134, coming down from Gore Pass
05.(mile18.5,8710ft)jct with CR16 over Lynx Pass
06.(mile20.4,9050ft)Co134 east of Topnoas s(u)
07.(mile27.0,8300ft)profile turns left on Co131
08.(mile28.7,8170ft)intermediate low point
09.(mile30.9,8570ft)Co131 south of Toponas s(u)
10.(mile40.6,6780ft) START-END WEST: Co131 reaches Colorado River and rail line.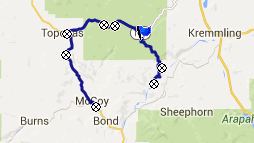 Approaches

From South. The place Radium - where the profile starts - can be very busy for several summer weekends, when every body is floating down the Colorado River. It is a central boating and rafting camp. During June and July it can feel more crowded than a New York City apartment elevator. But the head density is much lower in the elevators because people don't take along their favorite inflatable flotation device in elevators.

FR111 climbs above Radium, contouring to the north, delivering picture perfect views of one of the most spectacular rail canyons in Colorado. It even descends again for just a little bit to allow one more closer look. On the opposite side of the canyon Cottonwood Peak and West Peak top the panorama, reaching close to 11000ft.

As the road climbs further to the east, you can also make out Trough Road Pass, and mountains that look like gates to this canyon, to the east as well as to the west. The road seems to reach a summit as it changes its number from FR111 to FR212. But it just turns away from the Colorado Canyon for a short but steep descent to cross French Creek and then resume climbing into more and more forested hills. For how long they will be forested - I don't know - it looks like the pine beetle got most of it.

The road rolls higher and higher, just a few feet with each rolling wave in the landscape. Lookng north Cottonwood and West Peaks have taken their lower place in the panorama, with the main peaks of the Gore Range, Mount Powell and Eagle's Nest Peak, standing out like large rocky islands in the sea.

From North. (described downwards) From the summit point, with the Gore Range visible, the road rolls almost imperceptibly down to join the paved Gore Pass Road. In the final miles the road passes a few private houses in the woods and many pine beetle funeral pires. But you can tell you are going downhill because the panorama to the south is missing.

Turing right up Gore Pass makes this point a shoulder point towards a higher climb. Turning left makes it a shoulder summit, even though the wide straight, in comparison to what lies behind - boring - road reaches one more point within 100ft of the summit elevation before the descend starts for real. The ride back down to the Colorado River includes two more summit points, one before reaching Tonopas, and a second after leaving Tonopas.

Dayride with this point as highest summit:

PARTIALLY PAVED / UNPAVED

( < McCord Pass | FR250 Rock Creek s(u) > )
FR212 Radium - Tonopas(sh) , Co134 east of Tonopas s(u) , Co131 south of Tonopas s(u) , Trough Rd: State Bridge - Radium s(u) : Trough Rd, a few miles east of Rancho del Rio > Trough Rd east > Radium > FR111 north > FR212 north > FR212 Radium - Tonopas(sh) > Co134 west > Co134 east of Tonpas s(u) > Tonopas > Co131 south of Tonopas s(u) > State Bridge > Trough Rd: State Bridge - Radium s(u) > back to starting point on Trough Rd: 59.6miles with 5720ft of climbing in 5:52hrs (Garmin etrex30 15.6.26).
Notes: FR212 as shoulder point, in combination with Gore Pass once took: 51.8miles with 5160ft of climbing in 4.62dec_hrs (Avocet50 or Cateye: m2:98.9.20)