CR78 Elkhead Reservoir(sh)

This is a small paved climb north of Craig. It is useful for cycling in making a scenic, hilly, mostly unpaved but smooth surfaced loop, via a reservoir, in conjunction with US40.



1.START-END EAST: jct CR78 - Lincoln Ave, Hayden
2.jct with "Scenic Drive", a private road
3.TOP: 7200ft CR78 Elkhead Reservoir s(u)
4.road crosses Elkhead Reservoir Dam
5.START-END WEST: jct US40 - CR29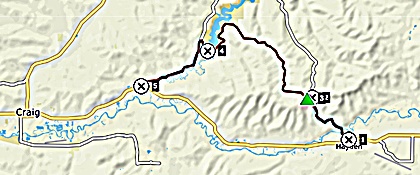 Approaches

From North. North of Hayden, a short, fairly steep, paved climb seems to aim straight for a private residence perched on grassy hilltop. At the top a short out and back unpaved road goes to a transmission tower over Hayden. It is not part of the profiled route. But it does have a great view over this see of rolling green below. This turnoff also happens to be the top.

From South. (described downwards) There are more houses scattered over the top, and a residential street other than the one profiled goes over a slightly higher point. Following the main road, a now unpaved downhill ties together a few spaced out farms, apparently serving as retirement homes. One more short uphill leads to a gap. From here the reservoir becomes visible for the first time. The range visible to the north has a set of distinctive knolls named "Bears Ears". They also make a great background behind the reservoir. After the road crosses the dam, it joins another road, coming down from the hills, and becomes paved again. The road approaches US40 from a low balcony with view over the Yampa River.

cLiCk on image , arrows , or thumbnails to advance slideshow
Dayride with this point as highest summit
PARTIALLY PAVED / UNPAVED
( < |
CR14N Mantle Ranch Rd s(u)
> )
CR76/78 Elkhead Reservoir(sh) , addtional out and back :
a park south of Craig <> out and back on Co394 east with turnaround point at end of pavement >> US40 east > Hayden with detour > CR76 north > CR76/78 Elkhead Reservoir(sh) <> out and back on a private road called Scenic Drive to high point >> Elkhead Reservoir > US40 west > sight seeing detours through Craig > back to starting point: 66.1miles with 2800ft of climbing in 5:39hrs (garmin etrex30 r4:20.5.8)