CR52 Wolf Creek s(u)

This gentle good dirt road summit is in the rangeland west of Steamboat Springs. Public roads in this particular corner of the state are a rare commodity. Ranches are in control of most of the land here. Still, if leaving from Steamboat Springs, this summit opens up a few unpaved loop ride possibilities.


01.(mile00.0,6680ft) START-END EAST: jct Elk River Rd - US40, just west of Steamboat Springs
02.(mile07.8,6820ft) jct with CR52e on left
03.(mile09.8,6950ft) jct with CR54 on left
04.(mile10.8,6970ft) profile turns left ont CR56
05.(mile20.1,7130ft) jct with FR56 on right, possible route over mountains ?
06.(mile25.0,7720ft) TOP: CR52 Wolf Creek s(u)
07.(mile33.2,6480ft)START-END WEST: jct US40 - CR52, between Steamboat Srings and Hayden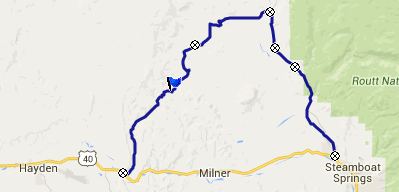 Approaches

From West. The profile starts just west of Steamboat Springs and follows the route to Columbine Pass to the jct with CR56.

From the lower part of this paved road, unpaved but smoothly surfaced CR56 runs up Long's Gulch. But any number of roads can be used to connect to CR56 or CR52W. On my De Lorme Gazeteer map, a total of three connections are shown over to CR80 going up to Slater. CR52 is just one of them. The other two are CR56B around Nipple Mtn and CR56 through the Deep Creek STL..

But the planned route over CR56 has been taken over by the owners of the Haystack Ranch. I asked a ranch worker, hunting for a lost cow coming from CR56 about where that road leads. He said he didn't know, but seemed friendly otherwise. I'm sure he knew. If somebody coming from there, looking for a lost cow doesn't know, who would ? You have to conclude that they instruct their employees not to give out no information about roads to anybody. But I still think this may be a possible route, at least it is according to the De Lorme Gazeteer map.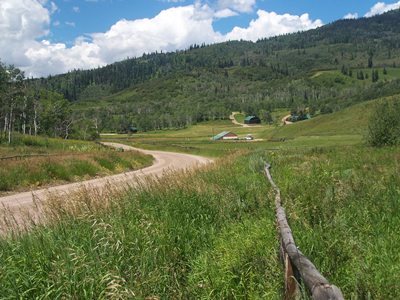 That leaves the obvious way across the hills over CR52 shown in the profile. This road leads past countless junctions with good roads that lead off into the hills. Every single one is gated, and has the same pedantic looking, simple three log ranch gate, flanked by countless no trespassing and further no... signs. Otherwise the landscape consists of rangeland hills. The top is a very clearly defined saddle, with yet another no trespassing ranch entrance leading higher to the south.

From East. (described downwards) The Wolf Mountain Ranch monopoly landscape, with the identical intrusive looking gates ends only after many miles of rolling along. On the lower part of this canyon are a few interesting rock outcrops. The road ends on US40 at a bridge over the Yampa river. There is no legal way to turn off the road before then.

A Dayride with this point as intermediate summit is on page: FR42 Hahn Peak Basin s(u)