CR37 - CR1A Mc Coy Gulch(sh)

Wherever Dakota Sandstone crops out along the Front Range of Colorado, the scenic splendor of craggy foothills are the result. Take the lower Platte River Canyon as an example. Here is another example: the Dakota sandstone outcrops south of Cotopaxi, Arkansas Canyon area. This small dirt road summit leads through this area. The highest point is located at its junction with
CR1A
, just north of its summit.

1.(mile00.0,6370ft) START-END WEST: Cotopaxi: jct US50 - CR1A
2.(mile04.0,7310ft) TOP: just apast the turnoff from CR1A onto CR37
3.(mile10.2,6270ft) START-END EAST: JCT US50 - CR37, back along Arkansas River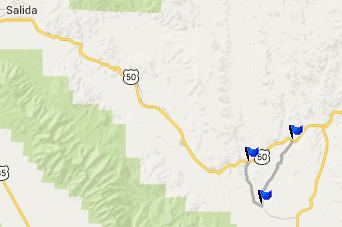 Approaches

From West. This approach is on paved CR1A. There are a few more sentences about it on that page. Just before reaching the portion of the road, that rolls over the summit, a dirt road marked as McCoy Gulch branches to the left. This is the highest point.

From East. (described downwards). It's probably best to traverse this road in the downward direction, because of a few sandy stretches near the bottom. Riding this downwards I only had to get off the bike twice for very short periods. Why ride it at all ? - Because of an - in my opinion - the extremely scenic 2 miles at the top, where the road negotiates between several monuments of billowing sandstone, that make a perfect foreground for three different subjects: the Sangre de Christo Range to the south, the Sawatch Range to the far west, and also more rugged foothills around the Arkansas Canyon to the east. This is a side of the landscape, that you would never imagine exists, if you limit travel to the paved CR1A from Cotopaxi to Westcliffe.

A Dayride with this point as intermediate summit is on page: CR169 Waugh Mountain s(u)