CR1-A Cotopaxi(sh)

Both of these approaches are ways to reach the northern end of the Wet Mountain Valley from the Arkansas Canyon. This little shoulder summit connects them together. It is a shoulder summit because south of the "summit point", the road keeps on climbing ever so gently into the Wet Mountain Valley. The views along this shoulder summit ride are a precursor to the wide sweeping panoramas in the Wet Mountain Valley.


1.(6370ft,00.0m)START-END WEST: Texas Creek: jct CR1A-US50)
2.(7310ft,03.9m)Mc Coy Gulch Rd takes off on left
3.(7450ft,05.5m)TOP: CR1A-Cotopaxi(sh)
4.(7300ft,07.0m)jct with Co69. Profile turns left back to Arkansas River
5.(6190ft,15.0m)START-END EAST: jct Co69-US50 on Arkansas River

Approaches

From North. The profile starts at the only paved intersection in Cotopaxi. Going in a southerly direction, the small road leaves behind the traffic and climbs between the forested lower slopes of the Sangre de Cristo mountains, and the Dakota sandstone formation on the other side. From this vantage point you see nothing of the erosinal shapes on the opposite side in McCoy Gulch.

Approaching the top is a short steep section with some nice views of the pyramid shaped northern peaks in the Sangre de Cristo Range. A dirt road into Mc Coy Gulch near the top shows off the erosion monuments much better than you would ever suspect by just cycling on CR1-A. The exact top is practically impossible to determine, because the road rolls over several point that are within a few feet in elevation. One of these points has another county road branching off to a ranch entrance.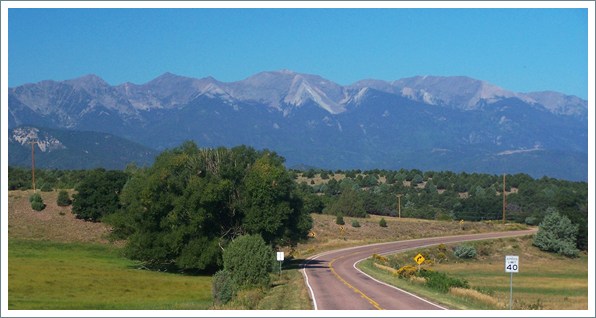 From South. (also described upwards) Co69 also climbs from the Arkansas Valley, direction Westcliff. It leaves Co69 from a point 7 miles further down canyon. This road is even shallower and follows a dry forested ravine. The road crosses several dry streams. The turnoff onto CR1-A is only 100-200ft below the summit of CR1-A, and Co69 keeps on climbing ever so gently direction Westcliffe, with access to much higher summit points.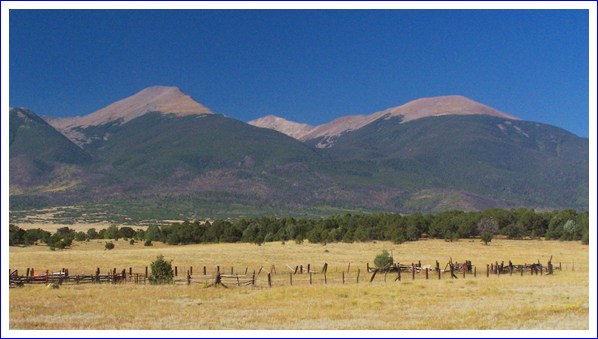 Dayride with this point as highest summit

COMPLETELY PAVED:

(< CR169 Waugh Mountain s(u) | FR401 Deer Peak s(u) >)
CR1A Cotopaxi(sh) , additional out and back: Mc Coy Gulch > CR1A north > Cotopaxi <> out and back to Salida on US50 >> US50 east > up Co69 > CR1A Cotopaxi(sh) > back to starting point: 74.1miles with 2610ft of climbing in 5:19hrs (VDO MC1.0 r5:14.9.14)
CR1A-Cotopaxi(sh)
Highest Point: 7450ft

Western Approach:

climb
over distance

Texas Creek: jct CR1A-US50 (6370ft)

1080ft
5miles
Eastern Approach:





jct Co69-US50 on Arkansas River (6190ft)

1260ft
9+1/2miles