Bachelor Loop s(u)

This is a short loop on a good gravel road from Creede. It is popular with motor people, but the traffic was not bad when I was there. The outstanding characteristic of this loop are the mining ruins along the way, expecially a Superfund cleanup site at the eastern start of the profile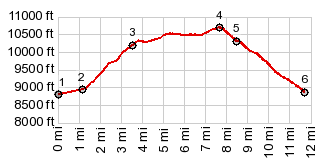 1.(mile00.0,8800ft) START-END EAST:jct Co149 - Main Street, Creede
2.(mile01.2,8940ft)jct with FR502 on right
3.(mile03.6,10200ft)2nd jct with FR502 on right
4.(mile07.7,10710ft)TOP: Bachelor Loop s(u)
5.(mile08.5,19310ft)jct with FR505B on right
6.(mile11.7,8870ft) START-END WEST:jct Co149 - Balchelor Road, west of Creede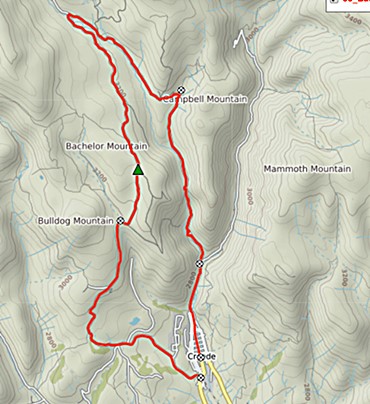 Approaches

From East. Turning off Co149 and following the Texas and Kentucky flavored main street of Creede to the end, you soon end up on a wide dirt road, with signs advertising ATV staging areas around every turn. But I did see a total of 2 other cyclists on this loop too.

The initial 2 mile climb is incredibly steep, and the mining ruins stuck on the canyon walls in both directions look like leftover civilization after an apocalyptic event. They have that charred appearance. After the torture of the first 2 miles the road levels out and intermediately rolls through forested hills. The road switches back onto itself several times, so that it is easy to loose direction. The surface changes often, mostly it is almost hard medalled without washboard. But sometimes there are short stretches of deep gravel. At one point "Bachelor Loop" signs make sure that you take a critical counter-intuitive left.

The top is the site of the old mining town Bachelor. Today all that remains is a parking lot with an informational sign, also containing a few faded pictures. The alpine meadow, once containing the town, sits on a natural saddle and a nice view of the upper Rio Grande Valley opens up here.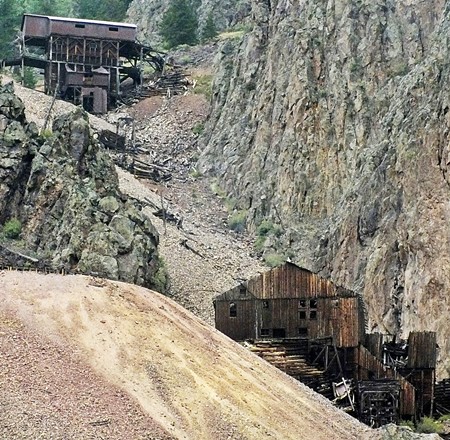 From West. (described downwards). After being confined in a canyon and then the forest on the other side, it comes as a surprise, that there is an almost constant view of the valley going down on this side. Most of the labeled mining ruins are on the other approach. But there is one last out and back detour to what once was a kind of "Ober Creede" - now a simple old white church, surrounded by the historic cemetery and a host of real estate equity projects. The last part of the descent is paved and the road merges with Co149 a short distance west of Creede.







Dayride with this point as highest summit:

PARTIALLY PAVED / UNPAVED

( < Ute Pass(Saguache | Elwood Pass > )

Bachelor Loop s(u) , additional out and back : about 2 mile up FR601 Pooltable Rd > down FR601 <> out and back on Co149 to Wagonwheel Gap >> Co148 west > Creede > up West Willow Creek Rd > Bachelor Rd s(u) > down Bachelor Rd with short detours > Creede > closed on Amthyst Dr > Ridge Dr > back to Creede >> Co148 east > back to startingpoint on FR601 Pooltable Rd: 41.9miles with 3360ft of climbing in 4:21hrs (garmin etrex30 m3:19.9.15)