Wy70 Battle Lake Pass Rd - FR801 Deep Creek Rd s(u)
This shoulder summit point is on the way to
Battle Lake Pass
(often also called Battle Pass) in the Sierra Madre of Wyoming. But before reaching the summit of the pass, the route turns down the unpaved Deep Creek Rd, a relatively deep valley running parallel to the range, direction north to Rawlins. The entire profiled route is part of the Great Divide Mountain bike touring route.

1.(mile00.0,6470ft)START-END WEST: low point on US70, where it crosses Savery Creek, between Savery and Slater
2.(mile15.5,8080ft)Stock Drive Road crosses US70
3.(mile18.9,8270ft)TOP
4.(mile19.4,8430ft)turnoff to overlook point on south side of road
5.(mile21.0,8300ft)turnoff to Sage Creek Rd on lef
6.(mile27.0,7560ft)intermediate low point, where FR401 crosses Big Sandstone Creek
7.(mile30.9,7869ft)intermediate high point, immediately after Deep Creek Rd turnoff on right
8.(mile37.0,7390ft)START-END NORTH: low point on Sage Creek Rd, before climbing to Middlewood Hill.

slit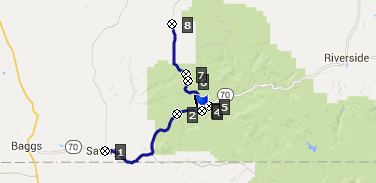 Approaches

From West. Wy70 starts climbing to Battle Lake Pass in Savery, right at the junction with FR150 up Savery Creek. A short distance later, I take advantage of a pleasant roadside conversation, even if it's only about stamps or sending postcards. The place is the Savery post office. It is housed in a metal container, and it's the only building on my loop ride today, that is guaranteed to contain a human being.

Wy70 slips across the border into Colorado for a short distance. By the time the road passes Battle Mountain and the jct with CR129 to Steamboat Springs it is back in Wyoming territory. Now Wy70 passes a distant farmhouse to the left, and then slowly climbs along a meadow with a great distant view of the Mount Meadow, Mt Diamond and the Hahn's Peak area. The last two times I have cycled this was during late evening light and the virga (that is rain not reaching the ground) found a great stage set to display its light show here.
Next part: the road disappears in the forest and crosses the Savery Stock Driveway. The small informational tablet about this historic road next to the road next to the road is easily missed. Sheep herders used it to drive their stock from the Red Dessert in north central Wyoming to the Park Range in Colorado. Unfortunately the road was too muddy to ride during my visit.

Right near the highest point of the profile, there is very short detour to the nicest viewpoint along the entire Battle Lake Pass Rd. The specialty status of this point is enhanced by the fact, that generally you have the landscape to yourself - in my case, not a single person around for miles.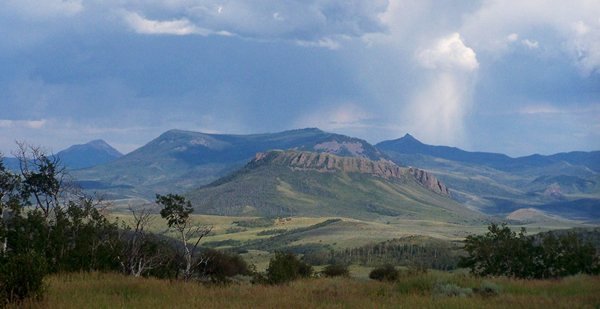 a small virga cloud behind Battle Mountain
From North. (described downwards) The FR801 turnoff is signed, and the profiled route takes it. After passing a short mysterious narrow stretch through a beautiful grove of aspen trees, that enjoys local fame for its fall color, the road is being reworked into a major highway, with a hard medalled surface. During my ride in 2015 it was hard to tell exactly what the final product will feel like on a bicycle. During that traverse it seemed like all of Wyoming's formerly unemployed energy workers were busy along the entire length of the road: convoys of gravel trucks from Rawlins, earthmovers moving earth, water trucks attempting to the road into a sea of mud. I would still call it a nice ride, and a popular one too, because it is part of the often cycled "Great Divide MTB touring route". The road reaches a low point along Deep Creek, and then starts climbing again on the way to the FR401 Sage Creek Rd summit.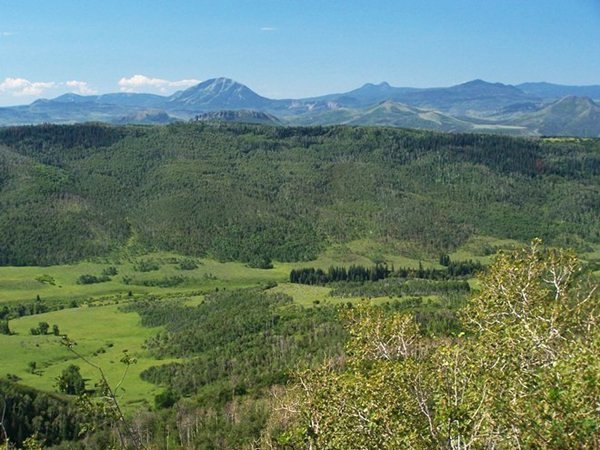 looking towards Hahn's Peak in Colorado from the described overlook on Wy70
Dayride with this point as highest summit:

PARTIALLY PAVED / UNPAVED

( < FR42 Mill Creek Rd s(u) | Battle Lake Pass > )
Wy70 Battle Lake Pass Rd - FR801 Deep Creek(sh) , FR401 Sage Creek Rd s(u) , CR752-501 Brown's Hill s(u) : jct Savery Stock Driveway - Wy70 > Wy70 east <> out and back to lookout point on Wy70 >> FR801 north > FR401 Sage Creek Rd s(u) > CR503 McCarty Canyon east > CR503 McCarty Canyon Rd high point (not a summit) > CR752-501 Brown's Hill s(u) > Savery > Wy70 east > back to starting point on jct Savery Stock Dr - Wy70 : 83.2miles with 6390ft of climbing in 7:35hrs (Garmin etrex30 m5:15.7.16)
Notes: This is a ride on the Great Divide Bike route, making it into a dayloop in combination with the alternative Mc Carty Canyon Rd.