Separation Peak s(u)


Separation Peak is a transmission tower on a ridge outside of Rawlins. But this is a special ridge, and a special location on that ridge. The ridge runs along the Continental Divide, and this peak is where the divide splits into an Atlantic Rim and a Pacific Rim, enclosing between them the Great Divide Basin, also called Sweetwater Basin. Now the name makes more sense.
To the south of the peak runs, what once used to be a major east west thoroughfare in a past decade -
Bridger Pass
and the Overland Trail, now a scenic dirt road. To the west of the ridge runs - the road that replaced it - the Union Pacific transcontinental railroad, and also I80. Thousands of people race through Wyoming below. But up here I only saw antelopes, rodents and birds - at least in the living creature category.

1.(mile00.0,6750ft) START-END NORTH 1: Rawlins, south side of railroad bridge
2.(mile12.7,7080ft)unsigned intersection, same as second endpoint
3.(mile13.2,7120ft)route turns left onto Bridger Pass Rd
4.(mile18.9.7250ft)profile turns right onto unsigned road
5.(mile24.5,8470ft)TOP: Separation Peak s(u)
6.(mile25.1,8340ft)profile turns right at this T intersection
7.(mile35.0,7080ft)START-END NORTH 2: route intersects Sage Creek Rd, same as point 2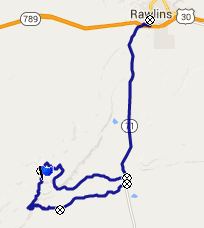 Approaches

From South. Teton Reservoir is the perfect campground to start this ride, and it's free. You have to bring your own water. From here, the route goes only a short distance north on Wy71/FR401, and then turns up the well signed Bridger Pass Road.


Past the start of that road, at a particularly attractive overlook over the small dessert lake puddles along this route, a sign tries to explain the land status in this area. Private and BLM land alternate in a curious "almost checkerboard" pattern. This explains the other signs, that come later, saying "no trespassing on private land". However the roads are public, and much of the land is too. A gps receiver is very useful in determining the exact land status.


Before reaching the summit of Bridger Pass, only one good dirt road turns off to the right, located roughly halfways up. Along this road are many aforementioned signs. A curious set of switchbacks winds past gas tanks, and up to the crust on top of the ridge with its many cake like layers exposed on this side - the strike slope. It's not a big climb but it does have a short, very steep section.


Of particular interest is the caprock on this ridge, because of its distinctive white color, the strong crossbedding and the many peculiar erosional forms it makes, on top of this sweeping plane of sage. Some hearty trees also like to get their roots in between these layers, and the ones that don't quite make it, are still great photogenic objects. Getting off the bike and examining the edge of the cliff closer provides a better look. Continuing on top of the plateau I repeatedly hear motor noise from around the next turn. But when I get there, the motor always turns out to be operating a well site. The highest point is reached directly across from the transmission facility.



From North. (described downwards) Shortly after the summit the ends at a T. On this first ride in the area I went right and followed the most traveled road back down. But there are other options. On my option there are still intervening ridges between the road and the railroad below. But the view reaches north to Fontenelle Reservoir and the distictive dessert ridges in the Great Basin. In my case antelopes outnumber other vehicles by infinity. (at least that's what I get when I divide a number by 0).


The road quickly decends through a gap back to the Bridger Pass side. Near the bottom it crosses a gate to a "private checkerboard square", which appears to be a private dump site, or maybe it once was a ranch. Below that the road merges back onto Wy71/FR401, at a completely unsigned intersection, a short distance north of the Bridger Pass turnoff.


Dayride with this point as highest summit:

PARTIALLY PAVED / UNPAVED:

( < Hydrology Road s(u) | CR291 Seminoe - Alcova Scenic Byway northern summit s(u) > )
Separation Peak s(u) : Teton Reservoir > Wy71 north > Bridger Pass Road west > unsigned road north > Separation Peak s(u) > unsigned road east and south > Wy71 north > Rawlins with several miles of sightseeing detours > Wy71 south back to starting point on Teton Reservoir: 58.2miles with 3720ft of climbing in 5:51hrs (Garmin etrex30 m5:15.6.23)