CR409 Pathfinder Rd(sh)
The wind in this part of Wyoming can be ferocious, and going against it makes the constant view of the horizon even more constant, because it takes longer. This small summit lets you get away from the wind, to a degree anyway, and the horizon too, but only for half the loop. Pathfinder Rd and Fremont Canyon follow a pleasant route following an interesting portion of the North Platte River to an improbable manmade sea in the dessert.


1.(mile00.0,5380ft)START-END EAST-1: Alcova Ave in Alcova, after crossing outlet from reservoir
2.(mile07.0,6300ft)profile turns left from Wy220 onto Pathfinder Rd
3.(mile10.2,6360ft)TOP
4.(mile13.2,5940ft)turnoff to Pathfinder Reservoir campground on right
5.(mile17.1,5680ft)intermediate low point: bridge over Fremont River
6.(mile18.7,6110ft)intermediate high point, immediately before jct with Alcova - Seminoe Scenic Byway
7.(mile26.0,5380ft)START-END EAST-2: Alcova Ave in Alcova, same as point 1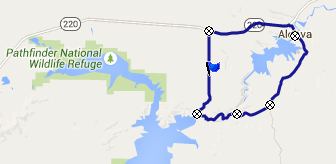 Approaches

From North. On this side the approach is the less pleasant, stereotypically Wyoming-like Wy210. From Alcova it climbs, without noticeable bend or change in slope from the community surrounding the Alcova Dam to the CR409 turnoff. Wy210 reaches a summit point just slightly higher than the CR409 shoulder summit, east of this point

From South. (described downwards) FR409 heads north in a equally straight line, but at least it goes over some rolling hills and the view of the Pedro Mountains ahead promise a pleasant change in scenery. This change comes when the road crests a lip of rocks and descends to a glistening Pathfinder Reservoir in sweeping turns. The Pathfinder Ranch put up "No Trespassing" signs on every square inch of land that is not pubic in this confusing ownership pattern. But there is still unsigned public land in between these signs.
The name of the road changes to Fremont Canyon Road at the busy marina at point 4. Following a few turns of the North Platte River, the road gives a view of the landscape the way it was before the reservoir existed. The water has worn a few deep slots into the craggy rocks, and the road climbs around them. An intermediate low point is reached at an entrance to a hydroelectric damn, where the road crosses the Platte River.
Now the road climbs up into prairie land and the more common Wyoming landscape. At an intermediate summit, Alcova Reservoir appears below, water backed up against a whole series of colorful hogback ridges extending endlessly into eastern hogback ridglets. Alcova is the lowest part of the loop, and the bike rolls easily in that direction. Wy210 descends a little further east, along with the North Platte River. That last part is not shown in the profile.

Dayride with this point as highest summit:

COMPLETELY PAVED:

(< CR291 Seminoe - Alcova Scenic Byway northern summit s(u) | CR505 Casper Mtn Rd - Circle Dr s(u) > )
CR409 Pathfinder Reservoir: near Platte River bridge in Fremont Canyon > Fremont Canyon Rd east > Alcova > Wy210 west <> out and back on Wy210 to turnaround point at Steamboat Lake >> CR409 north > CR409 Pathfinder Rd(sh) > back to starting point: 52.4miles with 3130ft of climbing in 4:39hrs (Garmin etrex30 r4:15.6.26)
Notes: the wind was still very strong - route would probably have been better in opposite direction.