CR291 Seminoe - Alcova Scenic Byway northern summit s(u)


This road goes over a high plains roller coaster along a series of form rich sandstone mountains, the Pedro Mountains, just east of the Atlantic Rim part of the Continental Divide. (The sandstone erodes in the same way as the Dakota Sandstone in Colorado, but I don't know if this is actually the same formation) Trees are a rare commodity here, but they can be spotted from a distance. The road is a pleasant, peaceful contrast to many other Wyoming raceways, across which people hurry in record time to see the next Old Faithful Geyser eruption.



1.(mile00.0,5710ft) START-END NORTH: Fremont Canyon Rd crosses Fremont River
2.(mile02.9,6060ft)profile turns hard right otno CR291
3.(mile13.0,6900ft)TOP: point of highest elevation
4.(mile19.0,6540ft)jct with Werner Ranch Rd on left, heading east
5.(mile21.2,6130ft)START-END SOUTH: low point on road at Sage Creek crossing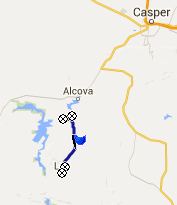 Approaches

From North. The profile starts at a point, which is in contrast to the rest of the ride, and this part of Wyoming in general. From FR408 Fremont Canyon Road you don't see the horizon. Instead tight turns wind through a cozy canyon, free of the sometimes "oppressive openness". It's time to enjoy views of the last trees from close up.


As the route doubles back onto CR291 heading north, trees recede in the distance and take their rightful place in magnificent sweeping views. Let's just hope it doesn't get too hot, so the missing shade does not become a major factor. Alcova Reservoir below is shut in by colorful triangular wedges of significant geology.

Climbing in rolls and descends the "paved" (with a large percentage of holes) road climbs a little higher with every roller, and every roller makes the Pedro Mountains to the north and the Granite Mountains behind them appear, as if set on a pedestal of a high plain. The pavement lasts to about maybe a mile of what turns out to be the real top, after examining the profile afterwards.



From South. (described downwards) Several turnoffs are signed as going to ranches and there are probably mountain biking between there and the Pathfinder Reservoir, although it may be quite sandy. The profile follows the main road, which descends past Dome Rock. This is an "stand alone outcrop" that stand like a monument. The road now becomes a little sandier and contains more washboard.

What looks like a series of rock chimneys to the west, shimmering in the heat, turns out to be the eroded shoreline of Pathfinder Reservoir. The turnoff to there gets sandy quickly. But before reaching the sand, there is a small oasis like group of trees, giving shade for free. The profile reaches a low point where the main road ( not the Pathfinder Reservoir turnoff) crosses yet another creek named Sage at a farm. Seeing a small rivulet of water at the very bottom of such a wide expansive valley is always an amazing sight.
Dayride with this point as highest summit

PARTIALLY PAVED / UNPAVED

( < Separation Peak s(u) | CR409 Pathfinder Rd s(u) > )
CR291 Seminoe - Alcova Scenic Byway northern summit x2 : low point in Fremont Canyon Rd near Platte River bridge <> FR408 Fremont Canyon Rd west <> CR291 Seminoe Alcova Scenic Byway north <> CR291 Seminoe Alcova Scenic Byway northern summit s(u) <> partial out and back on unmarked path towards Pathfinder Reservoir << turnaround point on main road a little beyond Sage Creek Crossing: 45.6miles with 3620ft of climbing in 5:07hrs (Basecamp numbers from Garmin etrex30 data: m5:15.7.25)