Coyote Summit

This is a small summit on the "Extraterrestrial Highway". It skirts the Nellis Air Force Range to the south, so sonic booms are a common occurrence. On my ride I learned by experience, that some are much louder than others.


1.(00.0m,4520ft) START-END SOUTH-EAST: low point in Tikaboo Valley
2.(13.2m,5604ft) TOP
3.(20.6m,4780ft) START-END NORTH-WEST: Rachel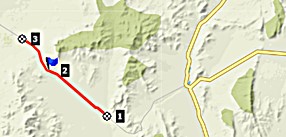 Approaches

From South-East. barely a turn and barely a climb, but an expansive view, as the Joshua Trees in the Tikaboo Valley become smaller and smaller

From North-West. barely a turn and barely a drop. The dots ahead comprise Rachel - the village, The road just seems to continue to the horizon straight as an arrow up the next summit.

cLiCk on image , arrows , or thumbnails to advance slideshow
A Dayride with this point as intermediate summit is on page:
Hancock Summit