Pine Creek Pass


Pine Creek Pass is a low forested pass between the Big Hole Mountains to the north and the Snake River Range to the south. It carries traffic between points west, onwards over Teton Pass to Yellowstone and Teton National Parks. It has little or no shoulder, and traffic can be moderately heavy during morning and late afternoon, or other peak traffic periods for the national parks.


1.(00.0km~00.0mi, 1608m~5276ft) SART-END WEST: jct US26 - Id31, Swan Valley
2.(13.1km~08.1mi, 1767m~5797ft) jct with FR250 on right and Fleming Canyon shortly afterwards on left
3.(22.8km~14.2mi, 2062m~6764ft) TOP: Pine Creek Pass and jct with FR253 on right
4.(28.5km~17.8mi, 1852m~6076ft) START-END EAST ALTERNATE: low point
5.(33.5km~20.8mi, 1889m~6198ft) START-END EAST: Victor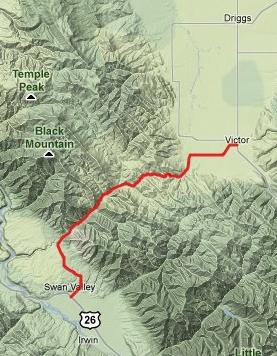 Approaches

From West. Swan Valley has a gas station with prices (of not only gasoline) already influenced by the proximity of national parks. It seems like every self respecting Yellowstone tourist has to stop there. Other attractions are two hamburger or steak restaurants. The road starts to climb fairly steeply up the rolling range land at the foot of the Snake River Range. It crosses Pine Creek before entering the mountains and promptly levels out into a wide, partly forested valley. Not until a few miles before the summit does the grade pick up again significantly, accompanied by a few wide curves across from Piney Mountain in the Big Holes. There are no views from the summit, but a name and elevation sign.


From East. (described downwards). It's a short coast down into Teton Basin. Along the way are two quickly passing glimpses of the Teton peaks. But once you reach the valley you can see them better from just about everywhere.





Tours

Dayrides.


COMPLETELY PAVED:


An out and back ride with lowest point at Swan Valley <> Pine Creek Pass <> Victor <> turn around point at the top of Teton Pass: 69 miles with 4300ft of climbing in 5:2 hours (r2:10.8.3). Also includes a very short (unpaved) approach from a campsite in Fleming Canyon.



PARTIALLY PAVED / UNPAVED


An out and back ride starting at jct Fleming Canyon - Id34 on lower Pine Creek Pass <> top of Pine Creek Pass <> out and back on FR253 to Rainey Creek trailhead <> down west side of Pine Creek Pass <> to a turn around point at the end of FR543 on Henderson Dry Road on the eastern end of the Big Hole Mtns: 46 miles with 3500ft of climbing in 4:0 hours (m3:10.8.4).