Geneva Summit
aka Montpelier Canyon summit

This pleasant, small country road is on the route of a well attended yearly endurance event, the Logan - Jackson Ride. This is not a big summit, but there are even smaller signed and named summits in this part of Idaho.


1.(00.0km~00.0mi, 1832m~6011ft) START-END WEST: jct Montpelier Canyon Rd - US30/89, Montpelier
2.(14.5km~09.1mi, 2110m~6923ft) TOP
3.(23.5km~14.6mi, 1883m~6178ft) START-END EAST: jct US89 - Id61, Geneva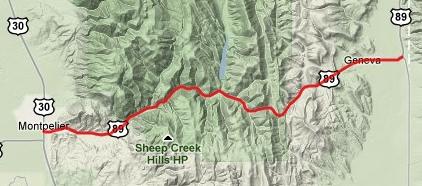 Approaches
From West. After passing through Montpelier, Idaho (all services available and more) you go right just before the Oregon Trail Center (interesting visit). The pleasant country road winds up Montpelier Canyon. As soon as the climb starts a shoulder appears as if by magic. The top is a road cut, so there are no views.

From East. But as you roll down the east side you catch a glimpse of the maze of dry green hills to the east of Bear River (picture below). Like many mormon towns, Geneva looks like it has a church tower from the far distance. But as you get closer you realize its just a few metal rods ornamenting the biggest building in town, the mormon tabernacle. There are no businesses open to the public of any kind whatsoever in Geneva, Idaho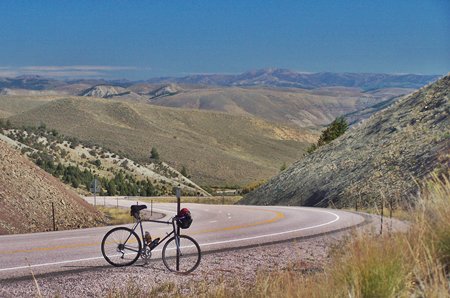 Tours
Dayrides.
Montpelier > Geneva Summit > US30 south <> short out and back to Raymond > Border Summit > Bench Road > back to starting point: 50 miles with 1600ft of climbing in 3:4hours (r2:10.9.17).