Collado de Itr_abo

This low ridge separates two white villages close the coast, Itr_abo and Jete. From the summit a mountain bikable dirt road leads to higher points, and my rides started from an airbnb type accomodation, located a short distance up this dirt road. There are incredible morning views from up there, but on this page I only included views from the paved road.


1.(00.0km,0020m)START-END EAST: Salobrena beach
2.(07.4km,0180m)lower turnoff to Molvizar
3.(12.7km,0380m)upper turnoff in Itr_abo
4.(14.5km,0500m)TOP
5.(18.3km,0170m)profile turns down on wider A4050
6.(19.4km,0130m)Jete
7.(29.0km,0020m)START-END WEST: Almunecar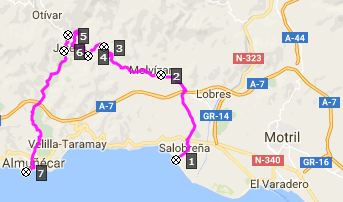 Approaches

From West. Soon after the turnoff onto GR5300 you can see Salobrena below, an old coastal village that sits on a long hill as makes a white foreground to the blue sea. How different the Spanish coast looks here, compared with the tourist hotel cities like Nerja and Almunecar.

The next village along the road, Molvizar also sits on a hills. Accordding to the map you can go through it and return to the Itr_abo road further up. But I get hopelessly lost in the narrow passageways while horses gallop through the town behind me. I retrace my way back down and keep climbing to Itr_abo. The profile takes the direct route, remaining below the village.

As the road climbs, Molvizar becomes a cubistic white cluster below. Above: patches of cellophane roofing, maximizing the heat from the sun, and the moisture for the fruits and vegetables below the tarps. Itr_abo is smaller and contains many more recent buidling endevors. It has a grocery store and from there it's 2km to the wide saddle. From here The ocean can be seen below.





^ leaving Almunecar and heading towards Jete, lower western approach


^ left: Salobrena from a safe distance; right: town Itr_abo below summit




^ approaching Jete from above
From East. Up to Jete, the profile is the same as for the much higher Carretera de la Chaba summit. Past Jete a few switchbacks climb the ridge with great views of the mountains to the south

A ride with this point as intermediate summit is on page: A4050 Otivar (aka Puerto de Chaba)