Col de Gamia
(aka Azkonzabal)

This is a small foothills pass north of St-Jean-Pied-de-la-Port, that is useful for avoiding traffic on busy D933, when completing one of many pass loop possibilities in the foothills north of St Jean.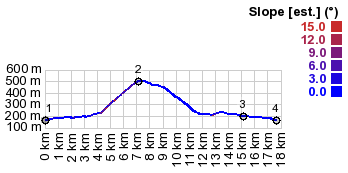 1.(00.0km,0160m) START-END NORTH:low point on D918, just south of turnoff to Col de Gamia
2.(07.4km,0503m)TOP: Col de Gamia
3.(15.1km,0200m)profile joins busy D933
4.(17.6km,0160m)START-END SOUTH:north end of St Jean Pied de la Port


Approaches

From North. I had the strange feeling of being back in upper New York state and bicycling the hill and dales around the little town of Cobleskill, near Albany. I must have been very tired near the end of this ride. But this particular landscape of the lowest foothills in the Atlantic Pyrenees does bear some resemblance to the elongated drumlin hills, smoothed by glaciers and forested, except where agriculture is practiced. Here too there were farms and fields below.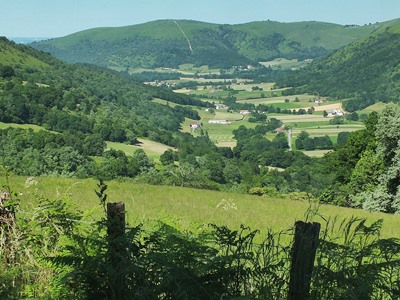 From South. The top has a great open view of the valley with St-Jean-Pied-de-la-Port at the foot of the Atlantic Pyrenees. This view persists part of the way down. Unfortunately the late hazy light often obscures this into a flat wall of gray. I imagine in the morning this must be much better.