Yellowhead Pass
Yellowhead Pass is the lowest continental divide crossing in the Canadian Rockies. A major traffic artery is the result, but not quite as major as one might expect at first. The pass is also a great cycling route between Alberta and British Columbia. This is one pass where the major attractions are on either end, while crossing the top is relatively anticlimactic. More details about a ride and the history of Yellowhead Pass are
here
, under the heading "almost but not quite - the history of Yellowhead Pass".

01.(km00.0,1050m) START-END EAST: Jasper
02.(km26.0,1130m) TOP: Alberta - British Columbia boundary
03.(km27.0,1130m) Yellowhead Pass. Some maps mark the pass here
04.(km57.0,1020m) east end of Slave Lake
05.(km68.8,1050m) west end of Slave Lake
06.(km86.2,830m) START-END WEST ALTERNATE: Mount Robson trailhead / visitor center
07.(km103.0,740m) START-END WEST: Tete Jaune Cache

Approaches
From West. The major attraction along the pass is near the beginning of this approach, the sight of Mount Robson. This peak has the highest elevation gain from its base ( called prominence ) of any peak in the entire Rocky Mountains, approximately 3000 meters on the south side, not far from the highway. At 3954 meters (12972ft) Mount Robson is also the highest mountain of the Canadian Rockies, even though there are higher peaks to the west in the coastal ranges.

But back to the road - whatever climbing on there is to be done to the pass, immediately follows that initial scenic smorgasbord. After that the top is broad enough to contain the waters of a lake several miles long Slave Lake. The water divide is still further east. The second picture is taken on the broad summit area near Moose Crossing, a short distance off the paved road.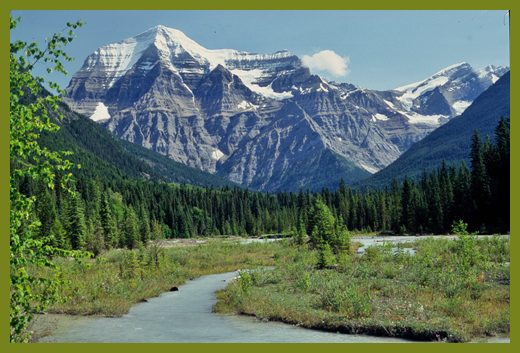 From East. On this side also, the most popular attraction is on the bottom, the town of Jasper with its surrounding scenic attractions. The grade is so gentle that wind is often more of a factor than grade, while on a ride to the top. Impressive peaks float by in the upper field of vision. The pass sign is located on the Alberta - BC province boundary. But the road seems to keep on climbing ever so slightly and then stays nearly flat for many miles. Some maps mark the pass a short distance within British Columbia.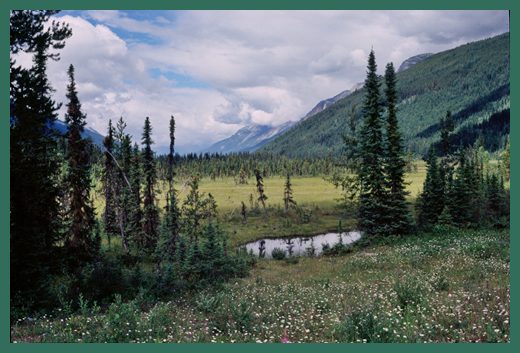 Tours
Dayrides. An out and back ride from Jasper to the flat summit area as far as Moose River Crossing measured 75 miles with 2050 feet of climbing over 4.4 hours. An out and back ride to the same destination from the opposite direction, starting in Tete Jeune Cache measured 80 miles with 3800 feet of climbing in 5.2 hours, using the same setup (Cateye 100AT m3:04.07.21-22).