FR42 Mill Creek Rd s(u)

This double track trail is part of the Great Divide mountain bike touring route. It's the northernmost summit in Colorado on that route. It crosses between the sparsely populated park scenery of Colorado's north western plateaus and the Hahn Creek Basin, which even has a paved road, along with stores, bars and the like.


01.(mile00.0,6420ft)START-WEST: jct FR150-CFR70, north east of Hayden
02.(mile07.9,7110ft) ct with CR56 over the ridge is on right
03.(mile09.3,7410ft)intermediate high point
04.(mile15.8,8570ft)TOP: FR150 California - Hayden Park s(u)
05.(mile19.7,7940ft)lowest point on FR150 in California Park
06.(mile25.3,8490ft)profile turns right onto FR42 at California Park - Slater s(u)
07.(mile29.2,9810ft)TOP: FR43 Mill Creek Rd s(u)
08.(mile36.0,8160ft)FR43 ends; route turns left onto CR62 near Steamboat Lake
09.(mile39.0,8130ft)START-END EAST ALT: profile turns right onto paved CR129
10.(mile52.2,7070ft)START-END EAST: jct CR56 - CR129 on Columbine Pass route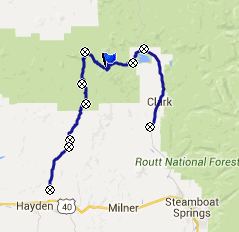 Approaches

From West. FR42 takes off from the top of the north - south route FR150 California Park - Savery s(u). The Great Divide route approach the FR150 summit from the north. But the profile does so from the south. This side can also be used to make a day trip over the FR42 summit.

After crossing point 4, the FR150 Hayden - California Park summit, the road reaches a low point in California Park at point 5. This is a fascinating simplistically geometric landscape. Mountains are shaped like blocks or triangles, and the grassy plains sweep up to their feet. Within this big block landscape the forest service has erected small wooden signs, that stand out like the talking bubbles in a cartoon. They label creeks, mountains and parks, like Meaden Peak (10561ft) for example. FR42 will summit just to the north of it. But these signs also help not getting lost - at least if you carry along a National Forest map, which labels the streams. The road here is graveled, but has no washboard surface.

From California Park the road climbs an umarked summit, here called the FR150 California Park Savery summit. At the top stands a "Slater Park" sign, and a second sign pointing the way to "Hahn's Creek Basin", which infuses a little more confidence about reaching the destination from this remote area for first time visitors.

FR42 is a smaller road, with a surface better for mountain biking, and has a seasonal closure for motor vehicles. At one point this road with a very civilized appearance, fit for a park of the man made kind, changes abruptly into a jeep trail, that climbs very steeply in the forest. Not until 500ft before approaching the summit, does the road break out into two meadows (more parks - this time the kind made exclusively by nature). All the geometrical landmarks appear again, but this time from a different vantage point. You can see as the gap near the summit approaches, but the actual summit comes up unexpectedly in the forest. There is a fork at the summit. My gps showed me to stay right here, so I did not explore the other option.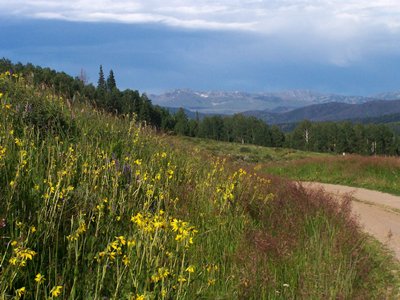 From East. (described downwards) There is actually a fairly nice view here at the summit, especially if it's getting late. The Mount Circle area is far away, so the mountains really just appear like a lip on the horizon, but together with the clouds they can make an impressive display.

The road remains really rocky to about 8300ft elevation..Here a sign announces logging traffic. This was great, I thought, and I was right. There were no logging trucks, but as expected, the road became perfect for a fast descent into the uppermost houses around Steamboat Lake.

From here the profile contours along the north end of the lake. The nicest views are from this side of the lake. Then the profile merges onto the paved road down down direction Steamboat Springs.

The Great Divide Route on the other hand stays on the unpaved CR62, on the west side of the valley. Personally I think the paved road is actually more scenic. There is a profile of both sides on the CR62 Steamboat Lake(sh) page.

Dayride with this point as highest summit

PARTIALLY PAVED / UNPAVED

( < CR62 Steamboat Lake(sh) | FR411 Hahn's Peak(sh) > )
FR42 Mill Creek Rd s(u) , FR150 Hayden - California Park , CR52 Wolf Creek s(u) : FR488 Trilby Park > CR129 south > Clark > CR52W Long Gulch east <> short out and back on CR56A, looking for CR56B >> CR53 Wolf Creek s(u) > US40 west > CR70 west, before railroad tracks > CR80 north > FR150 north > California Park > FR42 east > FR42 Hahn Creek Basin s(u) > north side of Steamboat Lake > CR42 west > CR129 north > back to starting point on FR488: 86.2miles with 7640ft of climbing in 8:26hrs (Garmin etrex30 m5:15.6.11).
Notes: this was a much longer loop than planned. But the planned route over CR56B has been taken over by a ranch (apparently already in the 90s), and the manager at that ranch, told me stories about confrontations with shot guns with people who were bent on traveling the road. - Also, that both of his parents were killed by a ranchworker. The murderer is still in prison in Rawlins. After all that wild west stuff, I thought a long fast ride would be better than a short dangerous ride. The manager was actuallyvery friendly, and showed me all kinds of maps with all the various ranch properties clearly marked. So my new plan was to take another road marked as public on my map CR65A. It too was gated off, this time by the Wolf Mountain Ranch. This whole corner of the state is one big private ranch club. I think my route was the shortest loop to the south possible over the FR42 peak. Actually a loop to the north through Slater Park is shorter. That's the next loop below.

( < FR411 Hahn's Peak(sh) | Wy70 Battle Lake Pass Rd(sh) > )
FR42 Mill Creek rd s(u) , Columbine Pass : FR488 Trilby Park > CR129 south CR62 west > Steamboat Lake > up FR42 > FR42 Mill Creek Rd s(u) > FR150 north > US70 east > Savery > CR129 north > Columbine Pass > back to start ing point on FR488 Trilby Park: 77.0miles with 6460ft of climbing in 7:45hrs (Garmin etrex30 m5:15.6.14).
Notes: slow going on Columbine Pass because of rain and mud in places. This route to the south of the FR42 summit is actually shorter than the one above.