FR103 Chimney Rock Rd s(u)

This pleasant dirt road is one of two continental divide crossings, east of
Muddy Pass
. There are some great views on the south side. Both of these make great loop rides, combined with
Muddy Pass
, if you like to combine pavement with good dirt roads. There are no towns, accessible houses or even shelters with roofs along the way. Whatever buildings there are along this route belong to ranches on private land behind "no trespassing" signs. So it's a good idea to have one's own protection for whatever may be coming down from above.

1.(mile00.0,8550ft)START-NORTH: jct US14 - FR53 Indian Creek Rd, North Park
2.(mile03.6,8810ft)jct with private road to Arapahoe Pass on right
3.(mile09.2,9950ft)TOP
4.(mile13.0,9310ft)route to FR700 Chimney Rock Rd s(u) joins from left
5.(mile19.0,7800ft)START-END SOUTH: jct US40 - FR103, south of Muddy Pass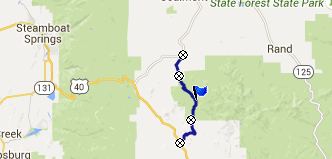 Approaches

From North. Some distance after the gentle norther Muddy Pass descend, US14 curves along between sagebrush hills. A good dirt road towards the north is signed as FR53 Indian Creek Road. It climbs some of the lower sage hills and then makes its way through an open valley to a cow camp. The surface of this relatively narrow road is great for fast biking and contains no washboard surface. After passing a ranch with various log buildings scattered in the landscape, the road enters National Forest land, changes its desgination to FR103 and climbs to the summit in pleasantly cool forest.






The road crosses the continental divide at an unmarked cow grade in the forest. After that it descends a few yards, and then traverses a bit higher than the cow gate. reaching its highest point at the jct with FR107.


From South. (described downwards) This side has more views. First comes Chimney Rock (10146ft), then another pedestal rock that looks like some sort of ornamental topping on a wine bottle. Below lies another triangular mountain that has landmark features, Whiteley Peak (10115ft) which is also a landmark from Muddy Pass.

A trail branching off to the north, just before leaving National Forest Land goes to Indian Pass. This pass is lower than this road, and access on the west side crosses private land.

Continuing on the profiled route: The road leaves forest and passes through a short stretch of private ranch land. Middle Park opens up below, and all the twists in the road ahead can be seen, giving size to the the green sagebrush filled valley below. The road passes into the West Carter Mountain State Wildlife area for the last about 5 miles of the descent.


Dayride with this point as highest summit

PARTIALLY PAVED / UNPAVED

(<Wyoming Trail s(u) | FR700 Chimney Rock s(u) >)
FR103 Chimney Rock Rd s(u) , Muddy Pass , addtional out and back : a short distance on FR100 , near south side of Rabbit Ears Pass > US40 east > Muddy Pass(shp) > Co14 north > FR53 Indian Creek Rd south > FR103 Chimney Rock Rd s(u) > FR103 west > US40 north > Muddy Pass > back to starting point near Rabbit Ears Pass: 51.0miles with 3940ft of cllimbing in 4:49hrs (Garmin etrex30: m5:15.7.5).