home, Charles
Arizona


- Teasers:
- Bicycling along a river bed in Arizona is special
- A visit to an old Spanish Mission church on an Indian Reservation
- The Mexico/Arizona border contains some spectacular scenery
Flavors of Bicycling. B icycling comes in many flavors. Some people ride to work or to go shopping. Others just ride to ride. Some ride only on smooth hard top, while others drive their cars over the hard top to get somewhere where they can jump over major obstacles, like roots or entire cars. Some people ride heavy old clunkers, and others as fast as possible on the latest and lightest, made from Titanium, and equipped with only the finest deraileurs and brake levers money can buy. A few female cyclists refer to this creed as "tech-weenies". I think they prefer the term "hammer heads". As a rough rule, the more advanced you are in this category the more gears you have. That is, until you get really really advanced, and do away with gears, brakes and cassette cogs altogether, and ride a direct drive track bike as a bikecourrier on crowded city streets. Yet other cyclists carry heavy bags with everything necessary to sustain life, and go off to explore far foreign places. Some prefer preebooked overnight accommodations, and others engage in the adventure of finding a suitable place upon which to lay one's head every night.
With all these diverging interests it's a wonder that people ride together. But groups of similarly oriented cyclists band together in clubs and do just that. Or more accurately, they start out riding together. Sometimes they even return together. The truth is, there is a little of each kind of cyclist in all of us. More than one commuter dreams he's Lance Armstrong, and Lance tried mountain bike racing once. If you own a sleek racing bike, chances are pretty good these days you also own a mountain bike. Hammerheads don't always hammer. In the tour de France, a rider is often given the freedom to ride ahead of the group, through his hometown. Everybody cheers. After all, it's a tour. Bicycle racing has a social touring aspect too.
The routes described on this page combine several aspects of bicycling, for one, dirt and hard top. I enjoy the aerobic aspect of bicycling and like to use paved roads. But nonpaved roads are great to get away from the traffic, and many interesting places are only reached by dirt roads. I did not ride any "technical trails" during this tour. I would have probably hurt myself. The routes are also a combination of touring and daytrips. I used a VW Westfalia camper as a base camp to find interesting rides that ended up where they started. This way I didn't have to carry the world on my rack. I didn't have the adventure to find a place to sleep every night. On the other hand, all that absence of baggage was an advantage, when it comes to finding interesting long routes up mountains and canyons. But then to give the whole thing a tour flavor, I connected all the rides together, so that they form a connected series of lines on a map. You could say that it was a sag supported tour where I drove the sag vehicle myself. I rode from A to B, and then back to A, sometimes via a different route, to get the sagwagon. Often when I would get to a new camping spot I explored the area ahead first, call it C, before riding back to B. But in the end A, B and C were connected by routes bicycled. So, there you have it, a new definition of the term "selfcontained bicycle touring with a sag vehicle". I am a tourist at heart. My main motivation to ride, is to get to someplace interesting, to see what's over the next hill. If that makes me turn those cranks a bit faster, that's all the better. The more interesting circle day rides are summed up in a table, giving mileage, road surface, total vertical climbing height, and a special attraction on the ride. They make great day rides if you live or travel in that area. I'm not saying that these are the greatest rides in that area. I'm just a tourist passing through. But these are rides that I enjoyed immensely, or if I didn't enjoy them they were really interesting for a special reason in retrospect. Rather than describing the ups and downs in detail, the page focuses on these reasons, the attractions and the experience.
Interstates, Cities and Parking Lots. You are supposed to start a narrative like this with a grabbing description of a scene, catching the reader's interest, and drawing him into the story. This is difficult, since I want to keep the page in roughly chronological order. Let me try anyway.
A truck passed me on the right. The usually gentle breeze from the rear momentarily grew into a powerful gust. It didn't only give me a little help from the back. Additionally it lifted my jacket, and managed to turn my handlebar just a tiny bit. A powerful wave of air passed over me, together with a doppler effect roar. The pitch of the noise decreased just slightly with the passing of the large vehicle. But, if all is said and done, I actually valued the push more than I was annoyed at noise, smell, and the little tug on the handlebar. After all, I was bicycling, and safe too. A rumble strip separated me from the truck and countless other cars that passed. On my side of the rumble strip I had an entire full sized lane to myself, the shoulder of I17, heading South into Phoenix.
See what I mean ? If you're looking for inspirations to ride a bicycle in places that have been recognized as being not only acceptable but "beautiful and interesting" by general consensus of the American bicyclingcommunity, it's probably best to jump ahead two titles. There are plenty of those described a little later. As I read this now, in the spring, it really doesn't sound very appealing. However, several days before I was bicycling on that Interstate, the cold wind was howling, and the snow was blowing outside. In that context, the Interstate highway and the rush of warm exhaust from the back take on a whole new meaning.
If you're still with me, let me explain. Plain and simple it was like this. It was still winter. Winters in Western Colorado are pretty cold, and I wanted to ride my bike. I had heard of people taking off to temporary homes or in mobile homes to Phoenix, Yuma, and other toasty Arizona low spots in the dessert. Sounded pretty good to me. I didn't really need the second home. I packed my Raleigh mountain bike onto my 81 VW Westfalia camper, equipped with stove and sun shower and hit the road. During the first couple of days I rode a few short rides just to take a break from all that driving. But mostly I drove till I could feel a comfortable warmth soaking into my limbs from outside. This happened when I reached South of the Mogollan rim, that huge edge in the landscape South of Flaggstaff. The road drops from 7000 feet down to 1000 in Phoenix. This marks the boundary between the geographical areas of the "Colorado Plateau" (Colorado here refers to the river, not the state), and the Sonoran dessert.
While I was doing all this driving, all I was thinking about was bicycling, rotating feet. In order to fulfill this recurring fantasy I had during the long drive, I stopped my van as soon as I hit 3000 feet elevation, and started bicycling, on the Interstate. Bicycles are perfectly legal on I17 North of Phoenix. Not only legal, once you're South of Cordes Junction, still about 60 miles from the edge of Phoenix, there is really no other alternative heading South. Not riding I17 would mean a detour of more than 150 miles, climbing the Mogollan rim again and then descending through the Prescott valley.
These initial days of bicycling were very satisfying and fulfilling. They were great workouts. Conditions were very favorable for proud mileages. A predictable wind always started out of the warm South in the afternoon. And in the afternoon I turned around and headed back North. Also, passing interstate traffic always creates a being sucked along effect that makes you ride even faster. Unlike normal roads, the opposing traffic on I17 was often out of sight over in the next valley. It really was pleasant bicycling, by any standards, not just within the expressway category.
One day I ventured off the Interstate for my first circle ride, a ride through Dewy, Humboldt and Mayer. These are new suburbs that had sprung out of the ground recently. Instead of a town center, all businesses are aligned in a linear fashion along a boring straight utilitarian 4 lane highway, lined with building supply stores, gas stations, and every imaginable garage type business, but mostly, lined by parking lots. Unless you ride a bike, you need a car to get to every one of those businesses. For those people who still engage in the old practice of walking, it's not possible to connect anything aesthetic or practical with it in this area. A perfect example of a road like this near my home is Parker road, northeast of Denver. I always call the place parkinglot, but people there don't seem to think it's funny. If there were any old town centers left in the area, they have been "spruced up". This entails adding some more fake false fronts on the buildings, give them an obnoxious color paint job, surround them with a huge parkinglot, and give the businesses cutesy names like "sinful tease bakery" for a plain old sweets store. Then put up huge signs displaying these names, so that they demand the attention of any stuffed motorist speeding by, who has a thousand things on his mind, other than putting on the brakes to stop at a bakery.
You can probably tell that I was also a bit on the grouchy side, even though I really enjoyed the bicycling. Sometimes other things work themselves into the way we see things. I had some tire problems during those first days. You know how flats are. You don't get a single one for 1000s of miles, and then you can't keep air in the tire to safe your life. If you use tire sealant, it amplifies the situation. You don't get a single flat for years. And then, all of a sudden, you can still keep air in the tires, but always just long enough to convince you to pump the damn thing up again, instead of throwing it away. - Very annoying, especially if you have to stop every 5 minutes on a busy 2000 foot Interstate climb in the Verde Valley, with trucks producing the stinking effects described in the opening paragraph. I finally replaced both sealant filled tubes with new ones and was much happier. I'm sure that bakery in Dewy bakes some great stuff and provides tasty calories for local bike club rides.
But it wasn't all Interstate, flats and parkinglots. The first really interesting ride, or more appropriately, the first ride to someplace really interesting, was a circle in the Verde valley through Camp Verde, Mc Guireville, Lake Montezuma, and the Montezuma Indian ruins. Okay, it was really a ride on I17 and then back parallel to I17, first on a hardtop road, and then a very nice little piece of dirt further than 500 yards from the interstate. It was a very very elongated circle, but it was still a circle, topologically speaking.
Like I said, it wasn't all Interstate, flats and parkinglots. I visited the Montezuma Indian ruins. Actually, the interstate here also played a major role. Busloads of tourists were being carted here on them, and then dumped on the doorsteps, or into the complex of hotels gas stations and knick knack stores that have grown up around this interesting Indian house in a cliff.
Walking around the one way paved loop under the ruin you can learn as much about what it's like to participate in one of those organized bus tours, as you can about old Indian pueblos. I'll concentrate on the latter. Riding to the ruins on a bicycle gave me an appreciation about how special this spot is. I rode here out in open valley views, blowing in the wind and baking in the South western sun. But here I was sheltered in large trees between an overhanging cliff and a river with real water in it. Early visitors misnamed the five story ruin Montezuma castle, for the impressive architecture of the Mexican Actec culture. Of course there were no Actecs here, but nobody bothered to correct the mistake. For the Sinaguans that lived here, living perched on top of one another like this was really unusual. It was more typical of the straight wall building Anasazi to the North. But here next to I17, they managed to build 5 stories into a cliff alcove that lasted over 800 years.
I had done what I set out to do. After 4 days of driving and two short double layer underwear rides, camping out in my entire wardrobe, I was able to ride like hell in shorts. At night I could drink a beer, and open the door on my van and stare up at the stars wearing a simple informal after dinner jacket.

Now that I have told you, that under appropriate conditions I like bicycling on Interstate highways, let me go even one step further. I also like bicycling in large cities, under the right conditions. I like riding down a main street around noon with an empty stomach, and looking for the perfect restaurant to remedy the situation. It gets me ready for more cheese and sardines in the wilderness. Also, in cities you see how people live, because cities show more people living per square mile, in more different ways than in a little town. I like bikepaths leading along a river, cleverly threading me under bridges through a maze of traffic, so that I can safely watch the busy workings of the city from my rolling platform. Sometimes I even like drafting in city traffic, and the excitement of flowing along in a stream like a ping pong ball in a creek. It gets me ready for the next lonely canyon without a soul around for a 100 miles.

After several days of approaching Phoenix on the I17 shoulder, I finally saw the first sign of approaching large scale civilization. It was a broken down fake stucco building in the dessert, surrounded by a parking lot. "Food court" said a large deteriorated sign, written in the same font that we usually see the word "Disneyland". Only cities have "food courts". Small town folks aren't attracted by this concept one tiny bit. Maybe nobody is attracted to the concept. It's just that some big city folks put up with them because they're lives are too busy to obtain food another way. I got off the Interstate and headed North along roads which really didn't differ from the Interstate, except that traffic lights forced you to stop every several miles. I was heading West along the Northern edge of the Pheonix megalopolis.

In the next 3 days of cycling in and around Phoenix I formed an opinion on its advantages and disadvantages. The usual problem of heavy traffic crowding cyclists off the road is rare. There are masses of cars on the roads. But the roads are so wide, they are almost like boats on a large river. There is usually a shoulder, sometimes a bike lane. Even traversing the whole megalopolis North to South on central avenue makes a nice comfortable ride. Orientation can be a nightmare in cities of historical interest. Here it's a breeze. A square grid of roads extends 60 miles North to South, and over a hundred miles East to West. In Colorado terms, that's a square grid of suburban streets with malls, that does not quite reach from Colorado Springs to Fort Collins, not yet anyway.

On the other hand, some of the above described city biking thrills don't exist either. Finding not just a, but your personal perfect preference of a restaurant can be difficult. Wide roads are flanked by even wider parking lots. In the distance the identity of the mall anchor stores can barely be discerned. The signs announcing them fade back into the horizon, and appear just a little bit bigger than that 50 mile distant dessert peak next to it. Who knows what other little businesses lurk in the generic malls behind the boundless masses of cars. Consuming here takes on a whole new disciplinarian perspective. You can't really just stroll around and consume. You have to search out what you're looking for with the help of a phonebook, or research it with help of a paper. Then you venture out into the oceans of parked cars to find the continents of shopping malls. I wasn't prepared properly for consumption in the greater Phoenix area. I had to take a chance and ride back into the parkinglots unprepared, maneuver around Basha customers and their overloaded shopping carts, ride carefully by the handicapped parking spots, always occupied, often by Chrysler New Yorkers, Lincoln town cars and other favorite retirement vehicles with windows tinted so dark, that it was always impossible to establish eyecontact with the driver. Eyecontact with a driver would always make me feel safer. The fruits of all these efforts ? Most of what exists in the generic hinterlands of the endless malls were chain stores, chains chained to chains, and more chains. It can be a long exhausting search if you're looking for the perfect little Asian restaurant. But I got lucky a few times.

Cycling through downtown was pleasant. But rather than standing in line in some little ethnic food dive, I decided to have a picnic in a peaceful oriental flower garden, frequented by workers during the lunch hour, hardly typical of a chaotic inner city. A dense canopy of vegetation filtered pleasant patterns of light onto artificial fountains, distributing water onto an acre of exotic plants. Through the dense canopy of plant the straight shapes of a few sleek skyscrapers was discernible. - Not exactly Central Square.

As for interesting city trails, I picked up the bikepaths next to the canals a few times. But they always cross streets at street level, which makes a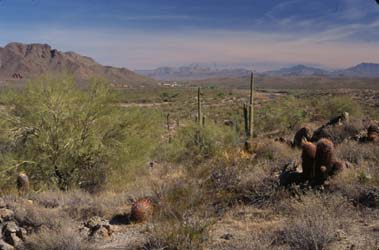 longer tour on them impractical. In the Eastern suburbs, many of the waterbearing canals are fenced off Seeing how people live is also difficult. The majority of people hide their riches behind thick high walls, in the manner of a South American plantation. But in the town of Carefree, and around the Camelback neighborhoods I saw enough extravagant architecture, fountains, and tasteful acres of cactus gardens, so that my tongue rolled out on the ground, and I almost rode over it. Funny things happen when rich people retire, and all move to the same spot because it doesn't snow there in the winter. On the other end of the rich-poor spectrum, in South Phoenix people didn't hide their houses behind walls. That was where I finally found that little chinese restaurant, with the menu in Spanish.
After 3 days and 230 miles of big city or more ,appropriately big suburban cycling I headed South from Apache Junction. Okay, so it wasn't all malls and suburbia for those 230 miles. The suburban area is huge. But on its northern edge it ends abruptly. North of Usery Pass, the Sonoran dessert vegetation is still alive (see picture). This is also where the majority of road bikers found an aappropriate habitat, at least in the winter. Only one third of the total area of Arizona belongs to the "lower Sonoran zone" which ranges in elevation from 1000 to 4000 feet. Only the lower portion of this zone contains Saguaro, barrel and other cacti. Right in the middle of these basins are the population centers of Phoenix and Tucson.

I decided to take a day off from bicycling and do some pure sight seeing. So I went on a walk in the Superstition wilderness. The weather forecast called for clouds and storms. However, where I come from, we call this haze. Maybe they use different weather terms in the dessert. Usually I hate haze. It makes pictures look fuzzy and grainy, like somebody had dropped them in a glass of milk, and then fished them back out. Here I didn't mind at all. The crystal clear weather that I had so far made the landscape look almost unreal, because the clearness obliterated any perception of distance. The haze gave depth to the landscape. I was so excited by it that I ran along the trail. There were other tourists exploring this trail. "Ah, ze rooad rrunnerr himselff" came the comment from a Swiss tourist, as he graciously stepped aside to watch me lop by, like a sedated kangaroo that was just learning how to hop. - Just as Americans think of cows with bells around their necks when you say Switzerland, so think the Swiss of the roadrunner cartoon when you mention Arizona. Aren't cultural stereotypes wonderful ? Only until you've heard them about 1000 times. But I had only heard this once or twice, so I happily hopped on trying my best to live up to this cultural icon. Those Swiss do have a talent for hanging out in the most scenic places around the globe, and this is one of them.





Saguaro cacti take about 75 years until they first grow "arms". The canyon heading North from Peralta trailhead was where I saw the oldest Saguaro cacti.
The Greater Phoenix Area Bike Club Mining Country Challenge (The Bud Light Classic, March 15)





| | | | |
| --- | --- | --- | --- |
| Distance | Total Climbing | Surface | Attraction |
| 95 miles | 7020 feet | 100% hardtop | mining towns |
I had stopped my bike, and was photographing a particularly picturesque habitat, a trailer together with its collection of junked schoolbus, and disposed cars, from a cliff, part of my photographic documentation of different typical lifestyles in Central Arizona.





Lifestyles of Central Arizona
I saw a sleek racing bike speed by, and gave chase. The occurrence was rare enough here to justify this act. After hundreds of miles of biking on my own I am always happy to run into a kindred spirit. Soon another biker labored himself up the hill from behind. Pretty soon I was surrounded by well dressed cyclists in stylish helmets. They weren't very talkative, and apparently lost in deep concentration on the task at hand. It was later suggested to me that maybe they didn't feel that comfortable with sharing their road space with a mere mountain bike. I don't know. It turned out, I was right in the middle of a club ride called the "the mining country challenge" put on by the Greater Phoenix Bicycle club.
At their support stop at Winkelman, I got a chance to mingle with other club members. It looked like a well integrated club. Many diverse types of cyclists were represented. Riders of sleek Italian racing frames pulled power bars out their rearpockets and began the long process of reworking the mixture into something they could swallow in their mouths. A blissfully smiling woman parked her Schwinn touring bike on its kickstand and headed for the bagels and cream cheeze. Riders wearing every type of jersey imaginable mixed with riders wearing t shirts. Well maintained retired men next to Serottas mixed with women in well maintained cycling shorts. All the ingredients for a vibrant healthy bikeclub were present. There were even two other mountain bikers, real friendly guys with whom I had a great conversation. It reminded me of the old DBTC, before it split off into the Rocky Mountain cycling club and the new DBTC. I was offered to partake in their club fig newtons, assuming that I would share my fig newtons with them if I ever met them on the road. "Yes", I reassured the sag support, I would certainly also share my fig newtons with them should the occasion arise, and took a single fig newton. I didn't want to be the cause of a possible fig newton shortage on the ride. In the meantime the determined looking draftlines were arriving on their titanium frames from the opposite direction. These were the riders who were riding the full 96 miles. When I left their lunch stop I was now riding in the opposite direction. For the next 20 miles of my ride I waved to them as they passed.
My own lunch today came much later, at the end of the most scenic truck runaway ramp I have seen in years, overlooking the lower Capitan canyon and the Pinal mountains. Where there is a truck ramp, there must be a hill, I deduced in finest Sherlock Home logic, while cutting open my lunch tomatoes and bagels. So there is something that cyclists and truckers have in common, fear of hills. We fear them in opposite ways, trucks going down, cyclists going up. Actually if the truth be known, I like them better going up than down. But before I was ready to head in the direction of the smelly brakelinings, I had to throw some logs on the fire, eat some bagels. The first pass did not come as a surprise, el Capitan Pass. It's height of over 5000 feet was impressive. Now a long decent led me into another series of mining towns, Globe and Miami, similar in history and character to Winkelman and Superior, but much larger and busier, lining a busy highway.
Mining activity in the towns along this route started with a metal that can fire on the imagination of men seeking riches, usually gold or silver, silver in this case, way back in 1875. Soon afterwards the main features of the current landscape were formed, some really really big holes, copper mies. This tour offers views of some of the largest holes that man can dig, the largest tailing piles, the highest smokestacks in small mountain towns. In its own special subcategory, this ride is the absolute top. A bicycle is the only tool that allows rolling through the diverse set of living conditions that grew up around all the frantic digging and smelting, and lets you see the way people still live; the abandoned buildings next to dry canals in a town named Miami, the whimsically maintained gardens with nomes and welded metal in Winkelman, an old movie theater that now functions as cafe, antique store, and office all in the same space without dividing interior walls in Superior. Their scenery is determined just as much by the tailing piles as the Pinal mountains around them.. Also, the garbage surrounding every parking spot will give future archeologists more to do than they will ever be able to handle. But I don't think they'll be able to do anything with all that broken glass scattered around the landscape. In a strange way it all fits together into a harmonious whole, big tailing piles behind the towns left by the companies, little tailing piles next to the road left by the people.
Little did I know, I still had another pass to cross after the town of Miami and its coppermines. I didn''t think it had a name, but it was a pass, like any cyclist will be able to testify. We cyclists know passes when we ride one. At this point the bagelgauge in my stomach was getting dangerously close to the empty side. Now I regretted my fig newton bashfulness. The miles were beginning to show. My own method of dealing with this was to put myself into automatic pilot for as long as possible, with the help of some engaging music on the walkman. Every once in a while my bike strayed from the shoulder towards the left, onto the rumble strip, and threw my mechanism out of automatic pilot. After a while I just rode to the left of the strip, out in traffic, and the problem was solved. I was heading West again and a fierce wind blew in my face. The ride finished with a grand down hill. But I couldn't really sit back and enjoy it. Wind funneled up the canyon so strong I still had to pedal like hell. The windiest point was a tunnel almost back in Superior. Apparently all the air traveling from West to East had to go through this hole in the mountain, creating a giant sucking hole. And now I had to go through it too. Coming out the other side I disengaged my pedals, just in case I would get blown over. My arms started to shake from a combination of wind and not getting enough energy. I was racing with the sun to the same horizon, and just barely beat it.
This was really a beautiful ride through incredible mountain dessert scenery. But we people living in the Western States become a little jaded about these things, so I chose to concentrate on the things that made this ride stand out, its garbage and big holes in the ground. Please forgive me.
But while I'm on the subject ... Now, I'm not a professional garbalogist. I'm just an amateur. Bicycling and garbalogy go together very well. As I rode along the Mining Challenge Circle I was going just the right speed to clearly identify every can and cup next to the road. From a speeding car you would have seen only passing specks of metal or paper. But from a bicycle, you could while away the miles, just reading all the partially faded labels one after another, Budweiser, Coors, Coca Cola, Budweiser, Budweiser, Bush, Budweiser, Coors, A&W... The vast majority of the hundreds of thousands of cans scattered along this ride clearly carried the faded labels of Budweiser Light, Bush light, followed by Budweiser and Coors. There were also a few soda slurpers amongst the litter bugs, mostly Pepsi light drinkers, but they were outnumbered. The vast majority of the products that ended up along the glittery side of these Arizona roads have been made by Anheuser Busch Corporation, which makes all Budweiser and Bush products. The only exception to this is that Anheuser Bush does not make the original Tchec Budweiser Beer dating back to the 14th century. Anheuser Busch only stole the name. The product carries no resemblance whatsoever. I'm going to make the assumption here that visiting litterers from the Tchec Republic bringing their own beer with them are in the minority.
The morning before I had gathered more clues about the life of the littering creatures. I hadn't noticed it, the evening before when I pulled into my camping spot on BLM land, because it was too dark. But when I opened the sliding door to my van that morning, it opened onto a partially burned tire, surrounded by empty motor oil cans. The octillo trees were decorated in toilet paper. The morning sun reflected in a carpet of broken glass, like I was camping on a huge chandelier. No attempt had been made to bury toilet paper, so that it was now blowing in the breeze like the frazzled flag of an army that had gone down in heavy battle, the last ambers of the bodies still burning in a stench of decay. Budweiser Light Cans were also in the majority.
So, I have a suggestion for the Anheuser Bush Corporation. In the interest of portraying the consumption of its alcoholic water (the stuff has nothing to do with real beer) more realistically how is this for the next Superbowl commercial ? A few fat guys are sitting around in the Arizona dessert drinking Bud Lights. The tire is burning, exuding a red glow and dark smoke consumes the atmosphere. Bottles are being smashed on the ground, against cactuses, and anything that is hard enough, in an apparent outburst of an undefined emotion. Is it joy ? Is it anger ? Is it fear ? None of the above, it's stupor. In the background somebody is crawling under his souped up car, and draining the used motor oil on the ground. Here have another swig of Bud Light. Right and left people are crapping in safe distance from the many cactuses. We don't want to hurt ourselves, now do we ? I still need some good ideas how to portray the toilet papering of all those shrubs in the commercial. I can't really imagine how they did that.
Along the Mighty Santa Cruz. From Winkelman I yoyoed my way through the San Pedro Valley over a shoulder of the Santa Catalina mountains into Tucson. I was looking for more big city biking thrills. Tucson is slightly higher than Phoenix, and therefor slightly cooler, even though it is further South. The Santa Catalinas form an impressive escarpment behind the city, very reminiscent of the Utah cities Ogden, and Salt Lake, along the Wasatch fault.
Signs all around Tucson greet motorists with the salute that Tucson is a "bicycle friendly" city. I guess the theory is, if you see enough of the signs you start to believe it. Almost makes you think that Tucson has something to gain by being bicycle friendly. Hmm. What a concept ! Let's see now, action speaks louder than words. Bikepaths and rumble strips speak louder than signs. It is true that the rumble strips in Tucson were less obnoxious than the rumble strips immediately around Phoenix. Phoenix drivers apparently are the ones that are most afraid of falling asleep behind the wheel. Of the several rides around the Tucson area, I finally hit it big on the third try, a wonderful combination of sightseeing and city biking thrills.
I finally found what I had been looking for, a bikepath following a river, a river of sorts anyway. Rivers don't like to stop a traffic lights. Bicycles that follow rivers on their level have the same advantage. This makes them the fastest and most pleasurable way to traverse a city. The "faster" here is not nearly as important as the "most pleasurable". This river I was riding along currently, on the other hand would have no trouble stopping at traffic lights, at least not today. It was dry as a bone. Cracked bleached concrete sloped down at a 45 degree angle to a deep sandy trough. Even if there was water in it, the word canal would be more fitting. A look at the map however revealed that this was in fact the Santa Cruz River. It was impossible to imagine that this dry conduit would at times channel millions of gallons of water in a roaring torrent North towards the Gila river. But it has done so in the past. This reluctant intermittent moody river was not only the reason the bikepath was here. It was also the reason that Tucson and every other man made establishment was here.
I followed the trail along the dry wash South to the edge of town. It's hypnotizing to ride a bike along an edge of water, weather it's a river or an ocean, or as it turns out an imagined surface of water. It is a strange feeling to ride next to a dry streambed. It's really no different than riding next to a ditch, which doesn't sound all that appealing. However just the knowledge that once every 100 years or so water flows in this sand, and all the vegetation that has made itself at home will be washed away makes it fascinating. After 15 miles or so the trail ended and I chose excellent roads near the Santa Cruz to follow it South into the Tohono O'dham reservation.
| | |
| --- | --- |
| | |
| This is the Santa Cruz, channeled through Tucson. The location is "downstream" from the location on the right | Here the Santa Cruz is pictured closer to its source in the Patagonia mountains and Canelo Hills. The river is much larger closer to its source than on the other picture. Yet the riverbed is much larger. This is the opposite from what common sense tells us people who live in the rain. Rivers are supposed to get bigger, not smaller. From here on the Santa Cruz looses more water than it gains. |
My main destination on the ride was the mission San Xavier del Bac, also in close proximity to the Santa Cruz. The first knowledge we have of this location is when Spanish Jesuit missionaries under father Kino visited the location in 1692. According to them this place was picked by the farming Sobaipuri Indians because of its water. Back in the 17th century this was not a deep sandy trough, but an intermittent stream flowing almost even with ground level. There were no steep banks and even during the dry season a shallow hole dug in the river's bed would yield water. The Sobaipuri called the place Wak, the Spanish punta de Aqua, which all means "point of water". It is not surprising that the Spanish picked this location as a mission. The structure that still exists after all these years is surprising. Actually it's incredible, stupendous, magnificent. The elaborate building assaulting the senses in catholic fashion was built more than a hundred years after this first visit (1783). Meanwhile the Franciscans had replaced the Jesuits and Tucson had its start as a Spanish presidio, a fortified outpost to protect the mission, also on the banks of the Santa Cruz. San Xavier del Bac became the northernmost and most important missionary outpost of the about 20 missions in Arizona and Sonora. The history of the church closely parallels the history of the church at Tumakakori. I'll include more general information about the Spanish, and a picture of the church when we get there.
The amazing thing about this church is, besides its history, the fact that it is still a functioning church. This church is not a national monument. People are probably praying in it as we speak. It is probably the last functioning institution that was originated by the Spanish. It's tempting to jump to the conclusion that this has always been so, and actually it's not that far from the truth. But this church did not function continually since 1783, which would be an amazing feat for an American church. Soon after Mexico gained independence, the Spanish administered church lost its missionary (1828), just like the church at Tumakakori (see later). This is where the stories of the two churches diverge. San Xavier del Bac was never really vandalized, even though it was left open. Indians started taking furnishings into their homes, but it was more to protect them, than to have something to sit on. During the California gold rush in 1849, visitors traveling through here left their names on the walls. Miners do tend to leave something wherever they go. Then in 1859 the area became part of the US through the Gadsden purchase from Mexico. The church became part of the Santa Fe Diocese. Already in 1859 a priest was again assigned. So that's really only a period of thirty years out of about 220, in which the church was not functioning. Extensive renovation work will continue for many years to come.
From San Xavier, I turned East, away from the unlikely stream that is source of all this civilization, and had a different environment to content with. At this point my bike route became a regular air travel educational experience. After skirting Tucson airport, I passed acres and acres of museum planes, parked next to the highway, separated only by a chain link fence. All this was part ot the Pima air museum. On the other side of the road Davis airforce base was the source of many of these planes, and yet others.
As a general rule, when it's around lunch time and I see a Chinese restaurant with lunch specials, I stop. This was the case now. Over the years, I have eaten in many other types of places where I was the only cyclist - truckstops, gas stations, restaurants with signs stating "wait to be seated". But this was my first meal in an establishment frequented exclusively by pilots in full battle garb, and other military men and women in varying degrees of battle readiness. They tried their best to ignore my unusual appearance in bike shorts, t shirt and several days worth of beard growth. Most of them succeeded admirably. It was an interesting people watching experience on both sides.
It wasn't long before I was back in more familiar surroundings again, an area frequented by bicyclists of all types. I just had to cover another 10 miles of suburban 4 lane highway and a few dirtroad miles through new developments sprouting houses from the dessert, like weeds sprout where it rains. In the process I had gained several hundred feet elevation since I left behind the mighty Santa Cruz. Descending back into Tucson I came upon a route that surely must be a favorite of the local bike club. It is called the old Spanish trail. This road winds follows a low curving ridge back down into Tucson, making the perfect vantage point on the sprawling carpet of a city, with the Santa Catalina escarpment behind it. The cyclist here has the rare luxury of choosing between a bike lane and a completely separate bike path. The bike lane is not a parking lane, but clearly marked for bike traffic only.
As desert for today's full course 60 mile biking cornucopia, I biked up a little hill overlooking Tucson in Sentinel Hill Park. It offered a place to put things in perspective and gain an overview of where I had been, and where I wanted to go next. And down there in the ocean of houses I could also make out the little dry channel, that had been the source of it all, the city, the mission, the Indian settlements, and the ride.





| | |
| --- | --- |
| | |
| the main course of today's ride : the mission of San Xavier Del Bac | desert : Sentinel hill above Tucson |
From Tucson, a number of wonderfully quiet curvy rides lead me around the East Side of the Santa Rita mountains towards Nogales. Then one evening I discovered an interesting route on the map, leading around the Huachuca mountains.
Around the Huachuca Mountains (March 23).




| | | | |
| --- | --- | --- | --- |
| Distance | Total Climbing | surface | attraction |
| 100 miles | 5500 feet | 30% dirt, 70% hardtop | Coronado National Memorial |
I had the feeling this was going to be a long one. The pleasant fast stuff came first, and the exciting spectacular stuff came later.
For starters a strong westerly wind pushed me West of out Sonoita through pleasant ranch country. This valley in Arizona has no cactuses. Even the valleys are about 2000 feet higher than the populated Phoenix and Tucson basins. Therefor it was also cooler. Stark mountains were edged on the horizon, the Santa Ritas behind me, and the Huachuca mountains to my right. Stringy pale yellow grass was blowing in the strong breeze. How strong was the breeze ? For the first 19.8 miles, it pushed me along at an average 19.8 mph. But it still took me longer than an hour to cover to 19.8 miles, because I stopped several times to take pictures of the stringy yellow grass. As a national park service ranger told me later, this string yellow grass, though picturesque if you have nothing else to compare it to, is not indigenous to this country. The cattle rangers imported it to give the livestock something better to eat. But the cattle don't like it, and the grass feels quite at home here; so "at home", it has taken over the landscape. When will we ever learn ?
At this point I turned South and the mph statistics deteriorated. For lunch I reached a fort that has been operational since the Indian wars in the 1880s, Fort Huachuca. About 50 forts in the south west closed after the Indian wars. But this one remained open to deal with renegades along the Mexican border. But the times have changed. Instead of protecting settlers from Geronimo's Apaches, it is now used to test communications electronics and other secret army stuff. I was looking for a good Korean buffet to give me energy for the ride ahead. Most of the energy expenditure was still to come. It was much later than I had planned when I finally reached my turnoff that would lead me away from the straight 4 lane highways, shopping centers and parking lots that have grown up around the army operation. I rode up Coronado road to Coronado National Memorial and up Coronado pass on a wonderful dirtroad in a thick forest. So everything seems to be named Coronado around here. It was getting quite late, but on top of Coronado pass, a short trail was waiting to be walked, leading up Coronado Peak. I walked it. The peak is within a mile of the Mexican border and offered an impressive view across the Sonoran dessert. Benches and signs along the way tell about Coronado's life and invite the walker to picture a procession of Spaniards coming up the valley below, bringing with them a new way of life.
As usual for the Spaniards at that time, Coronado was looking for gold and riches for the motherland. How he got the idea he would find it here is an amazing story. The first Spanish explorer who had been far enough North to reach what is now the US was Narvaez. He reached Florida in 1528. His expedition was shipwrecked. Only three people survived. One of them, Cabeza de Vaca (Cowhead) wandered across what is now Florida, Texas and Northern Mexico for 8 years and actually made it back to Spain. His story of escapes from Indians was too wild for fiction. Other stories of cities of gold he told were fiction, the cities of Cibola. The viceroy of New Spain ( now Mexico) was eager to act on these wild stories. After another 3 years he sent the franciscan Fray Marcos with a tiny group of men to investigate further. A slave who was with Cabeza de Vaca, Esteban, was supposed to act as guide. Esteban was quite taken with his new important role. He was no longer a slave, but he was still ordered to obey Fray Marcos. The black man was quite the hit in the Indian community and he adorned himself with neglaces, bells and amulets. He gathered admirers that followed him in each village they passed, until he had an entourage of 300 indians and a harem of girls. After a while he took things into his own hands and went ahead of pursuing Marcos. Then he ran into a Zuni chief who wasn't impressed by his medicine rattle which usually worked wonders. Accounts on exactly how he met his end vary. But he did meet it. Fray Marcos came back saying he had seen the golden cities from a distance. He was afraid to go any closer. So finally a year later Coronado was sent with a much bigger expedition of 350 Spaniards, 1000 slaves and 300 indians, including Fray Marcos, and a whole set of supply ships under Hernando de Alarcon, to bring back the gold. As he headed North from Compostella, Mexico Coronado drifted inland. He never did manage to meet up with his supply ships. There is also some question exactly which valley he came up. The one below me was certainly a possibility. This tradition of not utilizing maps to their fullest possible extent continues in Mexico until today. More about that later. After Coronado and his captains had wandered around Arizona, New Mexico, and Kansas for two years, whoever was left returned, 100 men. Some priests stayed behind hoping to gain some Catholic souls. I guess the conquistador motto was "if you can't rob them, turn them over to the Catholics". Coronado also published a description of the South West that allowed other missionaries to follow later.
So, there I was, picturing a procession of Spaniards coming up the the San Pedro Valley. Acutally, I'd just as soon picture them going back into Mexico. This picture is just as historically accurateas the first one. Coronado left the same way he came, even if he didn't know exactly where he was. It took a while before I could tear myself loose from this slightly hazy view across the vast Sonoran dessert. On the Mexican side, low rolling hills, shaped like small waves on a ocean receded to the horizon. By comparison my vantage point was at the height of the bow of a big ocean liner. A few large rounded mountains stood out. An easily discernible straight line cut across the dessert, crossing hills and fields alike. This was the chainlink fence along the border. On the American side a dirt road ran along the fence. The road was used by the border patrol and the ones being patrolled On the the American side of the fence the dessert is crisscrossed by straight roads, and towns can be glimpsed in the distance. The Mexican side appears as one huge wilderness, as it did 500 years ago.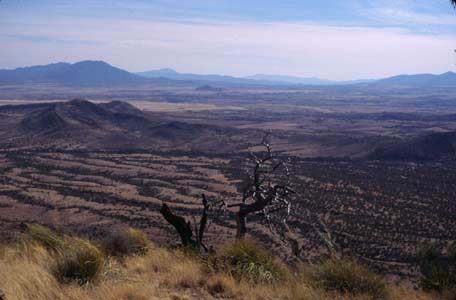 Just in case my description isn't as graphic as one of Mark Twain's travel books, I'll include a picture. This view looks across the border in a South Easterly direction, onto the Sonoran dessert in Mexico. The chain linked fence along the border is located below the picture.
From a nearby peak in the Huachucas you can catch a glimpse of the bay of California (sea of Cortez). If you climb it, you can picture even more of the Coronado drama of 1528. Way way way off in the distance, little tiny itsy bitsy ships were sailing up the golf. This was Hernando de Alarcon, Coronado's supply ships. As far as they were concerned this was the end of the Pacific, and there was no trace of Coronado. They never met up And this is how Hernando de Alarcon came to discover the mouth of the Colorado river - not exactly what he had in mind - but what he became famous for.
I didn't climb that peak with the distant view of the sea of Cortez. I still had a lot of bicycling to do. The road didn't help. An hour after I had descended the 6500 foot (above sealevel) pass, I was still bouncing along like a ping pong ball on a table. My scenic forest road had turned into more of a jeep trail. According to the map I was only within centimeters of solid pavement. But the track lead up and back every little ravine. If I kept bouncing along at this speed it would be dark long before I got back. My goals became more flexible: reach hardtop by 4 - if not - reach hardtop by 5. I finally reached it with the sun near the horizon. Immediately after that I passed a rare sight in these parts, a lake with actual water in it, Parker Reservoir. The rest was icing on the cake. I raced mostly downhill on hardtop back to Sonoita. With the wheel turning faster again, I noticed the rear brakes blocking periodically. On closer inspection I saw that I had a 2 inch split in the rear rim. That's all right. I'll make it. It's a double wall rim. That's what the second wall is for. If one breaks you have another. I knew that the tube inside was not in contact with the split metal. As long as it wouldn't grow any more, there was nothing immediate to worry about.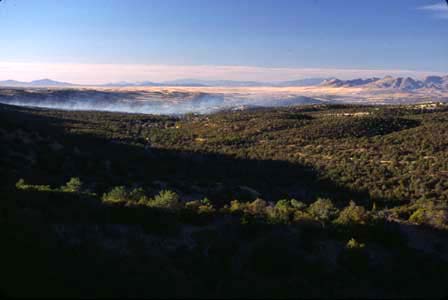 Along the scenic hilly curves back down into Sonoita, I passed a brush fire that was just in its beginning stages. Two helicopters hovered overhead and dumped their buckets of fire retardents within 50 feet of the road, and 70 feet of my head. When I got back it was pitch dark. I couldn't even recognize my parked van even though I rode right by it. I had to go to a nearby gas station and describe my parking spot in detail, only to get directions to retrace my way back out of town. Yes, there it was, still waiting for me in the moonless night.
I must have looked slightly tattered by the end of the day. Luckily there were no mirrors around. I went back to the gasstation, also functioning as a deli, looking for something to eat, anything to eat. Of course the deli was closed by now. But the friendly woman behind the counter gave me the cold fried chicken that was left from the day. Together with a can of beans it hit the spot. It had been a rough day, but a very satisfying one.



A map of Sonora. Nogales is actually the name of two towns, one in Arizona, one in Sonora. Border towns are meeting points of two cultures, and the confusion created by this is often entertaining. In all of latin America, you should not throw toilet paper in the "taza". The plumbing can't handle it. Instead a lined waste basket is provided, standing next to the taza. The American plumbing system on the other hand is famous for its ability to handle all sorts of things. The word seems to have gotten around. However some people crossing from the South seem to overestimate the strength of American plumbing. "Please don't throw paper towels in the bowl" read the large sign over the toilet in Spanish.
I wanted to punctuate this southernmost point of the ride by riding across the border at Nogales. For this purpse, I thought I would buy a map of the area. I started my quest for a map of the state of Sonora in Nogales, Arizona. The shops on the American side catered to Mexicans, just as the shops on the Mexican side catered to Americans. Mexicans bought autoparts, clothing for ninos, ninas and every other family member, mountain bikes and tools, and carted them in overloaded pickups back over the border. Only gas stations sold maps of any kind. "Sonora, of course we have a map of Sonora." said the heavily decorated woman working behind the counter in Spanish. It was a plastic laminated sheet about 15 inches square of the country Mexico. Sonora was about 3 inches high, not exactly a great map for a bicycle tour.
I got a preview of the attitude about maps on the other side while I was still in Nogales, Arizona. A well dressed man stepped away from his family and asked me for directions. His black hair was firmly held in place and he had a precisely trimmed mustache. His large spotless American car was parked at the curb right next to my bike. He politely asked me in Spanish if he would get to "El Paso" if he followed I19. This was a trip of hundreds of miles. I tried to tell him that he could buy a map at any gas station, and learn about the details of his undertaking. If he doesn't want to spend the money he could just look at a map there, and see what roads he can take and plan the details. In a mixture of Spanish and English I tried my best to communicate the utility and pleasure of looking at a map, and seeing the journey in front of you. Then I added, that I thought he probably could take I19 to El Paso, but may have to turn off onto I10 at a point. He thanked me, and said, yes, he would probably do just that, take I19, drive to I10 and then to El Paso.
It was clear that I had to cross the border to get any kind of detailed map of Sonora. I wasted no time and started asking for maps as soon as I was waved through by customs. People on the street were eager to help. They sent me from one establishment to the other. These establishments fell into three categories, Oxo gas stations, papelerias, and the occasional department store. Gas stations had no maps whatsoever. I was beginning to understand how people just drive for hundreds of miles, based on verbal directions.
Just outside of the Nogales hills, the urban landscape changed. A six lane highway winds around parking lots and big box stores. It still looks nothing like the American Big Box scene. There is more commotion in the parking lots, traffic jams, people debating, piles of garbage. But these big box stores were clearly influenced by their American counterparts. I was getting closer to the Motorola plant and the huge walls around it. In this area, a gigantic department store on the magnitude of Walmart had sprouted out of the ground, "la ley". I went through the elaborate process of threading my bicycle chain through all removable objects of the bicycle and then through an immovable object, in this case a tree. A shopper with heavy baggage immediately offered to watch my bike till I came back out. No matter how often this happens I am always really touched by this immediate readiness to help. "La Ley" had pretty much anything you could want, except a map.
That left papelerias. "Una mapa de Sonora", of course. The shopkeeper motioned me to wait for a minute. After several minutes of digging around under the counter, he produced a neat set of folders. He pulled out a letter sized sheet made on a copy machine. It was a neat outline drawing of the state of Sonora and its counties. All the counties were neatly labeled. Apparently it was a sheet used to teach school classes. But there were no roads on this map whatsoever. It occurred to me now, that just because I was dressed like a bicyclist and riding a bicycle, didn't communicate automatically that I wanted a map for bicycling. Apparently the idea was strange enough that this connection didn't crop up automatically. I asked for "mas detalles". You probably guessed it by now. I never did manage to obtain a map of Sonora that contains any kind of roads on it. - At least not while I needed one. Several days later I met Lee (see later) who showed me a great map of Sonora. It was printed in Canada. The best thing I found later in book stores in the US is a guiaroji atlas. It had plenty of squiqqly lines on it that must be roads, but you have to deduce the topography from the squiqqles.
That's okay, a map wasn't really critical to my ride. After all, Coronado didn't have one either, and apparently not much has changed since then. I only wanted to do a couple of day rides across the border. I could manage without one. For the rest of the day I rode around Nogales, Sonora.
"Nogales" means walnuts, and after a bikeride through town the reason became graphically obvious. A series of walnut shaped hills line the busy shopping streets. The border crossing is really a very gentle mountain pass between these walnut shaped hills. Most of the hills are on the Mexican side. These walnut hills are a maze of activity. The roads leading up them are so steep at the base, that even walkers look for cubbyholes in the dirt or cobble stones to get a toe hold. The only vehicles capable of climbing the streets are pickups and a few selected mountain bikes. Some of the steepest alleys are only used for walking, or more appropriately, climbing. The hills themselves are a maze of flattopped concrete structures. It was weekend and the people on the nogales were celebrating this fact with music on the roof tops, and transistor radios in the street, drinking beer and eating tortillas. Every second house had a junked car in the backyard. Kids were playing soccer on any piece of land that was flat enough, and the grandmas were sitting on kitchen chairs in the streets watching. It was a great little tour through the spectacle of Mexican life, so close, and yet so different.

weekend on the walnut hills of Nogales
The next day I rode as far into Sonora as a day allowed, about 85 miles round trip. I followed Mex15 for about 40 miles. After I changed a few habits, I came to the conclusion that this was a great ride. Mex 15 is a divided highway with widely separated lanes, a great surface without the annoying Arizona rumble strips. However, for bicycles the edge of the road is more important than its lanes. If a shoulder exists on Mex 15 it always ends in a 6 inch drop. After several miles of dodging truck traffic I realized that there was always a shoulder on just one side of the road. I rode on the shoulder, regardless what side it was on, and found that this was a great way to go. Distances between towns were on the hundreds of kilometers. I never did reach the next town.
This was the southernmost point of this ride collection. From here I connected a couple more lines and circles heading North along the Santa Cruz river valley. The Santa Cruz river valley was the focal point of early settlement of the area. Today it is also the main traffic thoroughfare, and most heavily settled area between Nogales and Tucson.