home, Charles
Arizona - Southern Utah




- Teasers :
- my bicycle breaks down again
- I meet the cyclists of Tubac
- Northern Arizona has great Indian ruins
- finally some real mountain biking
- then some snow biking
Around the Tumakakori Mountains (Bicycle Artist at Work, March 27)





| | | | |
| --- | --- | --- | --- |
| Distance | Total Climbing | Surface | Attraction |
| 85 miles | 3400 feet | 30% dirt, 20% interstate shoulder, 50% hardtop | Tumacacori National Historical Park |
If anybody should ever decide to ride this route, I sincerely hope they fill fare better than me. Although in the end, I was quite satisfied with the way everything turned out. You'll see what I mean.
Some roads ignore the landscape. They cut through it like a knife, flattening hills, flying over valleys and ignoring towns. These roads are perfect for utilitarian motorized travel. On the other extreme, you have roads that interpret the landscape. They swerve. They jump. Then they leap. They follow obscure land boundaries. Often they curve for no apparent reason. These roads are perfect for bicycling, partially because they are anything but perfect for motorists. After I had completed my duties of Interstate bicycling for the morning, I rode on one of these landscape interpreting roads, Arivaca road, from I19 to Arivaca.
I was riding along enjoying the moment, with my favorite Acoustic Alchemy jazz on the walkman to suggest a cycling rhythm. With every tune a new view on mountains with complicated names emerged. The convoluted "las Guijas" mountains lay behind an expansive valley dotted with mesquite trees. I was heading for the San Luis Mountains. But before reaching them, I would turn off into the Atasco mountains and the Pajarito (birdie) mountains, all the while going around the Tumacacori mountains. All of these ranges are roughly only 10 to 20 miles in length. Mountains in this part of Arizona are like islands in a sea of dessert. They are distinctly separate from one another, and once you know them, you always know just which one you're looking at, so they certainly deserve these distinct, sometimes strange sounding names.
From Arivaca I started climbing on a roller coaster dirt road. I was just past the half way point of the ride. I was beginning to wonder if this was going to be another starlight ride. The circle looked pretty long on the map. I felt excitement with just a tiny tinge of insecurity, a perfect mix to peddle just as hard as possible. I kept a close watch on the rim. Nothing to worry about. The split in the rim was exactly the same 2 inches as it had been. But after one particularly exhausting hill, I did hear a noise coming from below. I was a periodic clacking noise. Clacking is never good. First I thought it was a tight link in the chain. But the clacking clacked in rhythm with the peddle stroke, rather than it its own rhythm, as it would if it had been chain related. It took a full 10 minutes to figure out. While riding, I looked back at the rear axle and saw the drop out separate from the frame as I pushed down on the peddles.
It was a broken rear dropout on the chain side. Now this was really a major problem, except that, over the years, it has almost become routine. The dropout has been the weakest part of the bicycle frame for many years now. But this was the first time I had broken one, unrelated to a bent axle, without heavy panniers, and using a cassette hub rather than a screw on hub. The old screw on hubs had the freewheel side ballbearings so far on the inside that a torque on the freewheel produced a force on the axle that could break it, or the dropout. But this really requires diagrams with circles and arrows. - Suffice it to say. I felt surprised, dismayed ... amongst other emotions.
In the past I have always been able to get back to civilization, riding, riding very carefully, looking very constipated as I pedaled, but not too hard. But there always was a price to be paid. After 20 or 30 miles, the axle or opposite dropout bent, so that the rear wheel would start rubbing on the frame. Then I had to realign the rearwheel, which would allow further riding. But for how long ? On the other hand, I suppose I could have just walked to the next Raleigh dealer and asked for a new frame. But once I'm on a ride, the ride becomes more important than the bike to me. The bike is a tool to do the ride. Besides, the tool had 33000 miles on it. Who knows how many billion miles that is in airplane miles ? There is such a thing as metal fatique, isn't there ? That's it ! The metal just got tired. My plan was to try to get the frame welded at a welding shop. I had done this before with another bike, which subsequently has held up fine, over 10000 miles, including 4000 miles of loaded touring.
The clacking of the frame periodically disconnecting from the frame during the downstroke detracted from the beauty of Pajarito mountains and the views across the border into Mexico. (This seems like a good opportunity to practice the art of understatement). Actually, the mountain scenery here is similar to scenes much further North. But then a patch of cactuses around the next turn put me back into the right context.
I managed to get back to hard top with the bike still functioning. I called the welding shop in Rio Rico, but this one didn't want to deal with a noncommercial customer. I guess it had bigger fish to weld than me. There was still about 20 miles of interstate between me and my VW. I decided to ride it. While cars cruised along on the smooth pavement, life was anything but pleasant on the wrong side of the rumble strip, due to cracked shoulder pavement. Even though there is sevice road along I19 in this heavily populated area around Rio Rico, it does not go through, forcing bicycles to use the shoulder of I19. But when they repaved I19, they only did the driving lanes, leaving the cracked pavement of the shoulder. This is not a problem for a healthy bike, but my bike's standards had changed. My bicycle was sick. It did its best to act heroic under the conditions. When there was no load on the frame, there was now a visible gap in the dropout, a sign that things were deteriorating. Pretty soon the size of this gap in the frame was going to match these gaps in this unpaved shoulder.
At Tubac I could get off I19. I was now within a couple of miles of my van. Actually, the bike had held up surprisingly well. I never had to realign the rear wheel. It was still centered in the frame, a sign that no bending of axle or the other dropout took place. I credit this surprising performance to the fact that the rear triangle on this frame uses a unicrown fork, rather than seatstays. Below the saddle, a single tube leaves from the downtube. This single tube becomes a fork for the rear wheel. I had a live demonstration that this makes for a much stronger rear triangle, than the thin seatstays used in the classic traditional old bicycle frame.
Since I probably wouldn't be passing through here again real soon, I stopped at the presidio museum, which was about to close. My appearance at this point was very different from the cyclists displayed in REI catalogs. For one thing, they never pose on broken frames. "I had a hard day", I said to the park ranger. "I just rode 80 miles, and my frame is broken", trying to excuse my crusty dehydrated appearance. "There is somebody who might be able to help you" said the men behind the desk, and drew me a map to an artist's studio working with copper in town.
I pushed my bike a few blocks, and found myself before a trendy gallery displaying huge water sprouting cactuses, modeled in copper. - Hm, I don't know, a trendy artist fixing a bicycle frame.- Didn't sound like a very economical idea. There was a really interesting statue amongst the water sprouting yuccas and saguaros - a 10 foot large artist's concept of a bicycle. It was also a fountain. Water turned the wheels of the bicycle like waterwheels are turned by a stream.
Lee was a compact man strolling around from project to project in a large open wokshop. He keept his gaze directed to the ground, except when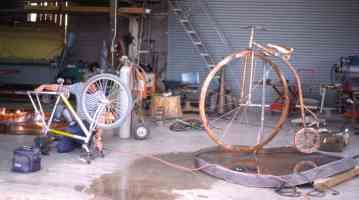 he looked you in the face, which was whenever something important needed to be communicated. There was other work to be done here. A customer eyed a 6 foot bronze colored yucca with great interest. Another worker, Eric, was busy examining the raw production of foot long cactus parts. But Lee started examining my frame without loosing time or wondering how late it was. My bicycle took on a whole new appearance, surrounded by 10 foot high shiny copper tentacles of expressive artwork reaching into space. As I walked around the shop, I found a titanium Moots mountain bike leaning against a wall, and a little later an old Diamond Back Apex in another corner. You probably guessed it by now. I found a real cyclist. We took off the deraileur. Lee scrubbed the dropout. It was very important not to contaminate the weld, I learned. Some fancy handiwork later, and a finishing spray of silver paint and the bike was clackfree again. It was time to settle the account. Lee suggested the ridiculously low amount of 5 or 10 dollars, whichever I felt comfortable with. I gave him twice that, and still made out like a bandit.
Lee invited me to camp out at his place for the night. For the evening Lee's wife fixed up some fantastic vegetable laden pasta, and I cooked up my one-trick-pony specialty, a spicy pinto bean chilly-stew-soup in a pressure cooker, and a great evening was had by all.
Even though wild, beautiful and quiet, this wasn't exactly the heart of the wilderness. City conveniences weren't far away. But they lived an independent lifestyle, here a mile from the little artist colony of Tubac on the edge of the Tumacacoris. The house had its own well, and its own sceptic system. It's amazing to me that you can just stroll out there into the sandy ground with its yuccas, suguaros and prickly pears, drill down and eventually reach water. Around here it's certainly not falling from the sky in consumable buckets. So it has to travel a long ways in underground aquifers, that we don't know that much about. On the other end, the sceptic system separates the sludge, and evaporates the rest cleanly and imperceptively. Lee was one of those people, that when they needed something, they built it, and when something broke they fixed it. This requires tools of all types and sizes. The space next to my camper was occupied by his latest tool, a bus sized road grader form the 40's. - "Really an interesting model", he said proudly with a twinkle in his eye. "The steering is all mechanical - no power steering". Yes I imagine it must be interesting to maneuver through the corners. Heck, most of the roads around here are straight anyway. As I had already found out, Lee's favorite medium of expression was metal, metal sculpted and welded into statues, sheet metal joined together to make an impressive little whimsically shaped guest house with all conveniences, plates of curved metal joined at interesting angles to make abstract (or more correctly, nonobjective) statues that complemented the stark dessert at his doorsteps. My dropout had been in expert hands.
I stayed in Tubac another day to participate in a group ride with Tubac riders after work. During the day I strolled around the art galleries, and recharged my batteries. I also found one of Lee's works at the local cooperative museum, a fountain entitled "mountains in the rain". There certainly had been a lot of wishful thinking in that direction, during the current extended drought. Then around 4pm we packed up 3 bikes and 3 people into a 50s suburban and headed for Green Valley, with KCXS on the radio, one of the last wild and crazy independent PBS stations left in this age of corporate broadcasting.
It's always fun to introduce unsuspecting newcomers to the area, with an interesting bicycle ride. I've done it myself plenty of times - you pick a ride with a special flair, the steepest climb known to mankind, the windiest most exposed straight road you can think of, the hairiest decent in the area, something of that nature. This was a road ride. Not counting Joan's (Lee's wife) stumpjumper, my bike was the only one not made of titanium. Lee also took his mountain bike. He wanted to handicap himself just a little bit so that I wouldn't feel totally out of place. Only two other riders showed up. Seems like the rest of the Tubac cycling scene had been scared off by the strong winds that had been blowing during the day.
We rode up Madera Canyon. The ride followed perfect bicycling etiquette, friendly banter for the first 10 miles. They didn't look down on my somewhat inferior equipment. To Lee my somewhat "clickety clackety" clipless but not clackless pedals sounded reassuring, not annoying. According to their logic, the fact that I rode a heavier bike, did not show that I was stupid or poor, but it showed that I was strong. They were very kind. It all reminded me of the good old times, many many many years ago, when I used to show up to DBTC rides with my Schwinn Supersport and the handlebar tape hanging off offensively, just to annoy any pure dedicated followers of fashion that might be in the group - far from it in this group.
Then Lee turned up the speed a notch. I kept up with him for one more notch, and then watched him speed ahead. I was thinking back to the dinner the night before when Joan had asked me if I had ever done any of the Colorado 100 mile rides, like the Leadville 100. It didn't dawn on me then, that the Leadville 100 is not really a ride. It's a race. As it turns out Lee has participated in the Leadville 100 mountain bike race twice, and finished in the top 15%. In the meantime we had climbed 2500 feet into a thick pine forest of the Santa Rita mountains. We congratulated each other on a beautiful climb and made a hasty retreat back down, as the sun disappeared behind the horizon in flurry of red..
We drove back in the suburban in the dark. The KCXI DJ was begging his listeners to engage in their own rain dance, and rain prayers, because sometimes they work and sometimes they don't. Yes, prayers can be like that. Sofar this had been the 17th driest winter on record in Southern Arizona, the driest ever North of the Mogollan rim. Even south of the Mogollan Rim I had never seen as much as a cloud. As the DJ played his rainsong, a few drops of rain hit the windshield of the Suburban. But I don't know if they ever reached the ground. It was all over within 10 seconds.
At a chinese restaurant, I got to know the rest of the bikers. I want to thank them for treating me for a moment, like I lived here, and accept me as one of them, even if I called "green valley" "green river", and got their names mixed up. Tom was working on a two day university sponsored ride through small Mexican towns across the border, featuring police escorts through the towns. "That's the nice thing about the world, you never see it all", I thought, working on a sink sized house noodle soup bowl, selected from a 29 page menu.
Back at Lee's house I checked out his stable of bikes. Six of them were in the main stable inside, neatly lined up side by side, facing the same direction like well bread race horses. Others congregated around the garage like being out to pasture. The inner stable included a Cannondale Raven, the amazing bicycle with the single support front shock, another mountain bike with pneumatic brakes, and a specialized snow bike with 2 inch wide rims and huge balloon knobbys that wouldn't fit through a normal mountain bike fork. It gets only limited use in this area. Yes, I think he falls into the same category he placed me in, a pedaling fool, and he wears the title with distinction. I guess I should have known, when I first walked by his workshop and saw that statue "mountain bike over creek", featuring abstract wheels flying over abstract rocks.
One of the disadvantages of this style of touring is that you have less exposure to meeting people. Touring with tent and sleepingbag, finding a place to sleep each night is a pain in the neck, but you do meet people, and you see how they live. Luckily I can rely on my bicycle to break down periodically to compensate for this.

Oh, I almost forgot, the attraction of the ride. In the beginning I said that I would describe an attraction along each "featured" circular ride. I have to admit that I actually visited this attraction the day before, when I followed the dried up Santa Cruz river out and back on both its banks, also a very interesting ride. The attraction lies right along I19, Tumacacori National Historical Park.

A wall surrounds this historical memorial. You have to climb a hill to see anything at all, or if all else fails, go inside. A cleverly constructed walkway leads you out of the visitors center with its displays and videos, into a walkway with columns, appearing on the surface very authentic indeed. With the first view outside, you are faced with the photo perfect view of a ruin of a church, that belongs to the same missionary era as the famous church in San Xavier del Bac. The Tumacacori mission was founded a year earlier than San Xavier del Bac. But San Xavier del Bac remained a functioning church for hundreds of years, while Tumacacori had a difficult frontier history. The current building at Tumacacori was built relatively late in the missionary period and had to be abandoned early.





the closest thing to a functioning Spanish missionary church in existence in the US:
San Xavier del Bac (described earlier)

the remnants of a Spanish mission : Tumacacori Historical Park
The missionaries that followed the conquistadors were quite a different lot than their predecessors. It's due to their efforts that so much of this land adopted such a high degree of Spanish culture, because they held the interests of the Indians much closer than their Spanish conquistadors. They had great effect on the way the Indians lived, introducing wheat, livestock and fruittrees, along with that elaborate catholic love of pomp and circumstance, pageantry and processions, colorful Saints.
When the missionaries moved into the area that is now Southern Arizona and Northern Sonora, they had already been forced to abandon other areas. First in 1572, Indian attacks along the East Coast caused the Jesuits to shift their efforts to what is now New Mexico. New Mexico Indians also revolted in 1680, causing a further shift west into (what we call) Arizona. About a 100 years had passed since Coronado had given up in his search for the golden cities of Cibola. Now, for the first time, a missionary was assigned permanently to the region (1691). The order sanctioned by the Spanish government were the Jesuits, and missionary's name was father Kino, and the Indians were the farming Pima (or O'odham as they are also called). It took 60 years after that first assignment until problems with the Pima became bad enough, to convince the Spanish to build a fortified post, a presidio in Tubac. Things happen slowly on the outskirts of civilization.
When a missionary arrived at a new place, his first duty was to "build a church", establish some roots so to speak. In the beginning these must have been very simple little affairs. No substantial ruins remain of these places of worship. Even the first substantial church building that served for 65 years has no real remains. Meanwhile, back in Spain, 10 years after this first church was started, the Spanish king replaced the Jesuits with the Franciscans for political reasons (1767). The Franciscans decided that they needed something bigger and better at this location, something that compared more favorable with the larger mission of San Xavier further North, and started building a new church (around 1800). But construction of the church proved to be very difficult due to Apache attacks, and it ended up serving for fewer years that its predecessor. Just a year after construction began, apache indians wiped out the livestock. Construction went on whenever they could afford it, a few adobe bricks this year, sell some cattle for more bricks the next year.
These are the remains we are looking at now, from that cleverly constructed, but really unauthentic show window. The church itself has its own clever little inauthenticities, when viewed within its own period of construction. Structural elements, such as columns are indicated as relief. The front portal is really a false front, just like many other western buildings lining main streets. These are cost saving devices that are supposed to evoke the style of the churches back home in Spain, for which there is no money in the wilderness. But it's exactly these cost saving devices that make the church so interesting. It's the thing that gives them their style. It stands as a memorial to the fact that this area was not on the receiving end of plundering conquistadors roaming through the new world. Life here was a lot tougher than back home in those rich churches. In many ways this church is more interesting than its gold covered decked out Spanish role models. Although it requires some imagination today, to imagine all the gaudy beauty of it, the multicolored facade, the plaster walls embedded with crushed red brick, the painted on tiles and chandeliers.
Even with construction plans scaled back, the belltower was still never completed. When Mexico gained independence, Spain no longer funded the mission (1821). This meant the end of church construction. When Mexico ordered the remaining Spanish priests to leave (1828), it meant the end of missionaries at the church. Then then the US went to war with Mexico (1848). This meant the end for Tumacacori inhabitants. Apaches raids did the rest. - The End.
Intercontinental Ballistic Camping. Next morning I drove North, to where I first started my series of rides South towards Phoenix. But first there is another loose end I have to tie up. It was the evening before the just described ride around the Tumacacori mountains. I was looking for a place to park my VW for the night. Arizona is perfect for this, and it didn't take long until I saw an inviting little spot in the dessert. The litter problem here was much better than average. It offered fast access, only quarter of a mile from the Interstate. Somebody even constructed a little crushed pebble driveway down to the most perfect spot in the dessert. As I drove my VW down to this spot I was having second thoughts about the place. There was a padlocked concrete access door of some type buried in the ground. A big official looking number was stamped across it in black letters. Was I on private property ? Was this maybe a building site for sale of some type ? Maybe this was some sort of public service access ? But way out here, amongst the prickly pears and cardons ? Anyway, it was getting dark, and there were clear signs that people had camped here before. Besides, in Arizona, even on private property, the owner has to install "posted" signs if he wants to forbid people on his property. And there weren't any here.
During my visit with Lee I learned that I had camped on the remains of a Titan Interballistic missile silo. In order to evaluate the suitability of this and other Titan Interballistic missile sites for camping, I visited the Titan Interballistic missile museum, around 20 miles North of my camping spot during my drive North. Here is what I found out.
A total of 54 of decommissioned Titan missile silos exist around the country. They are grouped together in clusters of approximatelysix. Titan2 ICBMs were used during the height of the cold war and aimed at the Russians. They are by far the largest of the ICBMs, and have all been replaced by smaller minuteman missiles. Solid rocket fuel allows these missiles to be much smaller than the Titans. But they fill essentially the same mission today. It is not advisable to camp on top of minuteman silos. As part of the Salt treaty Titan missile silos have been ddecommissionedand imploded with Russians looking on. So, apparently I had not camped exactly above where this missile once was, but over one of the elaborate support systems.
This museum demonstrates how fast some things change. The array of 28 volt computers in the control room looks antiquated and the switches are huge compared with a little Japanese md player of today. It would make a perfect backdrop for the Doctor Strangelove movie. Your are free to take pictures of any and everything. What was top secret is now a museum piece. Your tour guide is a man who sat down here waiting to push the button. And the tour concentrates on the button being pushed. With excited enthusiasm, the steps involved are explained in great detail; answer a telephone to get a number, decode the number, get into a safe, to get two keys, to turn two ignitions, which activated a battery, to pull the pin on a door, which allowed rocket fuel to enter the rocket, until eventually the rocket would have taken off. I skipped a lot of things, but you get the idea. Yes, your tour guide did actually push the switch, or as I know now, turned the ignition to launch this monster. But instead of this rocket, a practice rocket in California took off. However, they never knew if they were just firing the practice rocket in California, or the real one next door. Once the rocket was off the pad, there was no way to communicate with it to deter it from its intended target.
The most profound sentiment about the whole site was uttered by a man standing next to me in the men's room after the show. "Thank God, we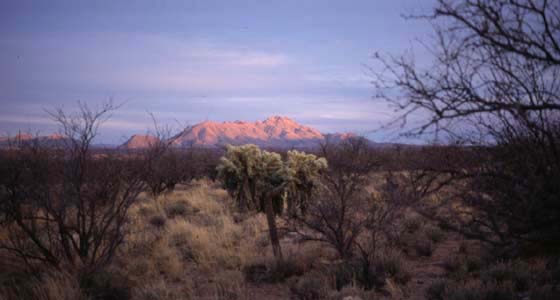 never had to use the damn thing" he said, and was done. Yes, thank God. But while this rocket is obsolete, the situation hasn't changed. There are just other rockets, minutemen, with smaller switches on the control boards, I imagine.
My curiosity about the subject had been satisfied. While the camping potential on these spots is definitely limited, it is satisfying to observe that the time period in which camping on these spots has already been possible, is substantially longer than the period of active deployment. The picture on the left shows the sun setting onto the Santa Rita mountains from the Titan ICBM silo sight. Maybe this explains why I wanted to investigate the camping potential.
On the way North, I stopped my car once more for an entire day to ride my bike. From a fine little spot South of Phoenix, I rode along golf courses, shopping malls and something really amazing, brilliant green fields of crops blooming in the spring. My route led around South Mountain. Along the route I rode the scenic road up South Mountain, into South Mountain Park. It's an impressive ride, but the road surface is horrible. Not many skinny tire cyclists do it. Again, my bike was just perfect for the job. Then I drove back North to the Verde Valley and the Mogollan rim. The next rides headed North from where I had started South a few weeks earlier.
The Rim from the Vortex. I had one eye fixated on the 2 inch split in my rear wheel. I had the other eye peeled for any kind of bike store that could remedy this situation. So far I had very little luck. On the Southern end of Phoenix I had located several bicycle stores. The parking lots were actually small enough that one could spot the stores beyond the sea of asphalt. It was early. The sea was still asphalt, not yet cars. However, when I rode over to the businesses, I usually saw clerks working on the inside, but they showed no interest of opening the door to any customers. I guess it was too early in the weekend, around 9.30 am. That's understandable. Actually, it's amazing that they're open at all during weekends.
When I rode into Sedona on Easter Sunday, I had as much expectation of finding an open bicycle store, as I had expectation of encountering a religious easter processional. And I was partially right. There was no evidence of easter that I could find, except for the possibly heavier tourist traffic. There were however open bicycle stores, eager for business on Easter Sunday. The second one I stopped into, the "bike and bean" in Oak Creek made me an offer I couldn't refuse, - a new Mavic 519 rim, newly respoked on the existing hub for a hundred dollars. The master mechanic greeted me with the words "you have places to ride, you're on a mission, we're here to help". These guys knew how to make you feel important, even if you weren't - especially if you weren't. The master mechanic went to work immediately, like a wheel building machine.
This was one of those new fangled bicycle shops where the trendy clientele zips on little cups of espresso, made on a hissing puffing espresso machine that looks more like some sort of chromed steam engine, while awaiting their deraileuers to be adjusted. So I sat at the counter and watched other people drink espresso. I had just enough time to skim through a few books about Sedona bike trails and voteces. Yes, even bicycle stores offer information on the new age phenomenon of the vortex. Here's the idea : Certain pyramid shaped landforms around Sedona concentrate an electromagnetic field close to the surface of the earth. You can see the pyramid shaped hills around Sedona. - I'm with you so far. - You can't see the electromagnetic field. In liberal poetic terms the book goes on to declare that this electromagnetism is a form of energy. Yes, and since it's energy, we as people can absorb the energy. The book doesn't offer any explanation of what that mechanism might be. We won't concern ourselves with little detail like that. So, when we congregate near the vorteces and all that energy, we absorb the energy and have mystic experiences. These experiences range from mental insights to better health, to more physical energy.
Right, the methane that cows produce on their back end is also a form of energy. Maybe we can have mystic experiences standing in feed lots also. As you can tell, I'm not convinced by the vortex story. But I'm open to argument. On the last several days of bicycle touring around the area, I had formed the impression that this was a town where the ideological battle lines had been drawn, the new age mystics versus the rednecks, the rich million dollar mansions versus the old trailers in the woods, the cyclists versus the pickups, the environmentalists versus the hunters, the espresso drinkers versus the Maxwell House crowd. It was just an impression. It reminded me of the place I had lived before, Boulder, Colorado. Just about then another espresso hissed into a miniature cup and brought me back to reality. The wheel magician had completed his magic on my wheel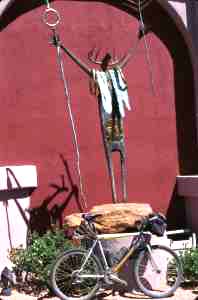 A Sedona Art Gallery : Would you pay 65000 dollars for this ? I mean the creature in the background, not the bike. If so, there are several others like that available.
I scouted out the starting point for the ride I had planned for tomorrow. I was looking for a dirt road turning up into the Mogollan rim, Schnebly Hill road. Eureka, I found it ! I saw a skinny male, maybe in his 60s came roaring down the dirtroad on an old cruiser bicycle. He was waving his hands wildly in the air. He had triumphant wild look on his face, his abundant chest hair on his stringy upper body gleaming with sweat in the sun. Now, is that any way to behave for a senior citizen ? Maybe he just came from the vortex.
From Sedona over the Mogollan Rim. This ride offers a very interesting attraction right at its starting point in Sedona - a shopping center. A shopping center ???? - YES, a shopping center. Let me explain. It's an art shopping center, with the occasional dress store thrown in. I didn't do an exhaustive survey of the galleries. But what I saw standing around during a short pre ride visit impressed me with its inoffensifness. Nothing controversial here. This stuff wasn't supposed to make you think about man's place in the universe or anything like that. It was supposed to make me spend money. For that statues of eagles or little children, expensive dresses, jewelry, that sort of thing are called for. But in a place like this, if you look long enough you can always find something that interests you.I imagine this place gives a good idea of what it looks like behind those thousands of miles of walls protecting the Greater Phoenix habitants from the looks of motorists speeding by. However, the art was not the main attraction. The main attraction of the shopping center was its architecture and its concept.
The quaint adobe streets and its collection of mosaiqued tiles are modeled after a 18th century Mexican town. The name was graciously provided by a historic suburb of Guadalajara. Many of the fountains and tiles have been imported from there. It's a great place to park the bike next to a fountain, sit under a tree on a bench, and munch on a granola bar, maybe formulate in your mind, just how you feel about all that vortex stuff, or maybe just reflect on this moment in space and time. Benches are a very rare commodity in this area. If you come across one, the opportunity needs to be seized, and the bench needs to be sat on. I had only come across one other bench, in a park on soldier pass road. However, it turned out not to be a public bench. Apparently members of the development project there were worried about the bench receiving too much use. It's never good to have too many people sitting simultaneously. Signs made sure this predicament would not happen here. The bench was surrounded by half a dozen signs stating clearly "this park may only be used by residents of this subdivision".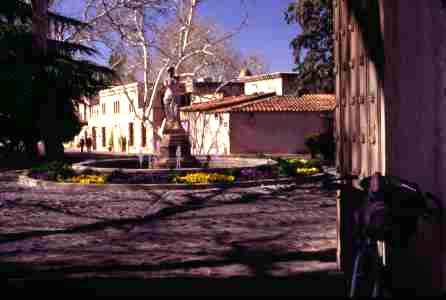 But the wonderfully scenic benches next to the mosaiqed fountains in Tlaquepaque are generously given free to the use of the public, even if you don't buy anything at its many shops, of course on a first come first sit basis. I could also have toured the art complex at the end of the ride. The advantage of this would be that the stores displaying all that art would actually be open. But the disadvantages more than offset the advantage. All the cars parked around the fountains require more imagination to really picture this as a quaint old Mexican town. Also, most of the benches are probably sat on already.
Actually Arizona has a great tradition of importing its cultural architecture, and the Tlaquepaque shopping block is a good example. The most famous example of this tradition though stands in Lake Havasu City. This is where Robert Mc Culloch had the London bridge shipped to, yes - the London Bridge. Shipping and reassembling of the bridge cost twice as much than the bridge itself. But what good is a London bridge without London double decker buses ? Lake Havasu City finally got its double decker buses, cruising around in its own version of a British quarter complete with victorian houses. Now all that was needed to complete the picture was a river under the bridge. I understand they have been working on that little detail. It's a backwards way of approaching things. Back in London the river came first. The bridge was needed to get across the river. Here the bridge came first, and the river was needed to flow under the bridge. But only so it could look like the bridge that was needed to get across the river. It's all very confusing to me. Tlaqepaque is nowhere as wild as the Arizona London bridge, but it falls into the same category. Other theme shopping plazas like this exist in the suburbs. They are all cultural imports that are as at home here as a muslim minaret.
The fountains of Tlaquepaque stand at the lowest elevation of the ride, where Schnebly Hill road starts its climb out of Sedona. It makes a great starting point. So let's get riding. It was fun to finally do something like mountain biking. I started climbing up Schnebly Hill dirt road. With every switchback I climbed, Sedona was increasing in beauty. The further away I got, the more the beauty of its natural setting became clear. Rich mansions discreetly hid themselves in lush vegetation. Shopping centers huddled into red rock cliffs for protection. Even the geometric patterns of parking lots took their harmonic place in the universe. Man needs a place to park ! Let there be large magnificent squares of black asphalt in between godly towers of red rock ! Often you have to view things from a safe distance to really appreciate them.
I shared the steep road with two professional jeep tours. The two colorfully painted jeeps were from separate tour companies with very long names, "Life in the West for a day - a photography expedition" and "Hummer expeditions - the ultimate vehicle excursion". Quite a mouthful. I liked having the jeeps for company. The jeeps were good for me. We passed each other a couple of times. Then we arrived at the highest, most scenic, most supreme overlook of them all, Schnebly Hill overlook, all at the same time. They all piled out of their jeeps and began scampering around the rocks. But this was a photography expedition. It said so right on the sign of the jeep. Pictures had to be taken in copious amounts. In the other expedition, the Hummer being the ultimate vehicle and all that, pictures had to be taken of each other sitting in the Hummer. The canyon made a pleasant background. I could identify with that. I enjoyed photography just as much as they did. Riding alone most of the time, I never got a chance to star in my own pictures. I didn't really want a lot of pictures with me in them. One per trip is enough. Today was my chance. We mad a trade. I took group pictures of them in the Hummer. They let me star in my own picture with my own ultimate vehicle, even if the dropout broke a couple of days ago.
After the viewpoint, the jeep expedition folks happily turned around to roll back down to Sedona. For me on the other hand, my bike happily started to move faster and faster. On a great smooth dirt road I rolled towards I17. On smooth Interstate with a fierce backwind I sped into Flagstaff. But the speediest part of the ride was still to come, the race back down the Mogollan rim through Oak Creek Canyon.
Oak Creek Canyon is an oddity. Its lush vegetation, flowing water and dense forests are typical of canyons in Montana and Colorado. But this far South it is a spectacular strange looking canyon. It is especiallyspectacular if you live in one of the cities South of here. All week long you look at sand where water flows once every 100 year flood. If you want to see natural flowing water you have to travel a long ways. Here in Oak Creek Canyon, a stream flows surrounded by the deep shade of dense vegetation. Back in the city, If you want to bathe in flowing natural water you have to travel even further. In Oak Creek you can wade, swim, even play. The traffic jam at the entrance of Slide Rock state park was something to behold. Here, bathing and sliding in the creek is so popular that water quality samples of the creek are taken every day during summer. Occasionally the bacteria level gets too high and the state park is closed.





| | |
| --- | --- |
| | |
| week ! | weekend !!! |
In order to make bicycling more difficult the road along Oak Creek has been constructed without a shoulder. The shoulders stopped right where the spectacular decent back down the Mogollan rim started, at the Oak Creek switchbacks. Traffic on this Sunday was heavy by any standards. The attitude towards cyclists took on the total range characteristic of this state. Some drivers followed a quarter mile behind me, and when they passed they almost drove off the opposite shoulder. The problem was that somewhere back in one of the never ending queues of traffic was a pickup driver who apparently thought that the slow traffic on this road was purely my fault. Subsequently he yelled at me to get off the road and then tried to run me off the road. The following confrontation was cut short by a woman watching from the staircase of her black forest style home. She was helpful in offering to call the police.This persuaded the overweight RAM pickup driver in camouflage T shirt to continue down the road. This coroborated my feeling about the drawn battlelines in this area, and now I knew one of the lines I was on.
A different version of this ride is written up in a local mountain bike guide book. It suggests to start in Flagstaff, then follow a dirt road next to I17 to the Mogollan rim and then roll down Schnebly Hill road. At that point you are supposed to have a motorized shuttle vehicle waiting to carry you up Oak Creek Canyon. As far as I am concerned there are two things wrong with this. First, you never get a workout because it's all downhill. Second, a shuttle. I'd rather be biking than driving. A German bicycle touring book suggests this road as a touring option to climb the Mogollan rim, but warns of its aggressive traffic and absence of shoulder. I imagine that I rode Oak Creek Canyon during the heaviest traffic, a hot weekend. With a little less traffic or a shoulder this would be one great ride.






| | |
| --- | --- |
| | |
| Up the Mogollan Rim | Down the Mogollan Rim |
| What makes this ride so interesting is the different characters of the ascent and decent | |
Wupatki and Sunset Crater National Monuments (April 4)





| | | | |
| --- | --- | --- | --- |
| Distance | Total Climbing | Surface | attraction |
| 57 miles | 3600 feet | 100 % smooth hardtop | Indian ruins and volcanoes |
This is a circle ride that just has everything going for it, smooth pavement all the way, scenic mountain vistas, Indian ruins to explore, two National Monuments for the price of one, very little traffic. And circle rides on pavement are very rare in these parts.
I turned off Rte89 into Wupatki National Monument. The almost black landscape made a wonderful contrast with the bright blue sky. Coarse black volcanic gravel sloped up, ever so slightly, to rounded black volcanic shapes, the San Francisco Peaks. The sun was still low and brought out spots of dark red on their slopes. Only very little snow was still left on these slopes. It was arranged in thin white lines along the gullies. It laced the mountains like lines lace a hand. Juniper trees scattered the side of the road. Towards the San Francisco Peaks the trees became denser and denser until they formed a thick forest up to the tree line of the peaks. In the other direction the trees disappeared, giving way to a pale grassy plain. This was where my bicycle was pointed, rolling down into the Wupatki Basin.
After only a few miles, it was already time for the first break, to stop at the first Indian ruin. Although some Sinagua Indians had already lived in this basin for several hundred years, things really started to happen when a volcano over in the next National Monument blew up. The year was 1064AD. First the Indians fled. But about 50 years later, the volcanic eruption had actually improved the living conditions. First it was believed that the eruption enriched the soil, and improved dry farming conditions. But this takes thousands of years. It's more likely that increased rainfall after the eruption improved the farming. The increased rainfall was likely also a consequence of the volcanic outburst. Also, the volcanic dust acted as a mulch that retained the moisture longer. So, in one way or another, the volcano improved farming in the area. It was 1074. In the distance Sunset Crater was still smoking, but conditions improved to such a degree that other Indians from the surrounding areas moved in, making up a unique cosmopolitan mix of Indian villages. Pretty soon the multicultural soup included Sinagua, Hohokam, Anasazi, Cohoina and others.
So every once in a while you pick up a little something from your neighbor. The Hohokam usually built pithouses halfways below the ground. But when they saw the stately stone walls incorporating rock outcrops of their new Sinagua neighbors, they decided that this was the wave of the future. But the houses with the straightest walls and the rightest right angles usually belonged to the Anasazi. But this wasn't just a one way street. In turn the Sinagua also adopted habits from the Hohokam. The Hohokam were very fond of playing a ball game in a circular pit about the same size of a kiva. The Sinagua adopted this ball game. It must become pretty important to them, because they sometimes incorporated this circular recessed stone field right into the center of their compact little pueblos, right on the center plaza so to speak. So there we have it, the predecessor of the modern stadium and its screaming millions. Still, it must have been a very different ball game than what we have today. The ball was probably made from stone, probably not very kickable or dribbleableable - more likely something you manipulate with a stick, maybe an ancient form of dessert hockey.
This fruitful exchange of ideas didn't last very long. The location of newer dwellings seemed to be chosen with defense in mind. That rock outcrop doesn't just look pretty, you can better throw rocks at people too. After about a 100 years or 3 generations, it was all over for the 1000 families that lived in the basin. According to what you read, it's not known why they left. But let's face it, it's pretty dry around here. This isn't exactly the Nile Delta. The 100 families or so living in the largest pueblo did have a spring nearby, and also jars to store the water in. But when that dried out, they had to walk to the "little Colorado" 10 miles away to get water. And in 2002, the driest winter in Northern Arizona history, when I crossed the little Colorado on my bicycle, there wasn't any water flowing under the bridge. Further to the South, The Verde River still supported lots of green trees on its banks. And that is where many of the Sinagua resettled again. They had lived there already before the volcanic .eruption So if "no water" wasn't the reason they left, it's a pretty safe bet to say that it must have played a role in the decision making process.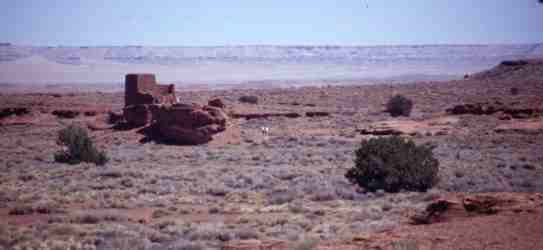 On scenic routes like this, I like to choose my lunch spots carefully. Sometimes it's a picnic table or park bench. Other times it's a restaurant or
gas station. And at times like this, it's a scenic little spot under a solitary tree a 100 yards away from the road, with the San Francisco Peaks on one horizon, and the straight Anasazi walls of Wukoki ruin set against the red cliffs of the Moenkopi plateau in the other direction. Buon Apetit !
Recharged on bread, tomatoes, onions, cheese, sardines, and lots of sweet stuff, I was more than ready for a pleasant little climb ahead. The road climbed back into fringes of Juniper Vegetation. They became thicker and thicker as the ground became blacker and blacker. The grassy ground cover disappeared and finally gigantic Ponderosa Pine took over the volcanic soil. The road climbed over a shoulder of sunset crater and skirted a viscous lava flow. Viscous lava flows are the most contorted shapes that rock can assume. Everywhere are nooks and crannies. It is like a loaf of hard dark rye bread, broken off instead of cut, and magnified about a million times. Whatever you touch has sharp edges. Wherever you look are tiny holes where air escaped from the solidifying rock.
It was a satisfying afternoon climb, a fun workout that doesn't leave many traces on the body for tomorrow's workout. Since I had plenty of time left in the day, I stopped at the Sunset Crater Visitor center, and tried to recall some of what I learned while I was in the process of obtaining a Geology degree, many many years ago. The park personnel were perfectly thrilled to discuss the differences between andesite and basalt. Most of the time they're just asked directions to the nearest bathroom or parking lot. But these people are trained dedicated professionals, specialists in their fields, geologists at Sunset, archeologists at Wupatki. They don't just want to talk about parking lots, bathrooms and golden eagle passes all the time. These people are very enthusiastic about what they do, in spite of the fact that they don't get paid much or are volunteers.
Once I returned to Rte89, I knew my work was done for the day. The last 15 miles or so are on a highway, straight as a arrow, the second half of an arrow's journey - a descending arrow. All I had to do was position my bike on the right of the rumble strip, aim it downhill, and push myself off. Some slight course corrections may have been necessary to avoid rumbling from time to time, but otherwise I just enjoyed the free ride. The rumble strip on this part of the road was narrow, and positioned far enough to the left, allowing enough space for a speedy decent. Maybe a successful compromise is possible, between motorists who are afraid of falling asleep behind the wheel, and bicyclists. The rumble strip along this stretch is one of the least annoying I have come across in Arizona. But it's still annoying.
In Flagstaff I stocked up with the few crucial details I needed for this type of touring. After this I would be on the Navajo Reservation, and then continue into Southern Utah. "Eat drink and be merry" was a favorite T shirt in Logan, Utah, where I attended college during a different time. In Europe many monasteries pride themselves on the fine beer they brew, or the high quality wines they produce. The Mormon clergy is not of this persuasion. Luckily there are businesses in Arizona serving the people of Utah. I headed North along busy route 89 through the Navajo reservation, exploring side roads from time to time. From Tuba City I rode through Navajo National Monument, direction Monument Valley.
A Tale of two Conversations. It had been so long since I had seen another cyclist, that I almost forgot what they looked like. I was climbing up to Monument Valley, and wondering "if this was a valley why was I climbing up to it ?". Two riders sped by me coming down from the valley, so fast I almost didn't see the sets of panniers, so large they almost touched the ground. This area is famous as a bicycle touring route for riders outside the US, so it shouldn't have surprised me to see other cyclists, but it had been 2500 miles. However I was riding up to the valley while they were racing down from the valley, so I just caught a glimpse of them, tiny fragments between huge red walls. I still couldn't get over the fact that these "peaks" were called a valley. From Mexican Hat I had climbed over 2500 feet up to this valley, the day before from the other side more or less a thousand feet to reach Monument Pass, which marks the entrance to "the valley".




The approach to Monument Valley from the South goes through the town of Kayenta, on the Navajo Reservation

From the North the ride climbs to the valley from the town of Mexican Hat

Bicycling some side roads in the Navajo reservation is good training if you want to ride around a continent entirely on beaches. There is more than enough sand for everybody and all applications. I lucked out. The day before it rained ever so little, compacting the grains into a good riding surface for several hours.
As luck would have it, I saw the same two cyclists from Monument Valley again 2 days later. They had worked themselves up through the Colorado Plateau along the winding road through Bluff, while I had circled around Comb ridge, one of countless amazing Utah landforms. This time we were heading in the same direction. Since I had no weight to carry I caught them from behind. It was a couple on mountain bike frames with thin tires. He was forging ahead with a grimace of determination on his face, hunched over in a curious riding geometry that had something unidentifiably curious about it. She rode a few lengths behind, and the first thing I noticed about her was her strong natural beauty. After three sentences we were like three members of a lost tribe meeting in the wilderness. This couple were real cycle tourers, not the kind of hybrid venture I had been engaged in. They had been on the road for 5 years and been everywhere, or so it seemed. I can't remember the whole list, but here's what I remember : India North to South, China, Mongolia, the Karakorum Highway in Pakistan, a tour through Japan East to West, sleeping only in parks in Japan. Now they were heading East from San Diego, turning North as far as Moab before returning to San Diego and then heading South into Latin America.
So where are these two from ? What place that you call home makes you want to see what people live like in so many places in the world ? - Places that are so far from the comfortably familiar shopping sidewalks of home. They were from a little village in the Italian dolomites, a place that itself is arguably the most beautiful spot to ride a bicycle in the entire world. Once they retire they'll have a beautiful place to come home to, and lots of stories to tell, not to mention roads to ride around their home town, should they still have the desire.
Luciano and Verena lived the touring lifestyle completely. Last night they had spent in Bluff giving a slide show of the 140 slides they carried with them, in exchange for a night in the motel. No, they did not carry a slide projector. That would be a bit much even for those monster panniers. Over the years they had taken over 400 rolls of film. They had published magazine articles in several countries including India, Japan and China. Now Luciano wanted to head South into Latin America, and Verena said "I have to decide weather I want to follow him there". First they had to return to San Diego where Luciano was waiting for a new frame to be shipped from Italy. That explained the curious riding position. His front fork was bent back and almost rubbing on the frame. It was from the encounter with an especially hostile pothole.
After 20 miles it was time for me to turn back to pursue my original goal for the day, a circle ride through Montezuma Creek and Hatch trading post. I left them with the words "you guys are my heroes" and continued into the empty landscape. I only spoke to one other person that day.
Hatch trading post is a small historic building with thick walls constructed from natural stones. Surrounding fruit trees have been ambutated to stumps, so that they now look more like modern art depicting the chaos of modern times. The visitor is greeted with a big sign stating "no public bathrooms". Inside sat a elderly woman behind a counter. The shelves behind her were stacked with 3.2% artificial alcohol water, cans of Spam and other's hunter's delicacies. Her stern appearance gave the impression that she was straight out of a photograph of pioneers heading West along the old Mormon trail. The conversation was short. I asked "is there any place around here where I can get some water ?". "we sell water" was the answer. It came in bottles. I guess nowadays even hunters eating Spam and baked beans straight out of the cans like to have a little swig of Perrier with their evening meals. "No", I tried to explain, "regular drinking water". No, she said without blinking, or using any other facial muscle that was absolutely necessary to form this short simple phrase. Life must be difficult out here. People don't come here to stock up on Spam for the year. They just stop by and ask if they can use the bathroom or bum some free water. Freeloaders !! My advice to the old woman is "retire". You are not needed here. People will obtain Spam, water with and without alcohol in other places, and you will be free to live a more productive joyous life, allowing you the full range of use of all your facial muscles. Luckily this was a cool overcast day, and I could make it without difficulty to the town of Montezuma Creek where I could get some water in a gas station without ever exchanging a single word.
A week after I returned from this series of bicycle rides, I received an email from Verena, originating in Moab. They had found "work" there, for a week or longer, "work" giving slide shows of their adventures, while camping out in "friendly people's yards". Verena wrote "I had no idea people were so bicycle crazy in this town". Yes, they are sort of bicycle crazy in that town. It's the only place I know, where they have a mountain biking mural in a sub shop. The mural depicts a mountain biking man and woman, attired in bicycle shorts and black glasses, storming through the rocky dessert with pet dog and other paraphanalia. The image could be used to sell anything from bicycles or bike shorts to sunglasses or a weekend in a Moab condo. In this case it was used to sell submarine sandwiches. It's not what you would call art, but it is crazy. It was nice to hear that they had found an interested welcome in a town that has such a different definition of bicycling.




| | | | |
| --- | --- | --- | --- |
| Distance | Surface | Total Climbing | Attraction |
| 56 miles | 25% dirt, 60% hardtop, (15% snow) | 5200 feet | Anasazi ruins at "edge of cedars" statepark |
South of the Mogollan rim the highest ride had been over Coronado Pass, an altitude of about 6500 feet. The Mogollan rim itself is higher than that, so once I was on top of it, practically every pedal stroke was an new highest altitude. The highest altitude that finally stuck for a while was a wide wooded dirt road pass in the San Francisco Peaks near Flagstaff. It was at about 8000 feet. It stuck until I got to the "low mountains".
The Spaniards named the Abajo mountains. This translates to "lower" or "below" mountains. The Spanish however, are not renowned for their geographical perceptiveness and accuracy, and there is nothing low about these mountains. At the time Spanish explorers were standing on one of the few landforms visible from here that are yet higher than the Abajos, the La Sal mountains to the North.
I was standing below them looking up at them and planning a ride through them. I would be the final highest altitude of this series of rides, a little above 10000 feet above sealevel. The local papers in Blanding were already announcing water restrictions to come for the summer. If there was any meltoff from the Abajos, it had been melted, so it seemed. The woman in the local visitor center also thought I wouldn't have much problems getting my bike over the Abajo Loop road. However her expertise was probably in another area, how to find the interesting Indian ruins all around, advice on the softness of local motel beds, where to get the best soft ice cream in town - that would be the "shake shack".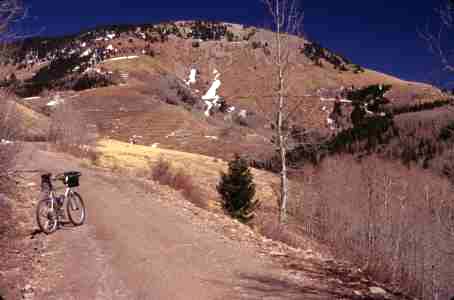 I started riding, thinking I had found the perfect ride through the Abajo mountains. A hard top road free of traffic gave way to a graded dirt road. After a few dusty miles, a crease in the road signaled that we, the bike and me, would now head skywards. The smooth hard jeep road surface was perfect for climbing on the bike, and each view made me want to reach to next view as fast as possible. A few snow drifts blocked the road, but jeeps had been able to go through them, judging from the tire tracks. If a jeep can do it, it's a breeze for a mountain bike I thought, and pushed my way through it with gusto. I crested what looked like a pass and enjoyed a short decent down the other side. But I should have looked at my map more closely, if I would have wanted to know what was in store for me. Maybe it was good that I didn't look at my map more closely. I was still far from the pass. During the next major climb I dragged my bicycle through bigger and bigger drifts. The drifts became 100 yard stretches of heavy wet snow. The jeep tracks had ended a long time ago. I was definitely the first vehicle to complete this route this year. At this point the way back didn't seem very appealing any more. Yes there was snow ahead, but it couldn't be as much snow as I had already carried my bike through, or could it ? I was thinking, panniers would have been useful here. I could have tied them to my feet and used them as snowshoes. Not really, but it would have made a good story.
As I approached the real pass it dawned on me that the decent on the other side was facing North, so as a result there would be more snow on that side than the way I came up. This was the first right conclusion I drawn all day. Over the next several hours I yanked my bike through the snow, one step at a time, one yank at a time. This was now more like a weight lifting workout. The snow lasted for a thousand vertical field, according to my altimeter. Attaching some sort of numerical label to this sort of unexpected ordeal somehow always validifies it more in my mind.
After the snow ended I almost immediately struck hard top. It felt like I had struck gold. I was now rewarded with a long fast roll down to Monticello, on concrete as smooth as a European bikepath. After the previous experience, smooth hard top seemed especially smooth and hard. As the final part of the ride, I thoroughly enjoyed the ride back over another shoulder of the Abajos, the road between Monticello and Blanding. This Abajo crossing really was low or abajo, allowing me to roll and roll and roll. A strong wind pushed me along to the sound of music in my ears.
This would make a picture perfect mid summer ride. However on the 13th of April, even in the driest winter of recorded history, it's just too damn snowy to be truly enjoyable.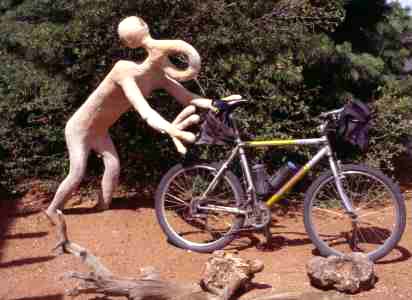 Here is a picture of an Indian spirit taking great interest in my bicycle. These creatures hang around the edge of the cedars state park, where I also had the time to admire several mesa top dwellings, and an elaborate pottery collection, all on the day before this ride.
I rode one more loop South of the Abajos as a final ride in this series. I picked a much lower dirt road on my map to make a scenic circle between Monticello and the access road to the needles district of Canyonlands. This time the opposite happened as the day before. Instead of deteriorating to a ski route, the old dirtroad had been paved. I didn't mind. It was beautiful way to finish, a comfortable view onto the canyons of the distant Colorado.